Five Lessons from UT Austin Science about Planning for Living with Heat
August 23, 2023 • by Emily Engelbart
In our endless summer, research on heat impacts offers insights on how best to adapt.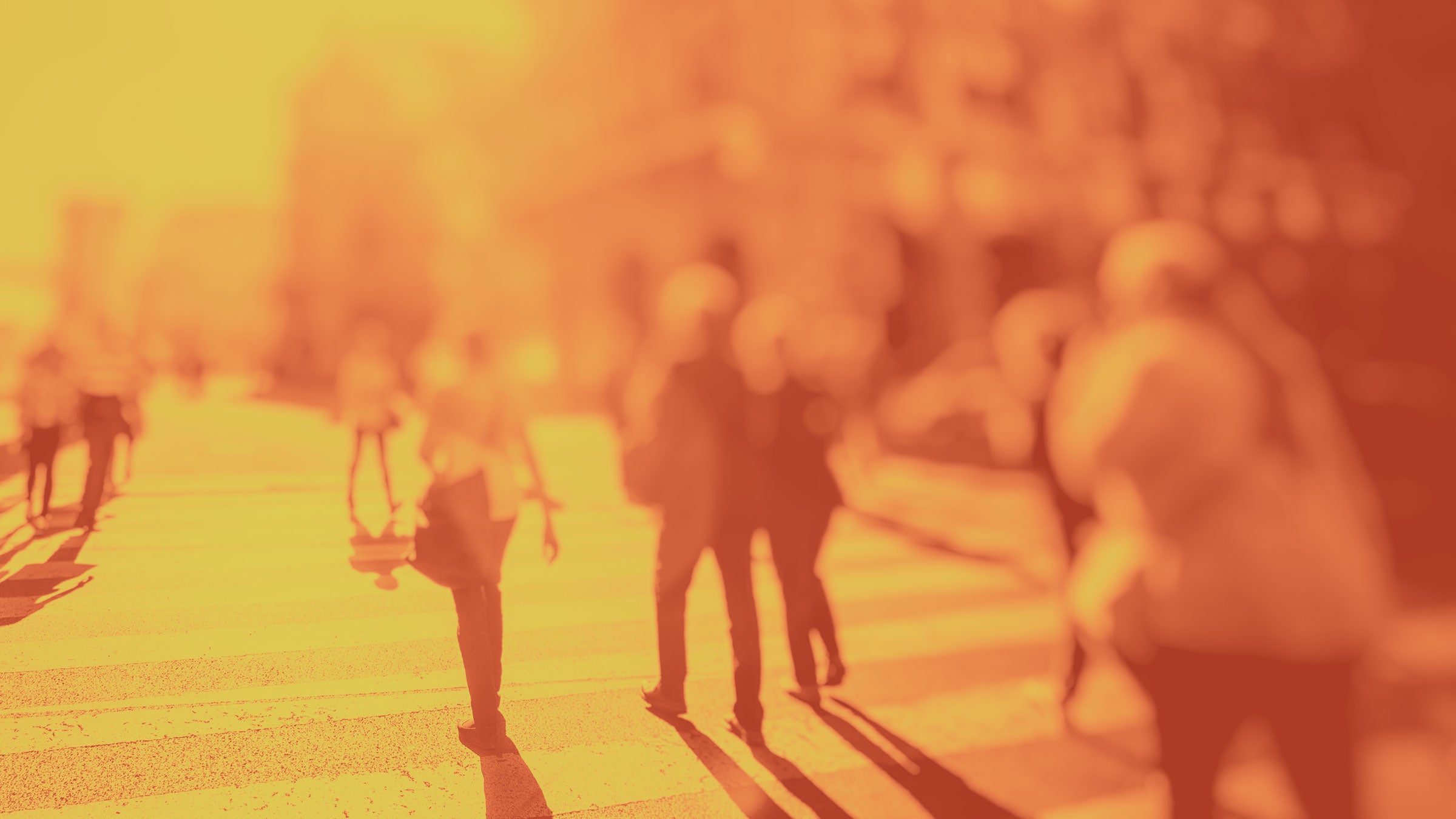 ---
Following the hottest month ever recorded for the planet, places like Texas have yet to catch a break from scorching temperatures. With the extreme climb on thermometers also come opportunities to study and understand the effects of increasing heat for people and the planet—as well as what we might be able to do about it. 
Scientists in UT Austin's College of Natural Sciences are researching ways to help people and the environment adapt to changes already baked into our climate and perhaps even contribute to slowing the long- term warming trends. Here are five things they are learning.
Communities must plan for heat's impact on human health.
Future heat waves will likely impose profound effects on human health, but until about 15 years ago, few researchers were using statistical methods to make predictions beyond weather-related forecasts of heat waves to understand such effects on people. Roger Peng, a UT Austin professor of statistics and data sciences with a focus on environmental health, was among the first to collect data from several hundred cities across the country to compare relationships between temperature and  mortality along with various human health problems. The results are better local and national estimates of certain correlations between heat and human health today that can help to inform planning. 
In one study, Peng and his colleagues determined how the effects of heat on respiratory health vary between counties of higher versus lower average summer temperatures. Although enduring higher temperatures leads to known respiratory risks, the team surprisingly found the risk of heat-related respiratory hospitalization to be slightly higher for a county with a lower average summer temperature. One hypothesis Peng wants to further explore is that hotter areas typically have air conditioning, lessening the impact of heat waves.
In another study, Peng and colleagues found that adaptive measures against heat in the city of Chicago could help to prevent "between 166 and 2,217 excess deaths per year attributable to heat waves" between 2081–2100, based on data from seven different climate models. 
"These kinds of national studies may become more useful for informing national level types of policies," Peng said. "This is an active area of study and many researchers are studying approaches to protecting the public's health through climate-related adaptations."
What works best for plants and animals might also work best for people.
Excessive heat endangers ecosystems, including in cities where buildings and roads contribute to what's known as the urban heat island effect. Tim Keitt's research is exploring how certain kinds of interventions in urban landscapes—like planting trees or altering the amount of human access—can provide extensive benefits for both humans and the environment.
A professor of integrative biology at UT Austin, Keitt and fellow UT integrative biologist Shalene Jha were co-authors on  a 2022 paper, looking at balancing multiple environmental and social objectives in urban landscapes. In an experiment, the team established a watershed-scale monitoring network along Waller Creek, which runs through the UT Austin campus and downtown Austin. They collected multiple datasets to evaluate tradeoffs and synergies between factors like human visitation rates, carbon sequestration, riparian forest cover, particulate matter levels and air temperature. (Riparian simply refers to wetlands adjacent to a waterway.) The team found, as riparian forest cover increased, temperature and particulate matter levels decreased, suggesting this is a key strategy for combating human-induced warming effects. Although sometimes juggling environmental goals with other needs can lead to weighing tradeoffs, Keitt said here researchers found "some of these desirables come as bundles together." In other words, the identified solutions provide mutual benefits for people and nature, without a lot of tradeoffs. 
Coordinating such findings with government officials could refine green space management, Keitt said. But he warned that planting a lot of arbitrary trees could actually be detrimental, depending on the goal and ecological characteristics of a given ecosystem. For example, Keitt said some places have implemented monoculture forestry methods which could hinder the ecosystem's natural, already existing services, like carbon sequestration.
"A better perspective is one of restoration using a diversity of native species planted in currently degraded areas," Keitt said. "Done carefully, these can enhance services and facilitate a healthier ecosystem."
Managed fires play an important role in a warming world.
A natural force, wildfires have historically been positive; they drive higher plant diversity and reduce invasive species. Unfortunately, climate change and related drought and persistent heat have been boosting the size and intensity of wildfires, particularly in drier regions like the western United States. This has hindered regrowth in certain ecosystems while threatening humans and deteriorating air and water quality. The suppression of grass fires has also led ecosystems to become more susceptible to increasingly threatening wildfires.
"People don't want fire going through their land; if there is a grass fire, they put it out because they are nervous it will cause damage," said Sean Griffin, the Lady Bird Johnson Wildflower Center's director of science and conservation. "However, this degree of fire suppression has had massive, negative effects on the ecology and may actually lead to larger wildfires down the road." 
To implement the positive effects of fires without threatening humans and nature, land managers and researchers from the Wildflower Center have been conducting controlled burns on over 60 acres of land there since 2001. 
More prescribed burns means healthier ecosystems, while reducing the threat of uncontrollable wildfires caused by a failure to remove dead tree limbs, for example, that otherwise can fuel a wildfire. Prescribed burns do not harm seeds, but instead clear the thatch layer and grant seeds easier access to sunlight. Griffin and his team have also been investigating the seasonal differences of prescribed burns; fall and spring burns can facilitate an environment with more wildflower blooms, thus benefiting the pollinators of the site. Summer burns, weather permitting, can reduce invasive species, while winter burns can actually be worse for the environment as they lead to the regrowth of non-native grasses and yield low abundances of native species.
The Center's efforts have provided a model to other sites like the City of Austin Water Quality Protection Lands and Fort Hood.
We can harness ever more sunlight to fight climate change.
Associate professor of chemistry Michael Rose began applying his academic knowledge to the refinement of solar panel surface chemistry (on silicon panels) during his postdoctoral research at CalTech from 2009 to 2012, and it's a challenge that continues to interest him today, including in Texas where the state power grid relies heavily on solar technologies. 
"Solar energy is a really essential part of our functioning electrical system at the moment," Rose said. 
He and his research group tackle issues relevant to generating hydrogen fuel—which has diverse energy applications—through solar panels and sunlight. In the past, hydrogen has mainly been generated by way of fossil fuel infrastructure, but that contributes to harmful emissions. A complete shift towards hydrogen production through solar panels may take years, but Rose has been contributing to these efforts.
His team has been working to capture the sunlight's energy through solar panels to drive hydrogen formation, all in one device. Sometimes it can be difficult for the photo-excited electrons in silicon generated by the sun's energy to travel through the interface of the solar panel and reach the catalyst, where water is split into oxygen and hydrogen. Rose said he and members of his lab have been experimenting with different molecules to be placed on the solar panel surface so the electrons don't lose energy during this journey. They are also trying to work with more abundant and less toxic metals, like nickel and iron, to catalyze hydrogen in a cleaner manner. 
As a chemist, Rose is focused on showing proofs of principle, but he said it's important to consider if the lab's work could materialize into an economically and practically viable option that also "makes our lives better and improves the environment." Eventually, engineers could potentially utilize the experimental findings from chemists like Rose to produce "square miles of solar panels in West Texas," as Rose said, contributing to efficient and clean hydrogen generation. 
Schools and child care settings may need to change.
In the Department of Human Development and Family Sciences, researchers Liz Gershoff and Andrew Koepp recently published a paper noting that higher temperatures are affecting outdoor play experiences for young children. Because indoor play is not a reasonable substitute for outdoor activities, adults who work with young children and schools that are making decisions about playground investments need to pay attention to the impact of heat on the youngest among us. Plans for outdoor playground covers, fans and misters and for earlier-in-the-day recess when temperatures are cooler may be necessary.
"We need to start looking at policies, practices and recommendations that recognize" higher temperatures, Koepp told a college news staff writer earlier this year, "if we're going to limit the impacts on the next generation."
Share
https://cns.utexas.edu/news/research/five-lessons-ut-austin-science-about-planning-living-heat
---