Graduate Students Ensure Science Under the Stars Shines Bright
March 9, 2016 • by Steven E. Franklin
The free, monthly public lecture series was founded and is run completely by students in the Plant Biology and Ecology, Evolution and Behavior (EEB) graduate programs.
---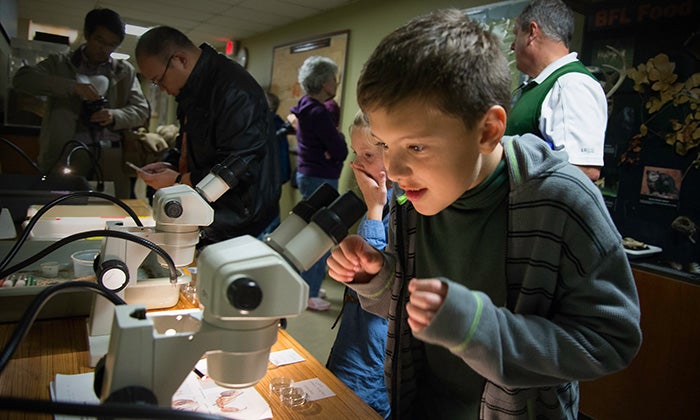 Starlight twinkles through the trees and crickets serenade in the distance as families, students and others with a thirst for knowledge gather outside at The University of Texas at Austin's Brackenridge Field Laboratory (BFL) for another evening of Science Under the Stars.
The free, monthly public lecture series was founded and is run completely by students in the Plant Biology and Ecology, Evolution and Behavior (EEB) graduate programs.
As visitors wait for the talk to commence, they can take a guided tour of BFL and participate in relevant activities designed for all ages — perhaps a close encounter with insects and plants gathered from BFL or a chance to observe microbial life beneath a microscope. Smaller children can color related images, play matching games and more.
When the time is nigh, visitors gather in chairs beneath the trees and listen as graduate students, faculty and other researchers share insights and excitement about their research or another scientific topic close to their heart. Question and answer sessions that follow allow the public and the scientist to discuss the topic more fully. Talks run the gamut from musical musings about the microbiome to a peek at how plants protect themselves from predators and pathogens to last month's look at the wonders of spider silk.
Outreach
Science Under the Stars attracts and educates a diverse crowd that includes academics, students, families and homeschoolers. Attendance has been steadily increasing and currently averages around 75 people per show, many of whom are regulars.
"It's an interesting mix of people who are very knowledgeable about science and people that saw it in the Austin Chronicle and wanted an activity before bedtime for their kids on a Thursday night," says Nichole Bennett, a recent EEB graduate who helped coordinate the program from 2009-2014.
Graduate students are the primary speakers, an important aspect of Science Under the Stars. The outreach program gives the students a rare chance to explain their research to non-scientists. Speakers are given guidance to keep their figures and talks accessible to a wide audience.
"That became one of Science Under the Stars' big selling points," says Bennett. "You're a graduate student, you're used to talking at conferences, here's an opportunity for you to talk to laypeople about your work and in a safe environment."
The program educates the public about ongoing research at UT in a relaxed way. At the same time it showcases Brackenridge Field Laboratory, allowing a glimpse at the grounds and the science conducted within.
"We're able to talk about the fun parts of what we do, why we're so excited about science and why we think it's cool," says Emily Rees, a graduate student in plant biology who has helped manage the program for the past two years. "We also let the community know what's happening here at UT and let them become familiar with Brackenridge Field Laboratory. I feel like a lot of people just drive by BFL, but don't actually know how the land is used.
Evolution
Founded by Evan Economo, a 2009 graduate of the EEB program, Science Under the Stars has been bringing the wonders and beauty of biology to curious onlookers since the first talk in February 2009. At that time he had gathered together a handful of EEB graduate students to oversee the fledgling outreach program: Juanita Choo, Eben Gering, Hayley Gillespie, Jesse Lasky and Eric Miller.
The early days involved a lot of logistical work from the students, from moving chairs back and forth from campus to figuring out audio-visual options in the middle of an urban field station.
Over the years the program has grown and evolved. Since 2013, an elected student lead organizes the more than 20 student coordinators, each of whom is responsible for a small piece of the whole. The reorganization has allowed the graduate students to redirect their efforts towards enhancing the interactive aspects of the talks, as well as increasing the program's visibility and impact.
"Distributing the big job that is coordinating Science Under the Stars among many, allows graduate students to do something small every month that, in sum, has a tangible, positive effect on the community," says Mariska Brady, a plant biology graduate student and current student lead. "It's not just a gold star for our resume, it's highly rewarding."
Now the program has dedicated equipment and other support from the College of Natural Sciences, along with funding from the Department of Integrative Biology, the National Science Foundation's BEACON Center for the Study of Evolution in Action and merchandise sales.
The program can attribute much of its success to the support of the faculty and staff at BFL.
"[Director of BFL] Larry Gilbert and [Research and Education Coordinator] Rob Plowes have been instrumental in making sure that BFL was available to us," says Bennett. "Caretaker John Crutchfield and his wife lived out there for a while, before he retired, and they were really supportive of us."
Inspiration
The outreach program has proven inspirational over the years and even won an Outreach Excellence Award from the college in 2011 for its efforts.
In Austin, many teachers have been motivated to create extra-credit assignments around the talks, encouraging their students to attend. Families who homeschool will often use the talks to help educate their children in science.
Some graduate students who have helped produce the talks are moved to make outreach and science communication a larger part of their professional lives. For instance, Gillespie founded Texas' first gallery devoted to science-based art and Bennett plans to pursue a career in science communication policy.
Even visitors to the talks find inspiration.
"The most poignant experience for me working with Science Under the Stars came from a young woman who attended the talk that I gave about diatoms, a microscopic algae," says Brady. "During the talk I mentioned that, for approximately the same price as a gaming console, a student could purchase a really great microscope and discover diatoms on their own. A young woman in sixth grade approached me after the talk and got my contact information. Soon after she got in touch and I was able to recommend a microscope for her and her family to purchase so that she can go out and explore all the microbes in the environment around her. I would love to hear one day that's she's become a famous microbiologist."
---
Below, you can watch a video from our Head Room series about Brackenridge Field Laboratory:
---
Scenes from a talk in December 2015 by Alex Wild called "Why Ants are Everywhere." Photos by Vivian Abigiu.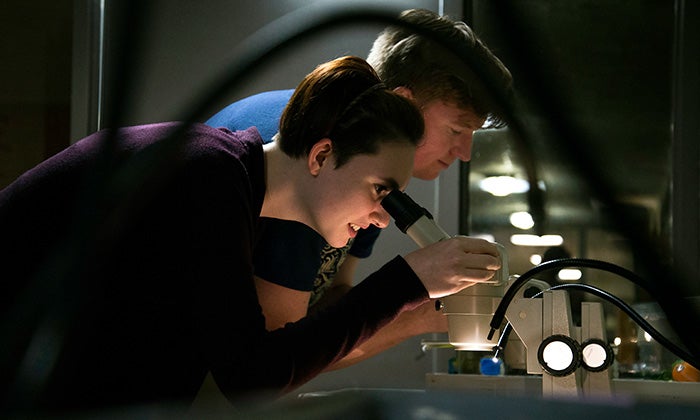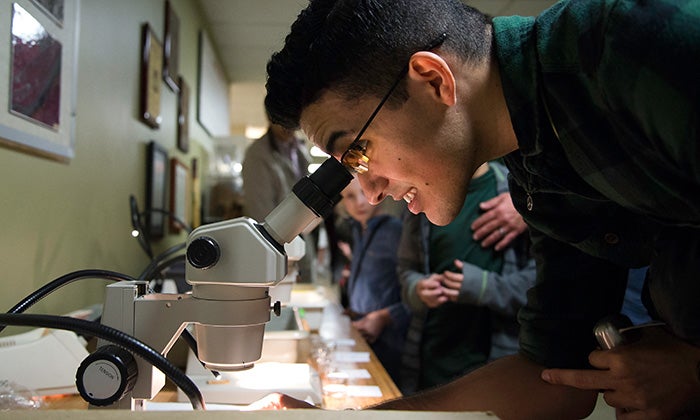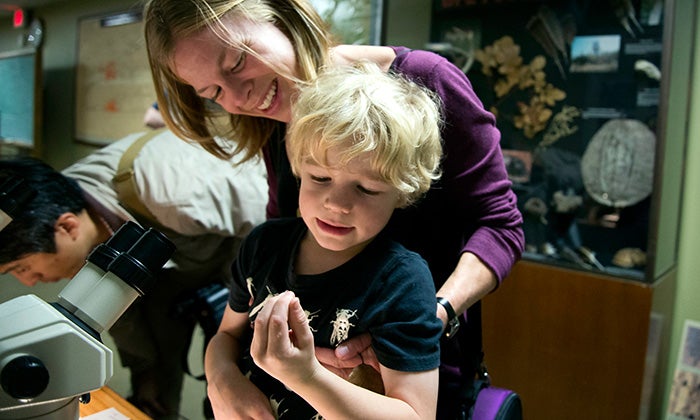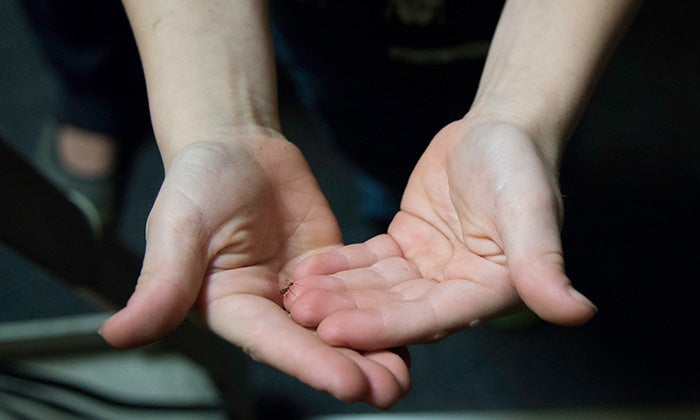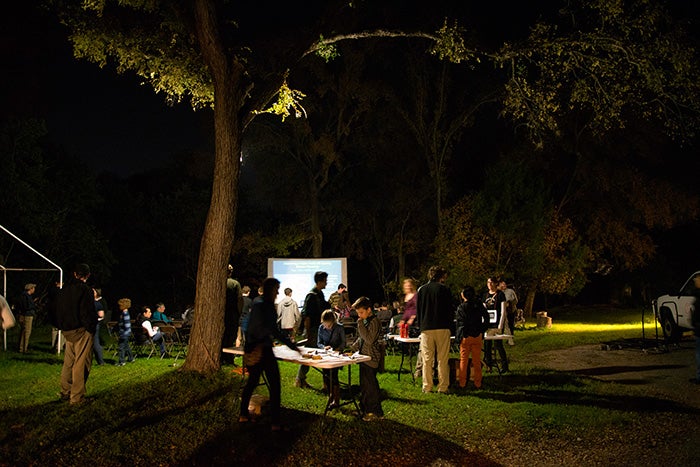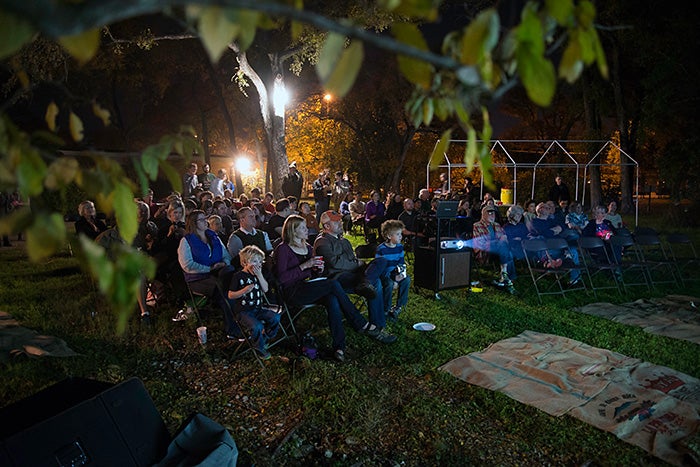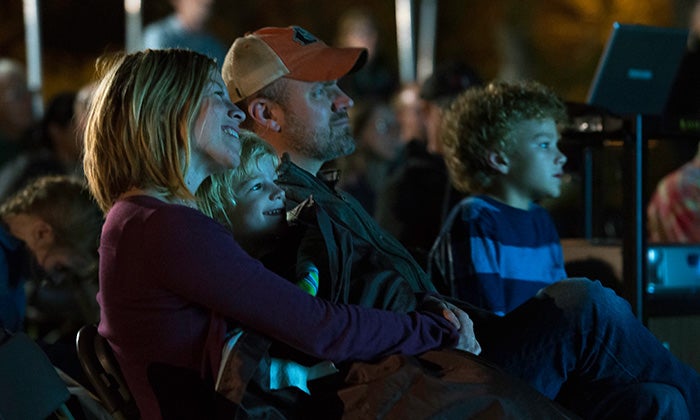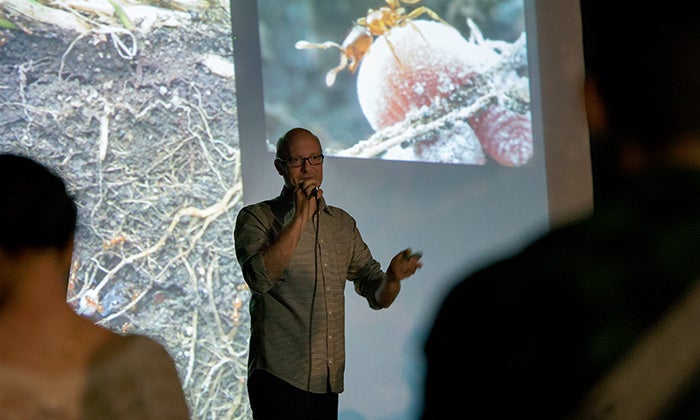 Share
https://cns.utexas.edu/news/features/graduate-students-ensure-science-under-stars-shines-bright
---