Dean's Honored Graduates
The highest honor a CNS student can earn, this title is awarded to approximately 25-30 students a year, representing the top 1% of each spring's graduating class.
The College of Natural Sciences Dean's Honored Graduate Award recognizes graduating students exemplifying the values of our college. Many students who have been selected for this honor are chosen for their amazing array of accomplishments while at UT. They have done spectacular research; furthered the college's commitment to diversity, equity and inclusion; created start-up companies; earned (inter)national awards like Goldwater, Truman, Churchill, Rhodes, Marshall, and NSF Graduate Fellowships; have high academic GPAs; or have performed significant service to the University or College while here. The reasons for designating someone a DHG can be many, but in all cases, they embody the highest ideals of the College.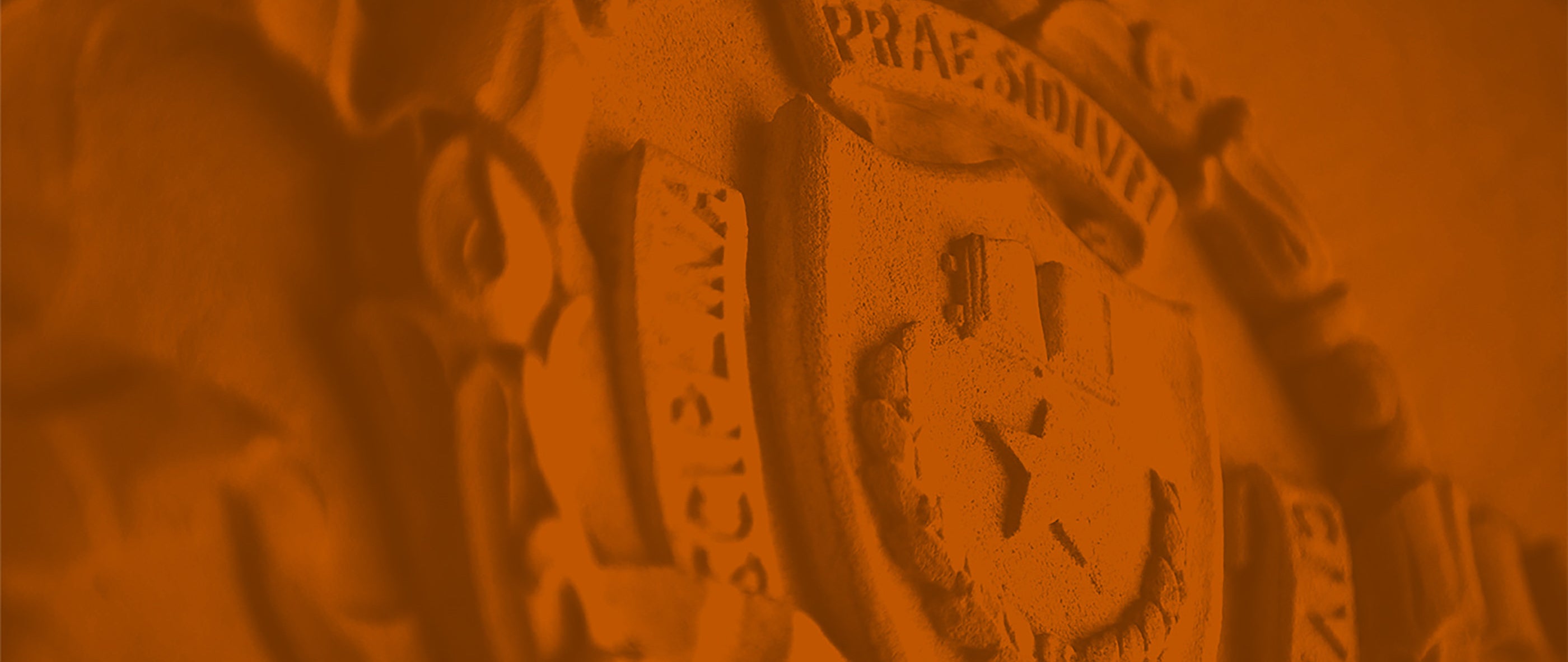 Student nominations are accepted from faculty only, and are coordinated across faculty at the departmental level to make sure no deserving student is missed. Each department should gather the testimonials necessary from across the faculty in your department, and ensure that a high-quality letter is addressed to Interim Associate Dean, Dr. Michael Drew, in nomination of the student.
Dean's Honored Graduate nominations are reviewed holistically, including review by the college's faculty advisors and college leadership.
The college will confirm the graduation status of all nominated Dean's Honored Graduates (DHGs).
2023 Dean's Honored Graduates

Pearlyn Yi Hui Ang, Biology, Distinction in Service and Leadership
Eva Beckett, Neuroscience, Distinction in Research 
Eli Joseph Bradley, Mathematics & Computer Science, Distinction in Research 
Riya Chaudhry, Human Development and Family Sciences, Distinctions in Research & Diversity, Equity, and Inclusion 
Olivia Conway, Biochemistry, Distinctions in Research & Service and Leadership 
Brandon James Curl, Physics & Biochemistry, Distinctions in Research & Diversity, Equity, and Inclusion 
Eleanor Dowell, Biochemistry & Iberian & Latin American Language and Culture, Distinction in Service and Leadership 
LuLu Eisenberg, Neuroscience, Distinctions in Research & Entrepreneurship 
Haley Nicole Etzler, Nutrition, Distinction in Research
Katherine Faulkner, Environmental Science, Distinctions in Research & Diversity, Equity, and Inclusion
Holland Frieling, Physics & Plan II, Distinctions in Research & Service and Leadership 
Matthew Robert Giordano, Computer Science, Distinction in Research 
Ria Goyal, Biochemistry & Plan II, Distinction in Service and Leadership 
Victoria Maria Grisson, Biology Marine & Freshwater Science, Distinction in Research 
Isabella Hernandez, Human Development and Family Sciences, Distinctions in Research & Diversity, Equity, and Inclusion 
Huong Nguyen Xuan Le, Medical Laboratory Sciences, Distinctions in Research & Service and Leadership 
Megan Le, Computer Science Integrated & Mathematics, Distinctions in Research & Service and Leadership 
Ayotoluwafunmi Osunsade, Public Health & African and African Diaspora Studies, Distinctions in Research & Service and Leadership 
Jorge Luis Ramirez, Biology, Distinction in Research 
Aniket Sanghi, Physics & Astronomy, Distinction in Research 
Ren Smith, Neuroscience, Distinctions in Research & Service and Leadership 
Maya Kayla Webb, Neuroscience, Distinction in Research 
Stanley Wei, Mathematics & Computer Science, Distinction in Research 
Camille Willett, Textiles & Apparel, Distinctions in Entrepreneurship & Service and Leadership 
Gulu Kevin Xiong, Chemistry, Distinction in Research 
David Yang, Biology, Distinction in Research 
Kevin Albert Zhou, Chemistry, Distinction in Research & Service and Leadership
2022 Dean's Honored Graduates

Argha Bandyopadhyay
Sanjna Anil Bhatia
Kavyaa D. Choudhary
Nisha Desai
Ronak Desai
Tess Arden Finnerty
Anna Elizabeth Fletcher
Dawson Alexander Grimes
Dora Cecilia Gurfinkel Prosperi
Sarah Elizabeth Howes
Kevin Yuhao Huang
Tanvi Ingle
Samantha C. Jackson
Eduardo Levi
Rory James Malek
Brianna Middleton
Rebeca Moreno Villarreal
Caroline G. Mott
Anna Pham
Rohit Prasad
Aman Nadimpalli Raju
Minerva Ramírez
Davis R. Roe
Delon L. Shen
Valentina Tardugno Poleo
Yanessa Vea
Allen Wen
Delaney White
Xinyu Xie
Tianwei Yin
2021 Dean's Honored Graduates

Soummitra Anand
Stefani Barre
Dominic Borbon
JD Carlton
Nicholas Alexander Cerda
Zoe De Beurs
Lauren Do
James Dong
Claire Eckardt
Brendan Fitzgerald
Rahul R. Godula
Marco D'Anthony Hernandez
Rabiav Husain
Maryam Hussaini
Marissa Elise Chabella Jenkins
Aeslyn Kail
Min Jun Kim
Niklas Lauffer
Leon Liu
Cole Maguire
Alexia Martin
Meghan Mollicone
Amelia Nelson
Chasity Nguyen
Jenifer Chisom Ogu
Lois Bukunmi Owolabi
Lauren Lia Quesada
Shilpa Rajagopal
Faith Cavazos Reyes
Nila Selvaraj
Meena Magdi Tadros
Juan Enrique Villacres Perez
Elva Ye
2020 Dean's Honored Graduates

Paola Bojorquez-Ramirez

Michael Brenan

Sheng Cao

Keerthana Chakka

Linda Cox

Shrey Desai

Matthew Duncan

Ezzeddine Elmir

Zachary Gardner

Sofia Helpert

Alejandro Rey Hipolito

Ashley Ikwuagwu

Amari Johnson

Inki Lee

Maike Morrison

Vylan Nguyen

Arinzechukwu Nwagbata

Briana Ortiz

Emrys Peets

Mayuri Raja

Kavya Rajesh

Wyatt Reeves

Samantha Refvik

Felicia Rosiji

Ariel Szekely

Jose Angel Torres

Sara Vargas

Katherine Yip

Shaochen "Tiger" You

Xiaoman "Mary" Yu
2019 Dean's Honored Graduates

Kamil Ali
Manasa Atyam 
Carlos Lopez Bray
Isabel Alyssa Cachola
Janelle Chavez
Sophie Curie
Anne Elizabeth Dattilo
Kayla Eboreime
Lydia Fennell
Jacqueline Gibson
Griffin Dale Glenn
Alexander Dio Greer
Lavender Hackman
Andrew Li
Jenna McGuffey
Calli McMurray
Laura Michie
Evonne Ng
Obiageliaku Okafor
Logan Pearce
Alia Pederson
Sebastian Rivera
Aimee Lee Schechter
Zili Shen
Maheen Shakil
Sarah Spitler
Scott Spivey
Benjamin Solder
Laura Winikka
Shiv Akshar Yadavalli
Hadiqa Zafar
Jesse Yuting Zhang
2018 Dean's Honored Graduates

Noor Al-Sayyad 
Tamunonye A. Cheetham-West 
Ashley Ciosek 
Blake Ryan Duschatko 
Annalise Eger 
Wesley Godfrey 
Samantha Grace Hart 
Alexa Hassien 
Kevin Son Ho 
Karan R. Kathuria 
Austin Kuo 
Katherine Griss Kykta 
Ashlie Marie Martinez 
Daniel Mendoza 
Paul Nguyen 
Rachel N. Obimah 
Christian Bryan Palma 
Emily Roesner 
Sana Saboowala 
Richard Seifert 
James Speller 
James M. Sullivan 
Ewin Tang 
Jacob Van Geffen 
Nick Walker 
Kelly Walsh
2017 Dean's Honored Graduates

Dylan Airey
Devin Bradburn
Aldo Gael Carranza
Steven Z. Chen
Carla Cos
Taha Dawoodbhoy
Christopher Dessert
Marshall Hayden Drake
Corey Nicholas Haines
Ryan Huizar
Yuqian Jiang
Kacie Renee Kerlee
Hyo Won Kim
Eszter Kish
Victor Loc Lam
Kayla Ann Leonard
Haley Marek
Michael Miyagi
Christianah Ogunleye
Hailey Sellars
Eileen Sullivan
Luis Enrrique Valencia
Ellen Luisa Zippi
2016 Dean's Honored Graduates

Celia Beron
Nick Bhattacharya
McKenna Boyd
Samuel David Comer
Joel Doss
David Dunsky
Parisa Fallah
Brianna Gonzalez
Nikita Klimovich
Rebecca Larson
Kaitlyn Levett
Emily McHugh
Sarfina Nance
Ajay Naranyanan
Armin Nourani
Avani Patel
Jasson Rossiter
Ella Watkins
Allison Woods
Tyler Yates 
2015 and Prior Dean's Honored Graduates

2015 

Azim Kamil Ali
Ramya Sri Balijepally
Santiago Benavides
Jonathan Edward Campbell Clutton
Sarah Cunningham
Eric T. Dawson
Jim Given
Jennifer Huang
Dillon Bailey Huff
Athena E. Metaxas
Ellis Michael
Maggie Hall Miller
Ethan Nhat-Huy Phan
Nalin Joseph Ming Ratnayeke
Nakul Manish Shah
Casey Timmerman
Corey Kathryn Timmerman
Jenny Wang
David Wetterau
Jason J. Yoo
Nancy Fang Yuan
Gabrielle Zuniga

2014 Dean's Honored Graduates

Sadhana Balasubramanyam
Paul Edward Bernard
Dustin Carlino 
Bonnie Elizabeth Cole
Christopher Alan Cotter
Michael Scott Depinet
Maria Kathleen Fox
Caroline Sellers Fuller
Juan Andres Herrejon
Aubrey Victoria Herrera 
Bruce Kuan-Yee Hua
Patrick J. Hunt
Jason Koeller
Damir Ljuboja
Jessica M. Nguyen
Victor Alonso Rodriguez
Arina Rostopchina
Jules Michael Stuart
Amanda Susan Turbyfill
Alexandra van Brummen

2013 

Nathan Abell
Ruba Alafifi
Anna Battenhouse
Da'Marcus Baymon
Lindsay Becker
Erin Beckman
Will Berdanier
Benjamin Braun
Darius Bunandar
Leslie Chang
Rikki Garner
Emily Keller
Yelena Kulik
Michael Ledbetter
Dustan Levenstein
Kevin Luecke
Nirja Mehta
Joseph Tessler
Victor Vu
Wade Wang

2012

Aditi Raye Allen 
Genevieve Allen 
Shannon Anjelica Allport
Mai Ngoc Dao
Jennifer Lee Ellis
Dylan Jay Estep
Karen Julia Gustafsson
Lon Ingram
Evan Koch
Steve Lu
Christine Manthuruthil
Eileen R. Martin
Michael Joseph Mccoyd
George F. Miller
Melanie Frances Molina
Joanna Grace Smith
Alyx Stevens
Caitlin Ann Taylor
Matthew Tien
Kaitlin Whelan
Seth Paul Whitsitt

2011 

Misha Aurelia Blizard
Gina Maria Calabrese 
Miranda Denise Colletta
Julia H. Ding
Jeffrey Donahue
Gabriel J. Elpers
Miles Ray Fontenot
Justin Allen Johnson
Deep Mohanty
Sandra Christine Noonan
Ivaylo Popov
Elaine Marie Sedenberg
Sean Simmons
Krista Lynne Smith
Aaron Seo
Daniel P. Tabor
Rebecca Elizabeth Thomson
David Wahler
Matthew Welborn

2010 

Viswatej Avutu
Louis Alberto Barrera
Vicki Chang
Lynne Chantranupong
Peter Cho
Marissa Nichole Duswalt
Grace Eckhoff
Jay Jinsing Falk
Sydney Allison Jones
Patrick N. Lawlor
Vincent Lui
Devin Matthews
Lee Patrick McCuller
Amy Elizabeth Pohodich
Ryan T. Riddle
Adam Michael Setapen
Lucia Simonelli
John Wright
Jennifer Anne Wygoda

2009 

Eric Eugene Estrin
Naeem Husain
Yuxuan Wang
Vikram Agarwal
Jay Sawyer Croley
Richa Gupta
Shawn Mathur
Katherine Ruth Smith
Marcel Richard Wiley
Nicholas L. Simmons
Gilbert Bernstein
Ari Schulman
Kathleen Hurley
Daniel Michael Cornforth
Carl Murphy
Gene Clifford Dennis
Leah Hesla
Donald (Trey) Suntrup III

2008 

Sarah Holmes Miller
Kyle Dean Penner
Kirill Gennadi Bersuker
Kara Lynn Chan
Alvin A. Chandra
Dena Rae Garrison
Michael Andrew Gil
Kara Joy Helmke
Victoria Pan
Jessica Elizabeth Shay
Leah Yieh
Seth Chase Alexander
Nathan Froemming
Scott Lasater Kilpatrick
Franziska Roesner
Rosalinda Strano Burton
Andrew Hill
Halil Saka

2007

Ross Edward Falcon
Timothy Scott Brown
Jia Wen Jessica Chang
Oloruntoyin O. Falola
Keren Ita Hilgendorf
Eric Joseph Lai
Grace Kao-Ann Lin
Heather Mary Scherr
Heather Michelle Zidow
Richard Kenneth Darst
William Leneal Miller
Ehren Andrew Kret
Hai-son Phuoc Le
Eamon Ross White
Lauren Ashley Munsell
Kevin James Hughes Jr.
Brooks Riley Campbell
Michael Ryan Gerrit

2006

Justin David Lowrey
Marit Lowrie Wilkerson
Wassia Anum Khaja
Lauren Nicole Booth
Brandy N. Zrubek
Benjamin Whiddon
Minhtran Ngo
Thomas Holcombe
Mark Alan Gebhart
Kevin Daniel Resnick
Shan Wang
Ester Lynn Schoeneck
Amanda Dawn Stewart
Nina S. Boyarchenko
Justin Shih
Ben Michael Loer

2005

Chad J. Vicenik 
Katie A. Golder
Elizabeth A. Mercer
Erik H. Weissler
Jeffrey B. Woodruff
Emily E. Barton
Farhan Khan
David A. Kummer
Christopher A. Burns
Jeffrey A. Yasskin
Lauren M. Oliver 
Gregory M. Drugan
Phillip D. Whitman
Robynne M. Hooper
Alexandro D. Ramirez
Diana E. Smith

2004

Trent J. Dupuy
Leanne Kolnick
David Reynoso 
Laura G. Young 
Mor "Myrrh" Sagy
Lindsay P. Hicks 
Lauren E. Harkinson 
Katie J. Messerly
Jeremy R. Rahe
Sarah E. Tierney 
Yen Wen "Victor" Chen 
Alka K. Tripathy
James G. Scott 
Sara R. Jacobs 
Poornima Parameswaran
Sarah E. Busch
Neil A. Kirby

2003 

Tamara Chiba
Gautam Agarwal
Susan Elizabeth Cameron
Adi Dara Dubash
Michael Milner Hoffman
Shirley Hsiao-Lin Huang 
Chand Thomas John
Srinath Sridhar
Jessica Anne Leland
Katherine Ann Bold
Elias Okon Gurvich

2002 

Brian Tieu 
Abigail Green
Sarah Archer-Evans
Erin Lichtmann
John Meitzen
Stacia Rodenbusch 
Thomas Sundberg 
Tom Brunet 
Delwin Lee 
Ted Wild 
Calvin Lee 
Joseph Richard Trinko 
Jason Callahan 
Matthew Day 
Patrick Bloom

2001

David Smith 
Mary Catharine Garcia 
Benjamin Walther 
Stephanie Woo
Elizabeth Weihe
Josh Hanson 
Sarah Faulkner
Phillipe de Roufignac
George Porter
Jeff Kligner 
Amanda Brown
Nick Gurski 
Melike Lakadamyali

2000

Jamie Barnes 
David Fink
Jonathan Forde
Jennifer Gatchel 
Jennifer Gordon
Sara Martinez
Michael Michael 
Scott Nguyen 
Ronald Potok 
Kurt Sattelmeyer 
Kathleen Stauber 
Amy Turnbull

1999

Andria Bilich 
Michael Dillon
Deborah Klohe
Ari Molofsky 
Trygve Ristroph
Tara Spires
Christopher Tinkle 
Joel Tropp 
Jason Vogel 
Jason Waddle 
Patrick Young

1998

Jamie Lee Antilla 
James D. Ayers
Ziewei Susan Chen 
David Michael Ely 
Sujit Srinivasan Iyer
Angela K. Kubena
Christopher Scott Laws
Chuan-yu Michael Lin 
Christie Marie Rogers
Sarah Jane Slocum 
Dustin Blake Stephens

1997

Charles Raymond Bloom 
Hieu P. Cam 
Jeffrey Ray Crawford 
Martin Albert Herrmann
Audress Dawn Johnson
Madeeha Khalid
Kristen Renee Lanum
Jeffrey Karl Leitko 
An Thai Nguyen 
Tarita Oommen Thomas
Bonnie Kay Trotte

1996

Jennifer Lynn Beall 
Tija Carey 
Conor John Cunningham
Charlene Yukimi Kon 
Christopher Edward Kuklewicz 
Scott Albert Stratemann
Adam Robert Urbach
Sean Michael Winkler 
Wing-Ling Shirley Yeung

1995

Jonathan Adam Letterman Gelfond 
Kerry Lynn Kinkler 
Frances Camille McNeely
Melissa Niccole Ramser 
Zhendong Patrick Su 
Alison Coffee Teagan 
Wade Karlton Trappe 
Orion David Weiner

1994

Christopher Thomas Bauch 
Jennifer Lee Bishop
Bertram Jehantha Canagarajah
Jaitra Vedanta Murthy 
Joseph Dean Patterson
Kimberly Ann Setser
Elizabeth Jean Vaught
Jeffrey Alan Viaclovsky 
Stanley Suchy Wang 
Jerrell Richard Watts

1993

Sandeep Krishna Agarwal 
Amy Michell Alcorn
Hala Ra k Gobran
Mark Eric Hanson
Michael Richard Harren
Marc Albert Ibanez
Kevin Lee Luhman
Peter Matl
Carl Martin Matthews
Marshall Reeves Mayberry
Alicia Johnson Snyder 
Rachel Janet Waugh

1992

Steven Siang-Kiat Chua
Jennifer Arwen Cummings 
Christy Marie Foran 
Stephen Allen Herrod 
Stuart George Johnson
Olivia Guadalupe Kelly

1991

Ann Bowden Lenox 
Alexandre Refregier
Theodore Haynes Romer
Lisa Lynn Saunders
Jeffrey Stephen Schlab 
John Raymond Uglum III
Randolph Yuanto Wang