12 Ways Texas Science Innovators Made the Most of this Year
December 23, 2019 • by Christine Sinatra
Here are a handful of ways that members of our science and mathematics community brandished their entrepreneurial spirit this year.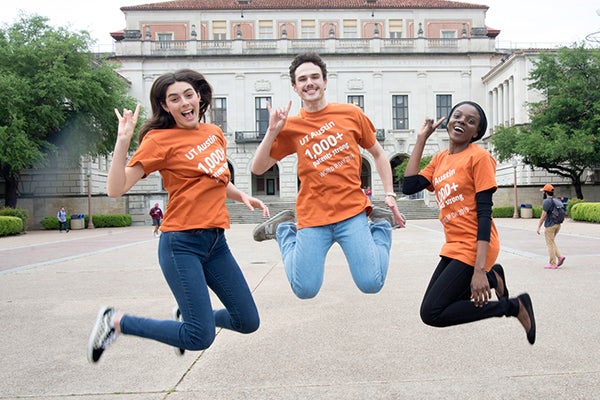 ---
Out of the lab and into the marketplace. That could be the catch phrase for a growing number of UT Austin science students and faculty. They are pouring creativity and hard work into new efforts to bring UT science into new realms.
In the last year, members of the Texas Science community developed and sold new ideas and companies, invented products and services and used research and learning to meet real-world demands. Here are a handful of ways that members of our science and mathematics community brandished their entrepreneurial spirit this year.
A UT scientist's cancer-fighting drug platform gained traction with a major biotech company.
Professor of chemistry Jonathan Sessler is no stranger to business. He co-founded a successful company in the 1990s, that later made history. More recently, with funding he received from the Cancer Prevention and Research Institute of Texas, Sessler has been working on a drug platform to help fight ovarian cancer. The Austin American-Statesman reported in September that Australian biotech firm IQ Global worked with Sessler and UT to bring the drug platform to market. It's a critical step closer to making the drug ready for patients in need.
UT celebrated 1,000+ patents in conjunction with World Intellectual Property Day. 
University inventors are a force to be reckoned with. Researchers at the university this year passed the 1,000-patent mark, according to UT's Office of Technology Commercialization. In conjunction with a celebration in April, it was clear many of the patents are held by faculty in the Natural Sciences community.
​The chemist behind the MasSpec Pen announced her first results from human surgeries.
Among the 1,000 patents mentioned above from UT Austin is one for the MasSpec Pen, a groundbreaking device developed by chemist Livia Eberlin and her team. It helps surgeons detect cancer in seconds with great accuracy. Eberlin, another recipient of funding from the Cancer Prevention and Research Institute of Texas, partnered with surgeons in Houston to begin use of the device and then this summer presented her promising preliminary findings at a meeting of the American Chemical Society.
Science departments formalized new partnerships with the McCombs School of Business.
Nutrition innovation is changing the way we live and eat, so the Department of Nutritional Sciences recently teamed up with McCombs to advance the UT Nutrition Institute. In it, a team of dietitians, scientists, educators and innovators work together to connect nutrition experts with community members, including entrepreneurs. An October event, the Taste of Texas Showcase, set the stage by introducing "better for you" food-and-beverage makers to UTNI leaders. Meanwhile, the Department of Computer Science also partnered with McCombs in launching a new computer science and business honors program. The rigorous new dual-degree program serves top students interested in both areas.
Students in the new UT Inventors Program got to showcase innovations.
What should a children's science museum do next to appeal to visitors? How can armed forces detect what activity is happening on the other side of a solid wall? Undergraduate Natural Sciences students presented their answers to these and other questions before a "Shark Tank"-style panel of alumni and industry leaders. The panel evaluated students' plans for solutions to a persistent industry challenge. In Inventors courses, students spend a semester grappling with a real-world problem and work to develop a solution that is later highlighted at the showcase.
Faculty members who also work in industry had an exciting year.
Ronny Hadani is cofounder and chief scientific officer for a company, Cohere, whose technology is based largely on the UT mathematics professor's vision. He partnered with an engineer to develop a one-of-a-kind wireless modulation advance. Now, as the world has begun adopting 5G technology and planning for its successor, his company's advance holds a lot of promise to be in the mix. Meanwhile the Sony Corporation tapped Peter Stone, a professor in the Department of Computer Science, to lead the newly established Sony AI in the United States.
Science faculty were recognized for having the startup and invention of the year.
Molecular biosciences professor Edward Marcotte and chemistry professor Eric Anslyn shared UT's Invention of the Year award for their innovation: a way to rapidly sequence proteins using single-molecule fluorosequencing. George Georgiou, another professor of molecular biosciences, won Startup of the Year for his company, Kyn Therapeutics, which works to develop immuno-oncology therapies that help cancer patients.
The College of Natural Sciences welcomed its first director of entrepreneurship initiatives.
Ashley Jennings joined the college as the director of entrepreneurship initiatives to help drive entrepreneurship efforts across the college and in collaboration with other STEM programs on campus. Prior to coming to Natural Sciences, Ashley worked at the Herb Kelleher Center for Entrepreneurship in the McCombs School of Business.
Houston investors opted to fund a sensing technology developed at UT.
Lantha, a tech startup whose core technology is based on work from chemist Simon Humphrey, received millions of dollars in venture capital investments from the GOOSE Society of Texas based in Houston. The company is commercializing a novel chemical sensor invented at UT Austin. The sensors stand to dramatically lower costs and return much faster than similar tools on the market today. 
A local startup bought the company a UT computer scientist started with his student.
Former undergraduate and graduate student Juan Sequeda and his advisor, professor Daniel Miranker, invented a powerful new way to transform how people relate to data on the internet that is stored in many different ways and places. Their technology makes such data a lot easier to analyze. The computer science spin-out based on their research at UT was acquired over the summer by data.world; Sequeda became its principal scientist and Miranker an adviser.
CNS got involved in UT's new Kendra Scott Women's Entrepreneurship Leadership Institute.
The University established a new female leadership program, and some of its initial offerings include contributions from Natural Sciences. The WEL program—uniquely created to address challenges women often face in business—offers its first classes in Spring 2020 and among them is an experiential accessories design, development and merchandising course taught in collaboration with the college's Division of Textiles and Apparel.
Companies and inventions from Texas Science alumni grabbed the spotlight.
Entrepreneurs and inventors are a significant force within the alumni community of the College of Natural Sciences. Several efforts from impactful alumni were featured this year in the media. For example:
Bri Connelly (B.S. Computer Science '15) started Cerebri less than five years ago, along with fellow students who, with her, won an IBM Watson competition. Though Connelly herself has moved on, the AI-themed company today has more than 50 employees and has secured $17 million in investments.
Poornima Parameswaran (BS Biology '04) cofounded a successful agricultural startup Trace Genomics, which produces soil microbiome kits and data analysis for farmers. Parameswaran and her company were featured in a special segment from a global think tank.
John Rogers (BS Physics, BA Chemistry '89) is the holder of nearly 100 patents, including one for his recently developed technology that allows for wearable devices that stick to the skin, collect data, and then dissolve when they are no longer needed. The advance holds a lot of promise for use in medical facilities, including in the care for premature and sickly newborns.
Special thanks to Cason Hunwick who contributed to this report.
Share
https://cns.utexas.edu/news/features/12-ways-texas-science-innovators-made-most-year
---