Four Natural Sciences Faculty Receive President's Associates Teaching Excellence Awards
March 4, 2020 • by Cason Hunwick
Michael Drew, Janice Fischer, Marci Gleason and Vernita Gordon received President's Associate Teaching Excellence Awards.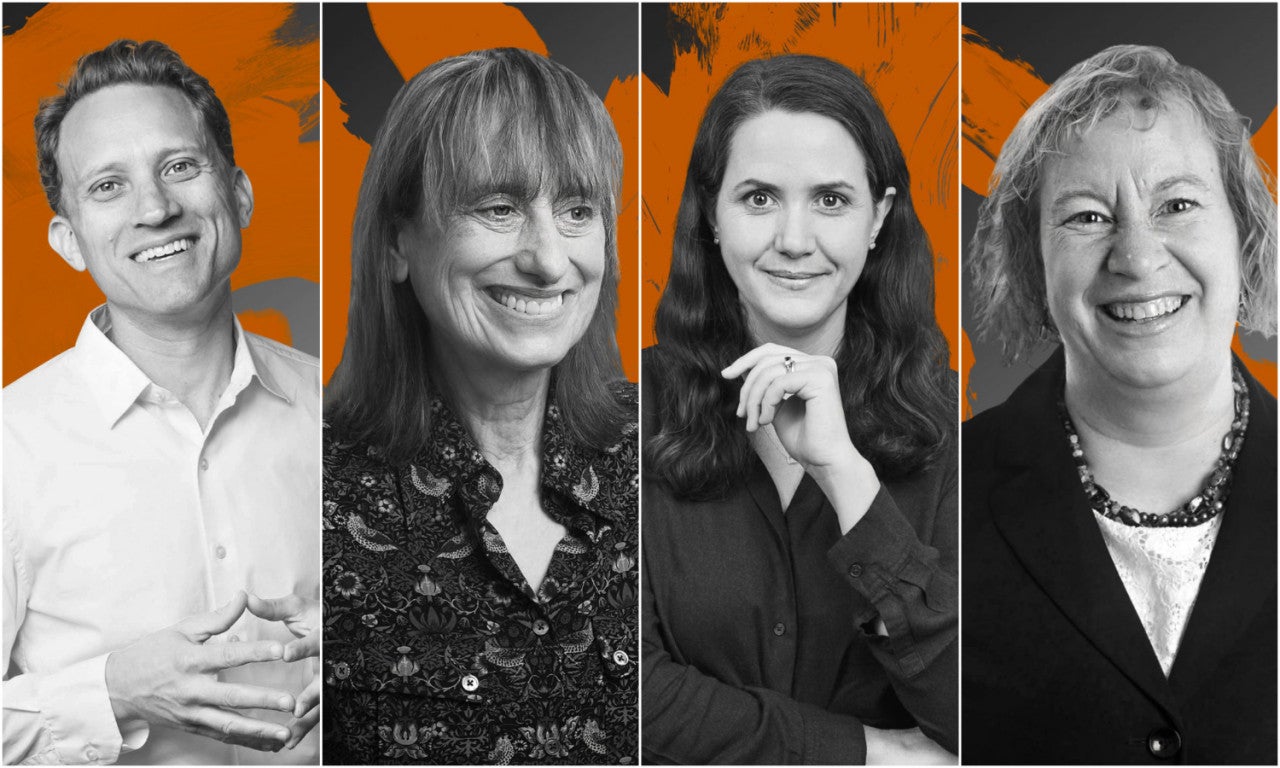 2020 President's Associates Teaching Award winners Michael Drew, Janice Fischer, Marci Gleason and Vernita Gordon.
---
College of Natural Sciences faculty members Michael Drew, Janice Fischer, Marci Gleason and Vernita Gordon each received a 2020 President's Associate Teaching Excellence Award, among seven total recipients.
Each year the award recognizes outstanding faculty who raise the bar in undergraduate core curriculum instruction.
Physics associate professor Vernita Gordon teaches a range of physics courses. As a researcher who "works on biological physics experiments to try to understand how cells interact with each other and with their environment," Gordon and her team also developed a lesson plan that was taught to middle school students at the 2019 summer UTeach STEM Prep camp.
Former students of Gordon's compliment her use of live demonstrations to illustrate difficult concepts and her inviting, open-door approach to assisting students outside of lectures.
One former student, Megan Thompson, a junior astronomy major said, "Dr. Gordon is an accomplished, insightful professor and mentor. She deserves recognition for her excellence in teaching undergraduates the necessary intuition for their foundation in physics and critical thinking for the 'real world' after college."
Neuroscience associate professor Michael Drew has taught undergraduate classes at UT since 2012. He previously received a Regent's Outstanding Teaching Award from the University of Texas System in 2016 for extraordinary classroom performance.
Drew's enthusiasm, interest in the subject matter and detailed, yet easy-to-follow coverage of complex topics draws high praise.
"His teaching style was extremely engaging, and Dr. Drew's intellectual curiosity towards neuroscience was infectious. He actively encouraged questions about unexplored aspects of neuroscience and inspired in-class discussions about cutting-edge experiments," noted Alexa Hassien, UT psychology and neuroscience alumna and former student of Drew.
Janice Fischer, a molecular biosciences professor, serves as director of the Biology Instructional Office (BIO), which oversees all undergraduate biology majors across Natural Sciences. Fischer has taught undergraduate genetics at UT since 2011 and received a College of Natural Sciences Teaching Excellence Award in 2012.
Biology senior and former student Ethan Cavazos commended Fischer for her treatment of a difficult field of study for many undergraduates, saying, "Genetics can be very tricky... but Dr. Fischer really aims to build your understanding from the ground up. She anticipates confusion and will never make you feel lesser for it."
Marci Gleason recently helped lead a curriculum redesign project in the Department of Human Development and Family Sciences, where she is an associate professor. She has taught undergraduate courses at UT since 2010 and received a College of Natural Sciences Teaching Excellence Award in 2012.
"Her passion for Human Development and Family Sciences set me on course to realize my full potential. She is a phenomenal teacher and I know I am not alone in being inspired," said alumna Annalise Eger.
Recipients are awarded a bonus of $5,000, made possible by a group of donors known as the President's Associates. A comprehensive list of past recipients can be found here, and a list of CNS faculty awardees can be found here.
​Read University News' account of all seven winners of this year's awards in "These Texas Professors Share What Makes Their Classrooms Award-Winning."
Share
https://cns.utexas.edu/news/accolades/four-natural-sciences-faculty-receive-presidents-associates-teaching-excellence
---