UT Students' Jewelry Design Picked Up by Kendra Scott
October 13, 2020 • by Esther Robards-Forbes
A group of 2020 University of Texas at Austin graduates can now see the jewelry they designed on the shelves at Kendra Scott.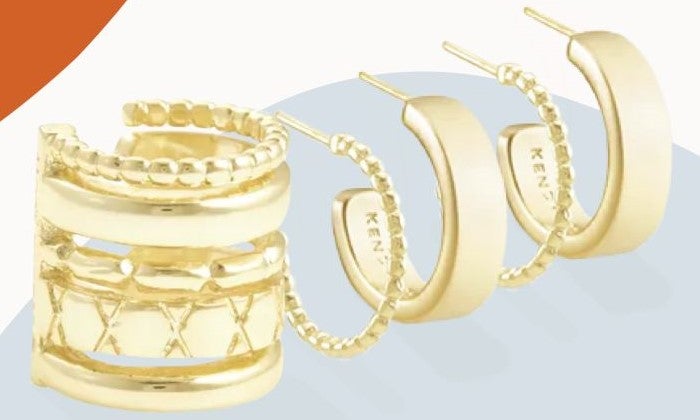 The Ciarla ear cuff set available from Kendra Scott. Image courtesy of Kendra Scott.
---
As part of last spring's Textiles and Apparel (TXA) 365 class, Accessory Design, Development and Merchandising, students were divided into teams and asked to develop jewelry designs for Kendra Scott, targeting the Generation Z demographic. The winning team's design is now on sale in Kendra Scott stores and online.
Part of Gen Z themselves, the recent students—Anita Ghamarian, Tianjie Pei, Julia Sotelo, Sara Kopenec and Pinar Sarilar—embraced the challenge to blend trendy tastes with an established brand aesthetic.
"We really wanted to get into the mindset of the Gen Z individual, so we went to where they spend the most time: social media," said Ghamarian, a Textiles and Apparel Design alumna who graduated in May. "We used a lot of pastel colors and astrological symbols for our final designs. We researched previous and popular designs and symbols from Kendra Scott to derive inspiration for our shapes in our designs."
The TXA 356 course is offered as part of UT's new Kendra Scott Women Entrepreneurial Leadership Institute (WELI).
"The students get to see up close what the process looks like to go from ideation to product development through the lens of the Kendra Scott design and merchandising team. They create designs based on pieces that they would want to see in the collection and work as a team similar to how the process works in the industry," said Jessica Ciarla, who created and taught the course. "Proceeds from this product are donated back into The Kendra Scott Women's Entrepreneurial Leadership Institute to strengthen the next generation of courageous, creative female leaders who will change the world. The intent of featuring student designs is solely for the purpose of showcasing student work and celebrating the partnership with UT."
The winning team named their earring and ear cuff set Ciarla in her honor.
Each of the teams were made up of a variety majors. The winning team included TXA majors, business majors and a communications major.
"It is amazing to see how each major has a different way of solving one problem so we cover more areas that sometimes textile and apparel students tend to forget about," said Pei, a recent TXA and economics double major.
Each of the team members said they learned something new about the fashion industry that many of them wish to work in as part of the project, such as meeting with the Kendra Scott design team for feedback and fabricating the prototype.
"For me, the designing and CAD (computer aided design) part of the project was the most interesting," said Sotelo, who hopes to work in fashion marketing. "Being a public relations major, I had never had experience sketching, drawing, making 3D renderings or using a 3D printer to make our sketches come to life."
Spring 2020 was the first time the TXA 365 course was offered. Even though the semester was interrupted by the COVID-19 pandemic, the students carried on working remotely.
"This taught me a lot about communication and time management, and how to resolve conflict!" Kopenec said. "I also really learned how to pivot, since COVID disrupted the course halfway into the semester. While there were some tough times, the end result was well worth the work!"
More than 5,000 people voted in the online contest to pick the winning design.
"I had a lot of confidence in our product and am so grateful that it is able to be produced for many to enjoy," said Pinar Sarilar, who recently graduated with a degree in finance.
Share
https://cns.utexas.edu/news/features/ut-students-jewelry-design-picked-kendra-scott
---