UT Scientists, Mathematicians and High Schoolers Partner for Success
December 21, 2018 • by Steven E. Franklin
Gold medalists in an astrophysics Olympic-style event, award-winners at a statewide science fair and budding genetic engineers who shared their research 2,000 miles away are among the high schoolers who found success after working closely with members of the Texas Science community in 2018.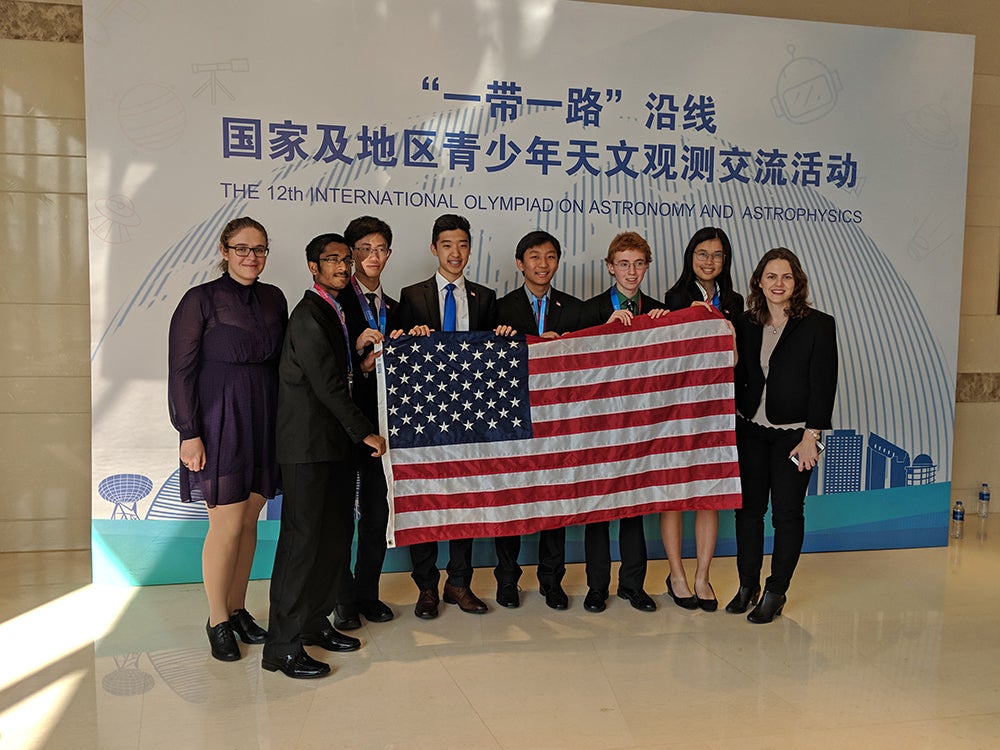 The USA Team in Beijing. From left to right: Ioana Zelko (Team Leader), Sahil Pontula, Vincent Brian, David Yue (also a Texan), Andy Zhu, Texan and gold medalist Joseph McCarty, April Cheng and UT Austin graduate student Nastasa Dragovic (Team Leader). Photo from the USAAAO.
---
College of Natural Sciences graduate students, faculty and staff frequently help high school students excel at local, national and international science competitions. Competing in these scientific contests prepares students for college and the future, exposes them to new and different ideas and gives them the opportunity to meet other young scientists from around the globe. Below are four stories from the trenches of high-school competition this year.
Taking Home the Gold at the International Olympiad in Astronomy and Astrophysics
In November, Natasa Dragovic, a UT graduate student in mathematics, helped lead the USA Astronomy and Astrophysics Olympiad team of high school students to its best victory to date at the 12th International Olympiad in Astronomy and Astrophysics in Beijing, China.
The USA team consisted of six high school students, including two from Texas, who went up against more than three hundred competitors from thirty-eight countries. The team brought home two gold medals, one silver, one bronze, and one honorable mention.
Dragovic and one other team leader began coaching the students in preparation for the event in June. Since the team members live outside of Austin, training was conducted largely through video calls. Having competed as a student in Serbia at a previous IOAA provided Dragovic with the experience to mentor these students and prepare them for the challenge.
The USAAAO, founded in 2013, strives to promote interest in astrophysics and astronomy throughout the country. Team members are selected based on performance during two rounds of selection exams.
Biohacking Toward Bronze at the International Genetically Engineered Machine Competition

In October, a group of high school students from the Liberal Arts and Science Academy in Austin brought home a bronze medal from the International Genetically Engineered Machine (iGEM) competition in Boston, which involves creatively applying synthetic biology to real-world issues. The LASA iGEM team worked with Andrew Ellington, a professor in the Department of Molecular Biosciences at UT Austin. Ellington served as their primary investigator, offered them space in his laboratory and provided guidance on the project. The team also received assistance with lab protocols and assays from graduate students and staff at UT Austin, including Sanchita Bhadra, Jim Rybarski, Isabel Strohkendl and Stella Wang.
Three students from the team, Vidhya Annem, Shreya Gupta and Anna Tutuianu, traveled to Boston to give a presentation on their project, which was to create an effective means to detect HIV-1 in infants in developing countries. The students also had the opportunity to meet teams from more than 40 countries, see other projects and attend workshops and talks.
Partnering with a Nutritional Scientist to Place at the State Science Fair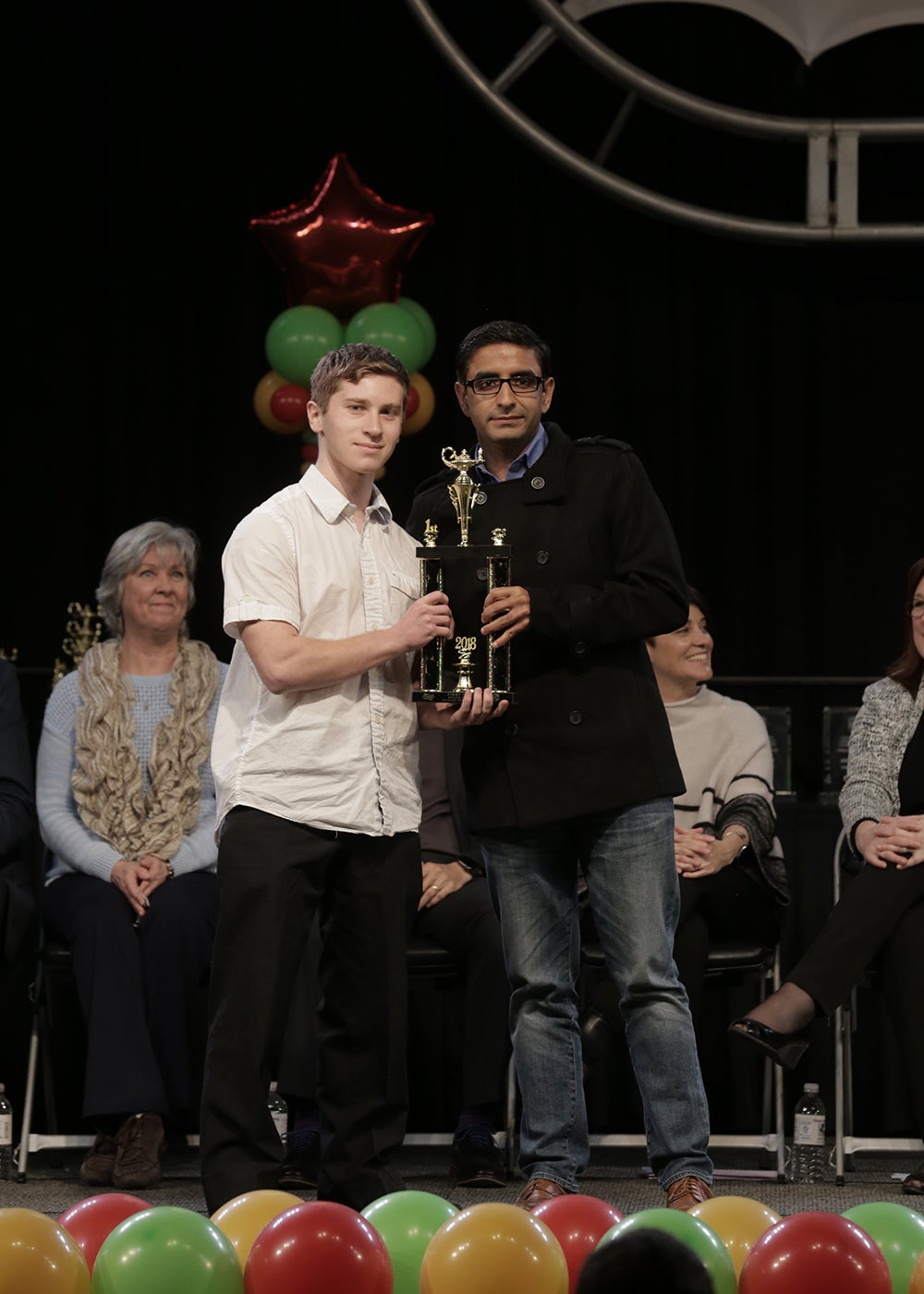 Bryce Yeazell, also a student at the Liberal Arts and Science Academy, brought back first place in February from the Austin Regional Science Festival and third place in March from the Texas Science and Engineering Fair, both in cellular and molecular biology for his project, "Cyclin D and the Increased Proliferation of MCF-7 Breast Cancer Cells when Under Conditions with Higher Omega 6 to Omega 3 Ratios."
Yeazell works in the laboratory of Linda deGraffenried, an associate professor in the Department of Nutritional Sciences and in Dell Medical School's Departments of Oncology and Pediatrics, who said he "has been a highly productive member of the lab for three years now." He first approached deGraffenried wanting to do research on breast cancer with a focus on moderating the disease with diet. After serving as a science fair judge for many years, and watching her own children compete in science fairs, deGraffenried said that she was happy to help. Brittainy Harlow, a Nutritional Sciences graduate student, also helped give guidance on laboratory techniques and interpreting results.
Stacking Up the Science Fair Wins with the High School Research Initiative
An innovative program called the High School Research Initiative offers high school students a dual-enrollment course and the opportunity to earn both high school and college credit while delving into scientific research and working with faculty and graduate students at UT Austin. This past spring, 30 HRI students from four different Austin-area high schools participated in the Austin Regional Science Festival, and eleven placed in the top five in their categories, allowing them to advance to the Texas Science and Engineering Fair. One of those students, Jonathan Shoemaker of St. Dominic Savio High School, went on to earn third place in Materials Science at the Texas fair.
The students devised and executed their research projects last fall during the course's first semester, which focuses on open-inquiry research. They were guided by their HRI educator, a high school teacher who has received intensive professional training from a UTeach master teacher. In the spring, while preparing for the science fair, the students also began collaborative real-world research work with the help of four UT Austin scientists: Josh Beckham, Elizabeth Ilardi, Mary Ramsey and Tim Riedel.
HRI is a partnership between UTeach and the Texas Institute for Discovery Education in Science (TIDES), funded by an NIH Science Education Partnership Award. The program expanded this year and is now partnered with seven Austin-area high schools in four school districts, including three local Title I Schools, where the majority of students are from economically challenged households. To date, the HRI has served 152 students and trained nine high school teachers.
Share
https://cns.utexas.edu/news/features/ut-scientists-mathematicians-and-high-schoolers-partner-success
---