Food for Thought: Nutrition Researcher Embraces the Toughest Subjects
April 21, 2023 • by Esther Robards-Forbes
Beth Widen, a nutrition researcher at The University of Texas at Austin, is seeking to untangle the complex relationship between nutrition in pregnancy and infancy, and health outcomes down the road.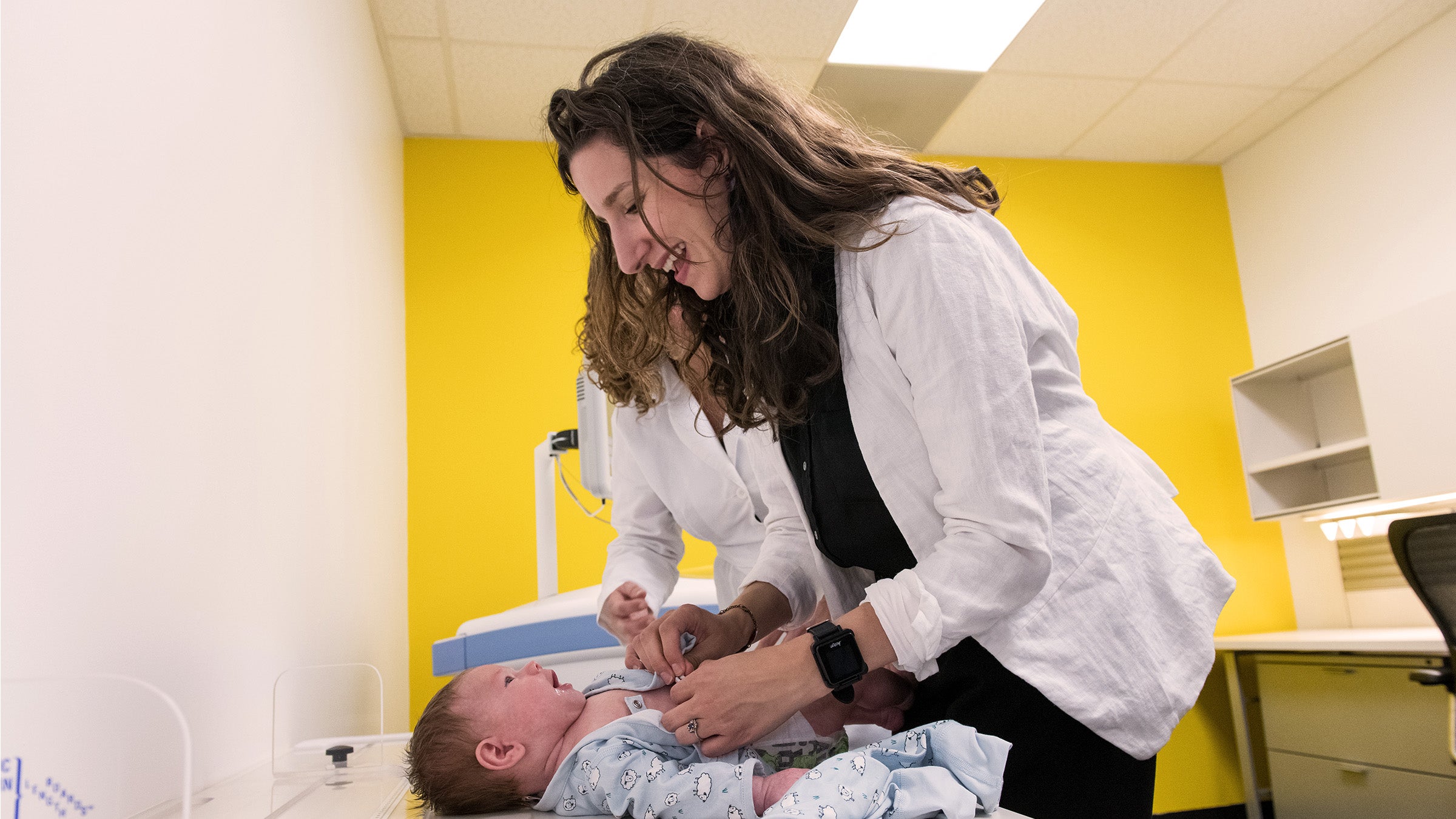 Photo by The University of Texas at Austin.
---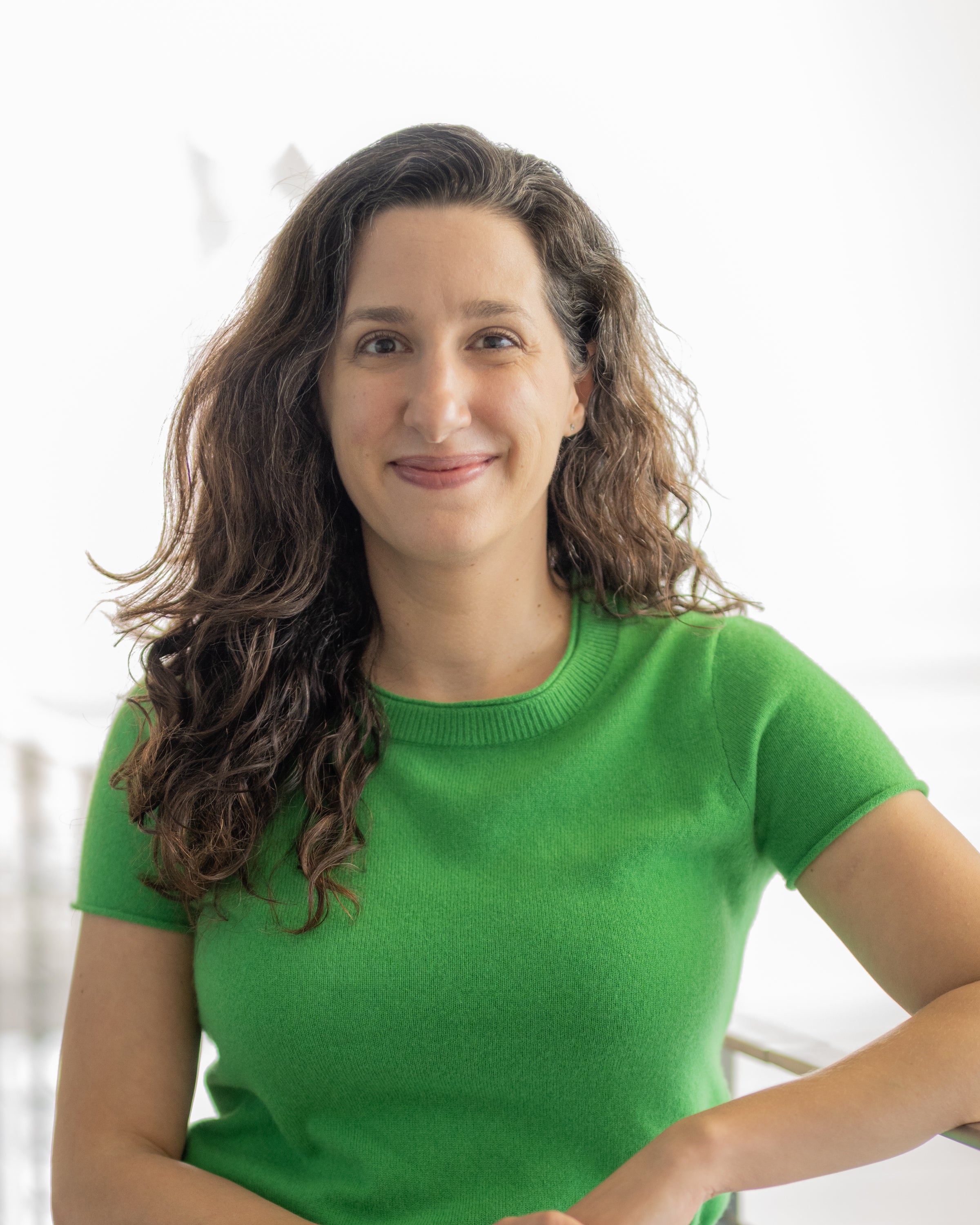 Beth Widen knows that proper nutrition in pregnant individuals and their infants is crucial to their health and development. But this is also one of the most challenging populations to study.
Every person's body is different and every pregnancy, even for the same person, can be very different. When it comes to studying pregnancy, there are unique ethical concerns that make the type of randomized controlled experiments seen in other areas of human subjects research much more challenging. For example, dietary interventions may have complex and unintended consequences on developing fetuses. So researchers must get creative with their experimental designs. Add in the avalanche of advice, misconceptions, and guidelines around nutrition pregnant people are bombarded with ("You're eating for two," "No sushi," "Drink plenty of orange juice"), and the intense emotions people can have about food — not to mention the difficulties in finding a diverse research cohort willing to take time to work with scientists between prenatal appointments — and it's little wonder that many experts in the nutrition field avoid the challenge of studying nutrition in pregnancy altogether.
"Nutrition in pregnancy and infancy is, surprisingly, still somewhat of an emerging field," Widen said. "We're constantly exploring new techniques for measuring and gathering data. We're finally starting to understand some of the complex mechanisms underlying pregnancy that contribute to maternal and child health outcomes. We know that diet, exercise, and metabolic health are associated with pregnancy outcomes, but we don't know exactly how they are all interrelated and specifically what behaviors and factors positively or negatively influence those pregnancy outcomes and long-term health."
Pregnancy is a vastly complicated process, as well as a very vulnerable time in both the fetus' and the pregnant person's lives. It's a condition that changes the body forever for a birth parent. For infants, what happens in utero can have impacts for years or even the rest of their lives.
Updating the Playbook
Many pregnancy recommendations are based on studies from decades ago. Food supplies have changed. People's behaviors have changed. Rates of diabetes, obesity, and severe pre-eclampsia have increased. Maternal mortality rates are on the rise, with disparities that affect underserved populations disproportionately. The stakes are high in the race to tease out the insights that lead to the best recommendations for pregnant people today and in the future.
Widen aims to use her unique blend of skills to provide insight on these important questions. As a Registered Dietitian, women's health expert, pediatric researcher, and public health scientist, she wants to use and develop the most state-of-the-art methods to measure, and analyze the bodies of both the pregnant and the newly born, and document their outcomes down the road. Widen has a seemingly boundless curiosity and excitement for her field of study. She speaks about multiple topics, exuberant and eager to discuss the science and share the findings she has uncovered. Her passion for her work is evident and her enthusiasm infectious.
Molly Bray, Chair of Nutritional Sciences at The University of Texas at Austin notes that "Dr. Widen is working to dispel the many myths that abound about nutrition during pregnancy, and to support parents in feeding their infants and toddlers. Her research is providing the foundation for making science-based decisions about how to eat during this critical time of life, for the health of both the mother and the infant."
For decades, doctors have recommended a range of weight gain during pregnancy, with the Centers for Disease Control suggesting a range between 11 and 40 pounds, depending on a person's starting point.
Gaining less than the recommended amount of weight in pregnancy can be dangerous for the individual delivering a baby and for the infant, who could be born too early or too small. Some babies born too small may have difficulty starting breastfeeding, may be at increased risk for illness, and may experience developmental delays. Gaining too much weight during pregnancy can lead to gestational diabetes, complications during delivery, and having a baby who is too big. Excessive pregnancy weight gain can also lead to cesarean delivery and increases the risk of obesity and health problems for child and parent alike.
In a recent study published in Pediatric Obesity, Widen and her research team found that the amount of weight gained during pregnancy didn't have as much of an effect on infants as the mother's weight before the pregnancy began. Body mass index (BMI), a measure of weight adjusted for height, at the beginning of a pregnancy was a stronger predictor of newborn adiposity (the amount of fatty tissue in the body) than the amount or trajectory of weight gained during pregnancy. A paper published this month in American Journal of Clincial Nutrition looks at weight gain trajectories in pregnancy, which are characterized by when and how quickly weight is put on, and how that affects outcomes for mom and baby.
Lasting Effects
"Having excess adipose tissue at birth potentially sets you up for having a worse trajectory throughout life, including an increased risk of childhood obesity," Widen said. "With our pregnancy and infancy cohort, the Mother Infant NuTrition Study (MINT), we're trying to answer some big questions. Does the weight change in pregnancy matter, or is it the composition of the weight—fat vs. muscle? Or, when in the pregnancy the weight is gained? What are the downstream effects for mom and baby? And, is there anything that can be done to control them?"
Another recent study from Widen and her team found that postpartum people who breastfed their infants for at least six months had a lower BMI and lower body weight 4-10 years later than those who did not breastfeed, and the association did not vary by socioeconomic status.
Some of Widen's more recent work is designed to disentangle how early life predictors—such as prenatal exposures or infant feeding impact growth. One study published in Journal of Nutrition found that infants who were exposed to HIV in utero but remained uninfected were more than three times as likely to have stunted linear growth across the first two years of life than those who were never exposed.
In order to generate recommendations that apply across a wide population, but are still useful on the individual level, Widen has chosen to focus on high-risk populations and groups that are historically understudied. Too many previous studies have focused heavily on healthy White women in pregnancy, she said. Even though it takes more time and effort to recruit a diverse sample, it's worth it.
Her studies have looked at members of Dominican neighborhoods in New York, rural and urban clinic patients in Kenya, and clinical practices in Austin serving Hispanic families. Widen has conducted field research in Uganda, Kenya, and Malawi. Since earning her Ph.D. in 2012 from the University of North Carolina at Chapel Hill, she has published more than 38 peer-reviewed papers.
One previous study by Widen and her team in 2019 found that a mother's obesity during pregnancy was associated with lower motor skills in preschoolers and lower IQ in middle childhood for boys. They found the differences were comparable to the impact of lead exposure in early childhood.
Even as she's trying to understand the mysteries of growing brand new humans, Widen is also thinking about how to use more advanced methods of measurement, analysis, projection, and modeling to collect data and gain insights from it.
"For example, we don't have good ways to measure babies' and children's body fat levels in a typical clinical setting," Widen said. "What is usually done is that children's weight and length are measured, and then plotted on a weight-for-length growth chart or a body-mass-index-for age growth chart; however, these do not accurately reflect body composition in growing children—specifically how much of their weight is fat vs. lean tissue."
Widen and her colleagues measure adipose tissue using pregnancy-safe imaging techniques in both prenatal and postpartum MINT participants.
MAGIC Ahead
Widen's observational studies have led her to develop interventions to support maternal and child nutrition. Perhaps the project she's most excited about is the Mothers And CareGivers Investing in Children (MAGIC) program trial. An interdisciplinary team of researchers in nutritional sciences, human development and family sciences, and pediatrics is examining responsive feeding and infant-caregiver relationships to determine the influence of infant eating behaviors on weight gain trajectories, health outcomes, and obesity risk. The study uses real-time virtual and in-person sessions to support parents and other caregivers feeding their babies in the first year of their lives.
"The MAGIC trial is one of the first studies of its kind in the U.S., combining real-time observations of feeding with our intervention program that supports a healthy diet and optimal feeding practices during infancy," Widen said.
Deborah Jacobvitz, Professor of Human Development and Family Sciences at The University of Texas at Austin, notes that "Dr. Widen's innovative work is at the forefront of obesity prevention research. The MAGIC intervention we developed provides parents with the tools necessary to foster their children's ability to regulate their own food intake and develop lasting healthy eating habits."
Share
https://cns.utexas.edu/news/features/food-thought-nutrition-researcher-embraces-toughest-subjects
---