UT Austin Mourns Passing of George Sudarshan, Titan of 20th Century Physics
May 15, 2018 • by Marc Airhart
E.C George Sudarshan made many contributions to theoretical physics, including the foundations of quantum optics and the proposal of new particles called tachyons.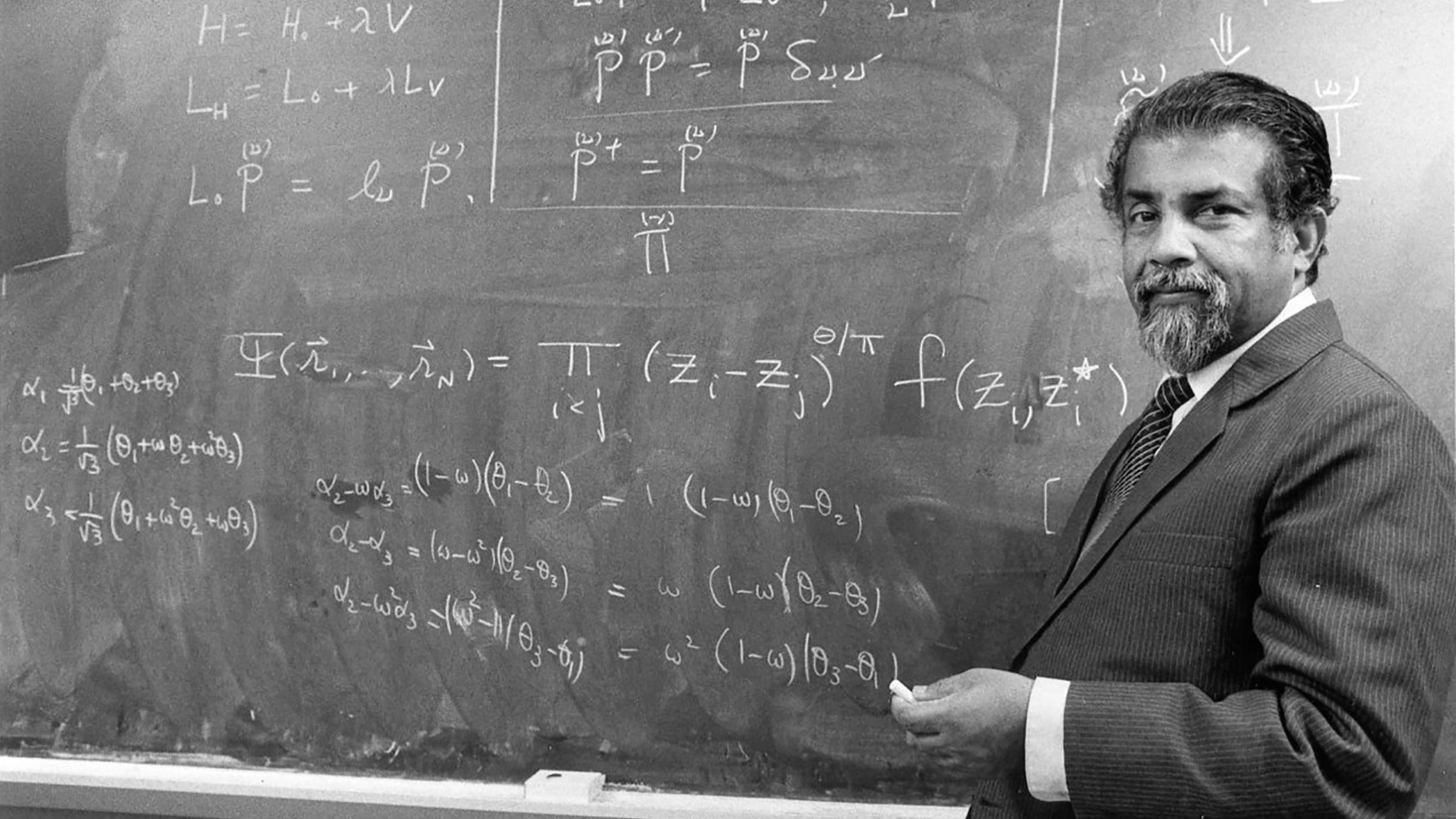 ---
World-renowned physicist E.C. George Sudarshan died of natural causes this week at the age of 86. A professor of physics at The University of Texas at Austin from 1969 to 2016, he made many important contributions to theoretical physics.
Ennackal Chandy George Sudarshan was born in Kottayam, Kerala, India on Sep. 16, 1931. He received his Ph.D. degree from the University of Rochester in 1958. He then moved to Harvard University to work with Julian Schwinger as a postdoctoral fellow. After serving on the faculties of the University of Rochester and Syracuse University, he settled at UT Austin in 1969.
Sudarshan received many honors and awards, including the Padma Bhushan (Order of the Lotus) presented by the president of India (1974), the Bose Medal from the Indian National Science Academy (1977) and the Dirac Medal (2010).
Working with his Ph.D. advisor Robert Marshak, Sudarshan created the V-A theory of the weak force, a discovery that was crucial to the unification of the weak and electromagnetic interactions by Steven Weinberg, Abdus Salam and Sheldon Glashow, which in turn led to the 1979 Nobel Prize in Physics.
Along with Roy Glauber, Sudarshan developed a quantum mechanical description of light that would become the foundation of a new field: quantum optics. Glauber went on to share the 2005 Nobel Prize in Physics for that work. (SEED magazine recounted the controversy surrounding that year's Nobel in Physics.)
Sudarshan and his graduate student V. K. Deshpande first proposed the existence of particles called tachyons that would violate Einstein's theory of relativity by travelling faster than the speed of light. They would also have the bizarre consequence of allowing signals to be received by an observer before it was actually sent, violating the principle of causality. So far, no experimental evidence has been found to support their existence.
Even during his tenure at UT Austin, he continued to contribute to research and education in his home country of India, serving as a senior professor at the Center for Theoretical Studies at the Indian Institute of Sciences (1971-1991) and director of the Institute of Mathematical Sciences in Chennai, India (1984-1991).
Read more about his life on the Beck Funeral Home site.
Share
https://cns.utexas.edu/news/announcements/ut-austin-mourns-passing-george-sudarshan-titan-20th-century-physics
---