Textiles and Apparel Partners with Kendra Scott for Groundbreaking Jewelry Course
September 26, 2021 • by Esther Robards-Forbes
A new course will give students experience in accessories design, development and merchandising.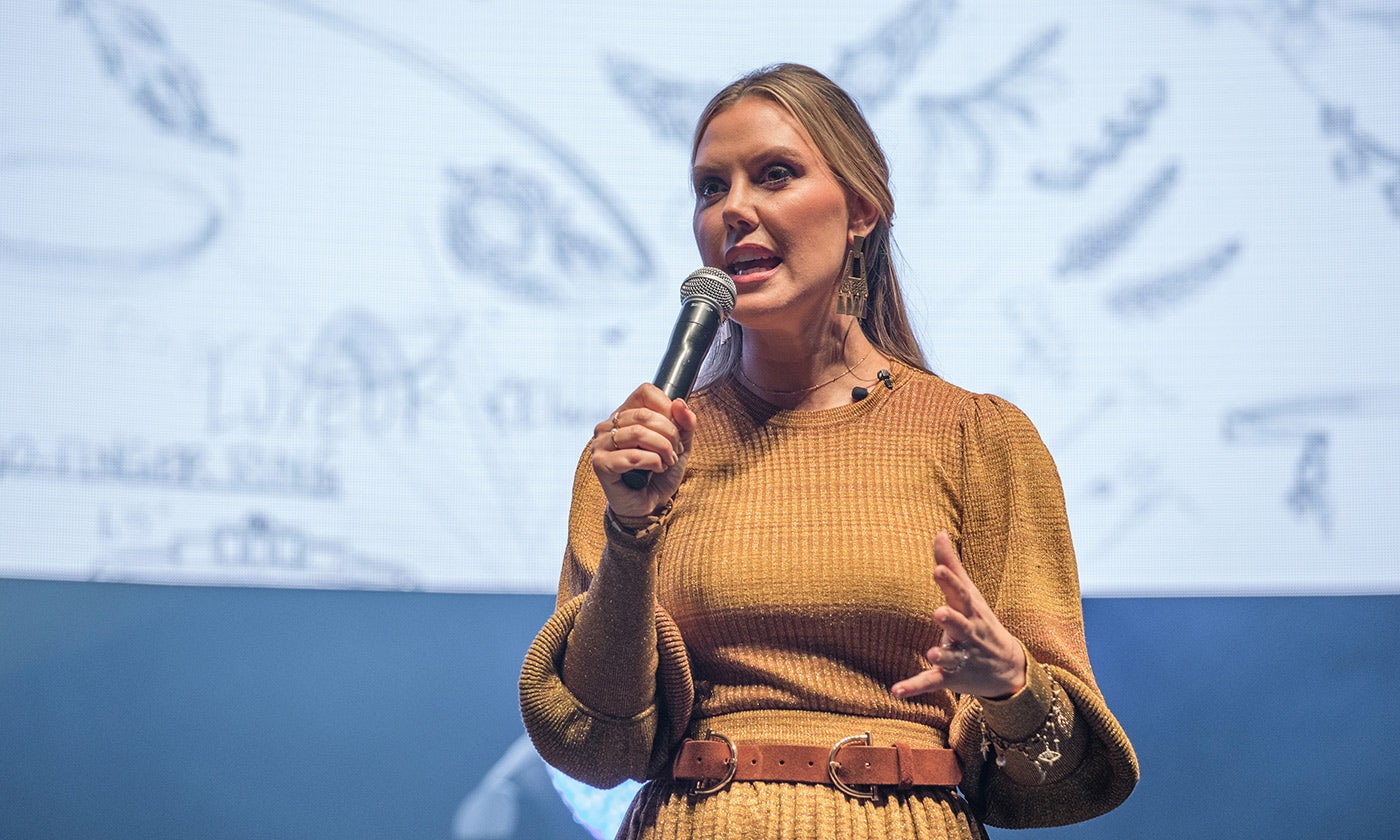 Kendra Scott, founder and CEO of the billion dollar jewelry company that carries her name.
---
Kendra Scott and The University of Texas at Austin have established a new female leadership program at the university, which will open to all students in Spring 2020. 
Named the Kendra Scott Women's Entrepreneurial Leadership (WEL) Institute, the program is uniquely built to address the challenges women often face in business. An experiential accessories design, development and merchandising course in the Division of Textiles and Apparel is part of the planned programming.
"Together with The University of Texas, we are creating a program focused on redefining leadership and entrepreneurship through a gender-enlightened lens," said CEO and Founder Kendra Scott. "With this institute, we want to create a pipeline of courageous, creative female leaders who will shatter stereotypes of what an entrepreneur should look like, and will challenge the rulebooks that have governed the business world for generations."
As the founder of a billion-dollar company, Scott has a strong perspective on what it means to be a leader. UT's Kendra Scott WEL Institute seeks to establish a community of diversity, inclusivity and empowerment. By increasing engagement and support for female entrepreneurs on campus, the WEL Institute aims to boost the number of women-owned and women-led businesses.
The Textiles and Apparel course is open to all majors and will take students through the process of designing, developing prototypes and merchandising a jewelry collection, said Jessica Ciarla, the faculty member who created the course. At the end of the course, students will present their collections at an exhibition in the Kendra Scott store on South Congress Avenue in Austin.
"The students will get to see up close what the process looks like to go from inspiration to prototyping to the development of the samples to how the merchandising team influences the design process and how the product development team determines what is feasible in terms of pricing and scaling," Ciarla said.
The new accessory design course will be the first course in the Textiles and Apparel Division to focus on jewelry.
"This course will help students expand their skill set increasing their chances for a variety of career opportunities in the fashion industry," Ciarla said. "We don't want them to be siloed in one specialization. We want them to be able to crossover and be able to design jewelry, shoes and handbags. This is about opening that door for them."
Kendra Scott and UT Austin celebrated the unveiling of the WEL Institute with a launch event this week at UT Austin's Bass Concert Hall, which included special appearances from television personality Rachel Lindsay, actress Freida Pinto, and country music singer Cam.
"With the Kendra Scott Women's Entrepreneurial Leadership Institute, we are creating a center where aspiring women leaders can gain knowledge, motivation and experience for their careers and lives after graduation," said UT Austin President Gregory L. Fenves. "It is an honor to partner with Kendra Scott — one of the most creative and dynamic entrepreneurs in the country — to empower and inspire the next generation of women CEOs, founders and innovators, right here on the Forty Acres."
The WEL Institute will serve as a central hub for programming such as:
●A women's leadership workshop series with industry leaders
●A women's leadership summit at The University of Texas at Austin, featuring entrepreneurs powered by Blackstone LaunchPad at UT Austin
●UT's McCombs School of Business will offer a Kendra Scott Fashion & Lifestyle Entrepreneurship Practicum
●The accessories course described above from UT's College of Natural Sciences
●UT's College of Fine Arts will offer the Kendra Scott Studio Partnership, featuring a three-hour seminar course hosted at the Kendra Scott headquarters and centered around the Kendra Scott Design process.
●Internship program
●Leadership training and mentoring
●Speaker series featuring industry leaders
●Campus wide venture funding opportunities
Share
https://cns.utexas.edu/news/announcements/textiles-and-apparel-partners-kendra-scott-groundbreaking-jewelry-course
---