Students Win Big at International Synthetic Biology Competition
November 10, 2022 • by Emily Engelbart
Undergraduate students at UT Austin are recognized for their work which could save bats from a condition that is often deadly and dangerous.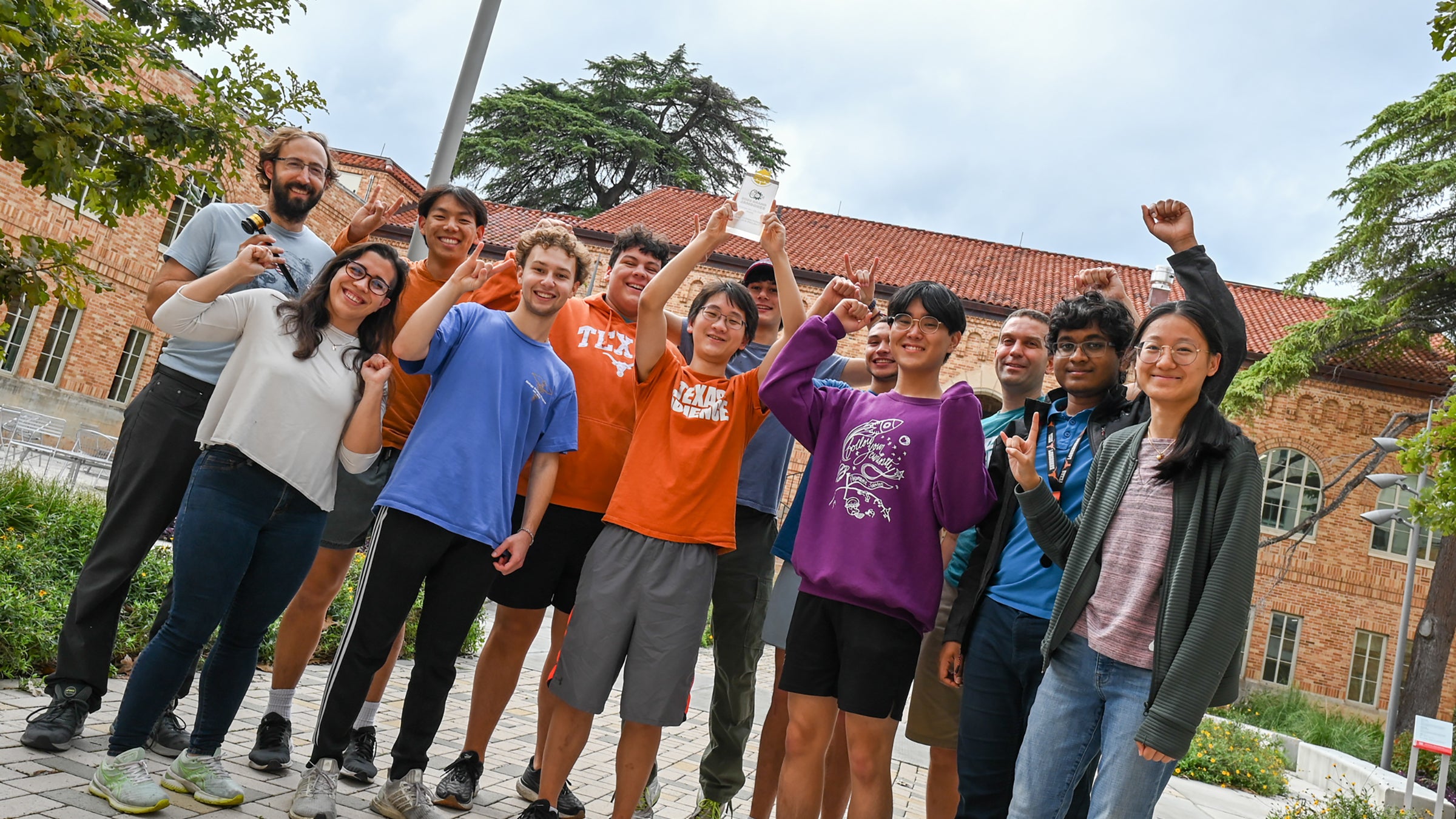 ---
A team of 12 undergraduate students at UT Austin received top awards at the International Genetically Engineered Machine (iGEM) Competition, including placing in the top 10 overall in the undergraduate category—the only team from the U.S. to do so.
At the competition for synthetic biology, competitors focus on engineering biological systems to fix issues at the local or even global level. The UT Austin team and their project, which centered on detecting a disease common in bats, received the best foundational advance award; they also were finalists for best presentation and best part collection. 
The team's work explored how to detect DNA from P. destructans, a fungus that causes White Nose Syndrome (WNS), a dangerous and often deadly condition for bats. Few labs in the U.S. are equipped to detect WNS, and the traditional test is slow. The team's project aimed to speed up the detection process with a detector that also provides a toolkit for other biologists to detect any DNA sequence. 
"Our findings are timely because synthetic biology and the biotech industry are growing faster than ever," said Jeffrey Chuong, another team member, who's a senior double-majoring in biology and biomedical engineering. "And being able to contribute meaningful work that can be used by others in the field feels great." 
In under a decade, WNS has killed at least 90% of northern long-eared, little brown and tri-colored bat populations, according to a study published in Conservation Biology. The invasive, cold-loving fungus disturbs bats' hibernation and can result in dehydration, starvation and often death. 
Three years ago, Bat Conservation International (BCI) announced the detection of early signs of P. destructans at Bracken Cave Preserve, a cave outside of San Antonio. (Early signs can include scars around bats' wings and/or white fuzz on their nose.) The threat of WNS in bats also poses a challenge for humans, who rely on bats to help keep insect pests in check and to provide other important services in our local ecosystems. 
"Bats are extremely important to our economy and environment since they are pollinators and have saved $3.7 billion in crop protection," said Leia Jiang, a team member and biomedical engineering senior. 
Jeffrey Barrick, the UT Austin iGEM team's faculty advisor, praised the team members for their hard work, talent and skills in science communication.
"iGEM involves not only lab work, but also outreach to understand real-world problems and science communication to tell the story behind the research," said Barrick, an associate professor of molecular biosciences. "They created the most impressive website explaining their project that I've seen in the 10 years I've mentored the UT Austin iGEM team." 
The team's other two mentors are Dennis Mishler, an assistant professor of practice and research educator in the Freshman Research Initiative, and Matsuri Rojano, a Ph.D. student in biochemistry. 
The team re-engineered the bacterium Acinetobacter baylyi ADP1 to act as a biosensor, with cells turning yellow when they absorb DNA from the deadly fungus. The resulting rapid test for White Nose Syndrome could potentially replace the slower method currently in use. 
Mishler said that the students still need to demonstrate that their detector is accurate and functional in order for scientists to use the device in their own research. It will be necessary for the team to measure how the detector operates under varying conditions to improve the performance of the bacteria and the sensor. 
"We know there is potential, but until you deploy your research into real settings—such as testing actual environmental samples in the lab, you never know for sure," Mishler said. 
The team couldn't attend the iGEM Grand Jamboree in Paris due to cost, but Chuong said they were thrilled to learn that they received awards. 
"When I woke up around 9 a.m. and checked my phone, I saw Matsuri had posted a picture of each of the awards that we won," Chuong said. "I was pleasantly surprised and thrilled to see our hard work pay off!"
Share
https://cns.utexas.edu/news/accolades/students-win-big-international-synthetic-biology-competition
---