Snacking on Hummus Shown to Improve Diet Quality, Appetite, and Mood
June 2, 2020 • by Esther Robards-Forbes
Snack choice can also affect alertness, the study found.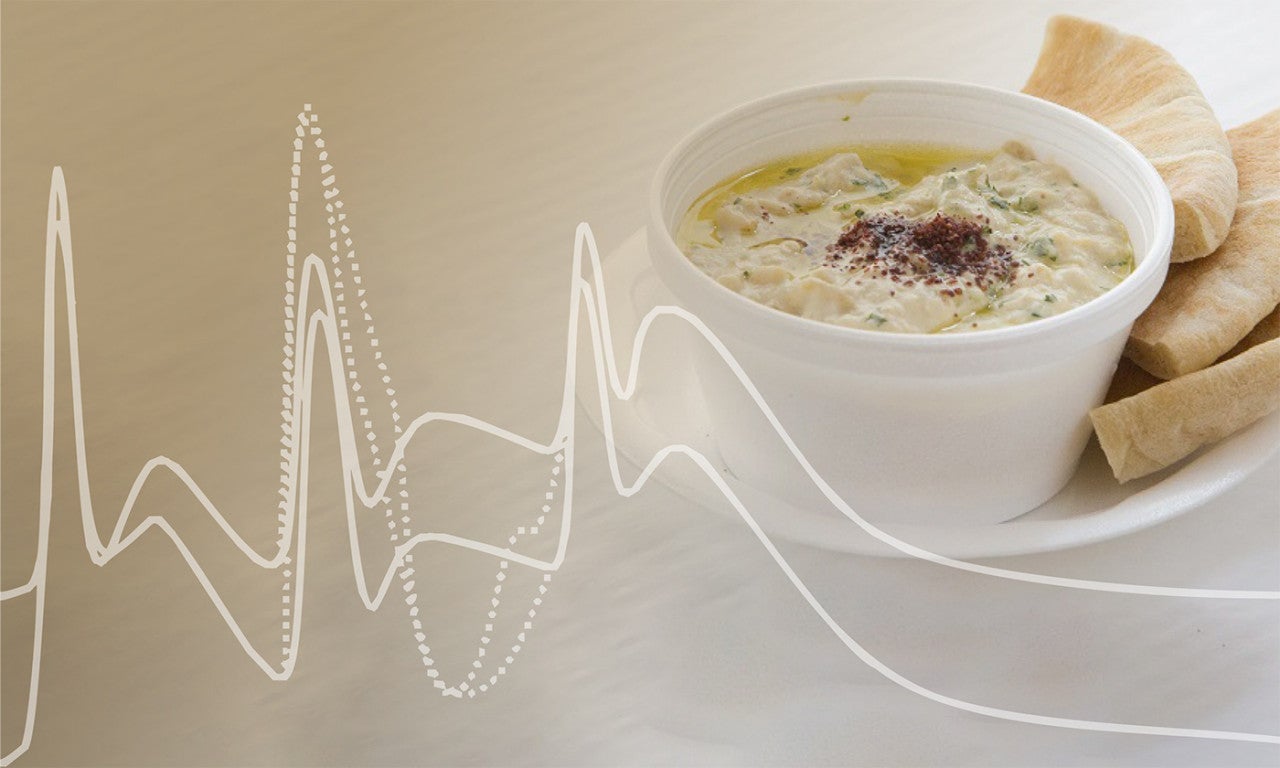 ---
A new study performed by a University of Texas at Austin researcher found that snacking on hummus in the afternoon can improve diet quality, curb hunger and desire to eat, and even improve alertness throughout the day when compared to consuming high sugar snacks or eating no snack at all.
The paper, out today in the ​Journal of Nutrition​, looked at adults who were given afternoon snacks of either red pepper hummus and pretzel crisps, a granola bar, or no snack for 7 days each. Both types of snacks had 240 kcals – the amount that is typically consumed by most Americans.
When compared to granola bars or when no afternoon snack was eaten, the afternoon hummus snack led to approximately 250 fewer calories of unhealthy, high fat/high sugar desserts being consumed later in the day. Daily vegetable intake was also higher with the afternoon hummus snack compared to the other snacks.
"Improving diet quality and being able to keep one's diet goals are two top priorities for many people.Given that snacking is an important part of our eating habits," said Heather Leidy, an associate professor of nutritional sciences at The University of Texas at Austin who conducted the study, "it's nice to see that you can include something as simple as having hummus as an afternoon snack for improvements in diet quality and appetite control."
According to previous studies, Americans now consume twice as many snacks per day than they did 40 years ago, and snacks now account for about a quarter of most people's energy intake per day.
"High-sugar snacks can leave you feeling hungry sooner," Leidy said. "Hummus contains a blend of chickpeas (beans), tahini (ground sesame), oil, and seasonings.Low-sugar foods, and particularly vegetable-based foods like hummus, delays those hunger cravings, making you less likely to reach for those unhealthy snacks later in the day."
The study found that blood sugar levels were also better maintained following the hummus snack compared to the other snacks.
One of the surprises in the study, Leidy said, was that hummus left people feeling more alert throughout the rest of the day than compared to eating granola bars or having no snack.
"A lot of people feel lethargic and hungry in the afternoon and need a little pick-me-up," Leidy said. "Because hummus doesn't cause the blood sugar fluctuations that higher sugar foods can and because it can curb appetite, it can leave people feeling more alert and more satisfied."
The study consisted of 39 healthy adults from the West Lafayette, Indiana area. This was a short-term study in which adults consumed different snacks over a 21-day period. Future research, including long-term studies, are needed to determine whether including hummus can promote long-term health and well-being in adults.
Evan J. Reister of Purdue University also contributed to the research.
The research was funded by Sabra Dipping Company.
Heather Leidy is jointly appointed as an associate professor of pediatrics at UT Austin's Dell Medical School. She serves on the 2020 Dietary Guidelines Advisory Committee for the U.S. Department of Agriculture.
The University of Texas at Austin is committed to transparency and disclosure of all potential conflicts of interest. The principal UT investigator has disclosed receiving research funding from Sabra and serves on Sabra's scientific advisory board.
Share
https://cns.utexas.edu/news/research/snacking-hummus-shown-improve-diet-quality-appetite-and-mood
---