Nutrition Researchers Developing Digital Platform for Teachers
April 16, 2021 • by Amanda Figueroa-Nieves
A group of University of Texas at Austin nutrition researchers and educators received a grant to encourage kids to make healthy eating choices by providing them easy access to fresh produce.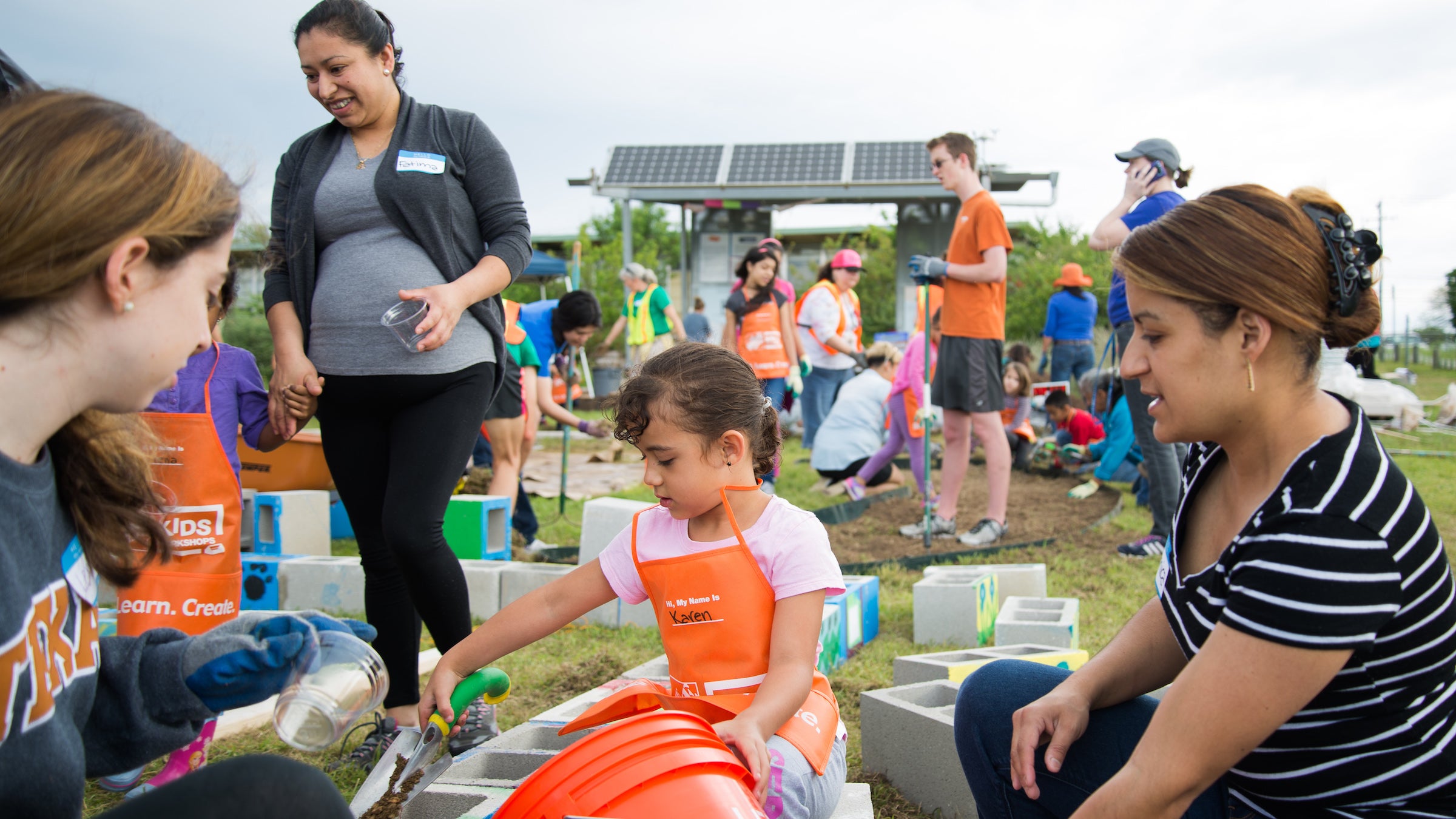 ---
A group of University of Texas at Austin nutrition researchers and educators received a grant from Blue Cross Blue Shield of Texas to create a digital platform empowering teachers to include nutrition and gardening lessons in outdoor settings in their curriculum. The premise is that when kids have a direct connection to fresh produce — planting vegetables, tending them and watching them grow — they are more likely to make healthy eating choices.
The Education, Evaluation and Nutrition (EdEN) Lab platform will be developed by a team of leading experts in nutrition, gardening and community interventions at UT Austin, including principal investigator Jaimie Davis and co-investigator Marissa Epstein.
"Our goal is to help teachers integrate outdoor learning opportunities into their existing curriculum," senior project manager Katie Nikah said. "Teachers will teach their own standards, like the state standards — Texas Essential Knowledge and Skills (TEKS)— but reinforce what they're teaching in the classroom by taking them outside."
The platform will include a curriculum modeled after a previous study called TX Sprouts, led by associate professor of nutrition Jaimie Davis. TX Sprouts instructors installed vegetable gardens and taught nutrition and cooking classes to students and parents at schools with a high percentage of students on the free and reduced-price lunch program. Students who participated in the classes ate, on average, a half serving more vegetables per day than they did before participating in the program.
The researchers behind TX Sprouts created a new program called SproUTing Teachers, which trains existing teachers to incorporate school gardens into their own curriculum.
Bonnie Martin, a training specialist with SproUTing Teachers, said the program provides the teachers with curated resources based on their needs, reducing the time they spend scouring the internet for outdoor lessons.
Polly Poirier, a first grade teacher at Laurel Mountain Elementary School in Austin, TX, said harvesting the cool season vegetables in February was a great learning opportunity for her students to learn measurement, data collection, graphing and opinion writing skills.
"Bonnie taught me how to harvest the radishes," Poirier said. "I then turned around and taught the kids how to harvest the radishes by using an inch tile to measure. We went inside, washed and tasted our radishes. We graphed the results, whether or not we liked them. Then, (we) wrote our opinion and why we had that opinion."
Nikah, the project manager, said it was rewarding to see the students who participated in TX Sprouts become excited about eating the food they grew in the school gardens.
"Being able to watch their plants grow is pretty cool for the kids, and they try new things that they've never tried," Nikah said. "Kids would pull a carrot out of the ground and try it. Radishes can be spicy, but they would plant those tiny seeds in our gardens and then pull them out. We would chop them up and they'd eat them with salt and pepper and actually like them."
Martin, the trainer, said she has been encouraged by her interactions with the students, but her recent interactions with teachers in SproUTing Teachers have been very special too.
"I have a teacher who started off saying 'I'm not a gardener, I don't even know how to start,'" Martin said. "I told him to start with the simplest thing they could do, which is to take the kids out to the garden, let them walk around for five minutes and sit down to talk about it. He saw them engaging in ways he never had before. At the end of our sessions, he's now actually writing a garden playbook to encourage other teachers to include the school garden in their lessons."
Poirier, the teacher, said being outside has taken on a new meaning during the pandemic.
"Not only has the garden been an incredibly purposeful, meaningful place for them to apply their thinking, it's also given them space to be active, ask questions and build responsibility and a sense of ownership," Poirier said. "They make connections, write stories with voice, and make sense of math in the real world."
The funding was provided through BCBSTX's Healthy Kids, Healthy Families Initiative, which began in 2011 to improve the health and wellness of at least one million children through community investments.
"We are happy to award these grants that will support and nurture meaningful and transformational projects across Texas," said Sheena Payne, BCBSTX's director of Community Investments. "Strategically, it is also important that we continue to aid community-based organizations that are directly supporting children and families who have been impacted by the health, economic, and social implications of this pandemic."
Share
https://cns.utexas.edu/news/features/nutrition-researchers-developing-digital-platform-teachers
---