Longhorn Students, Researchers in the Pandemic Fight
November 20, 2020 • by Esther Robards-Forbes
Graduate and undergraduate students are jumping into research fighting the pandemic.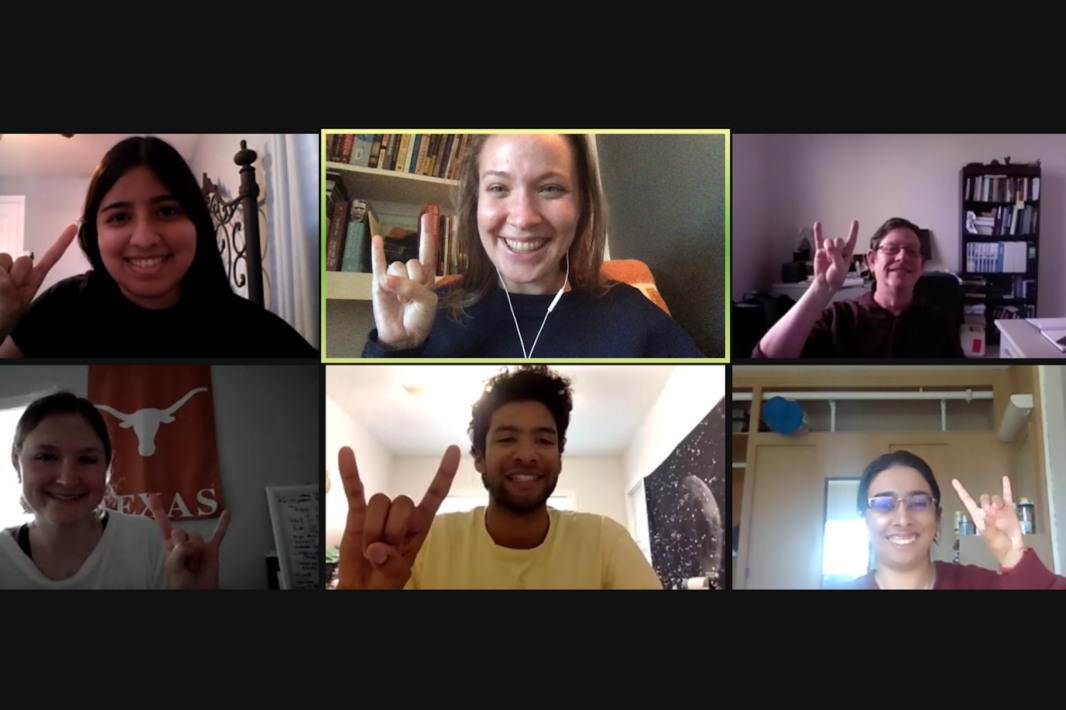 ---
​College of Natural Sciences undergraduate and graduate students are working alongside faculty scientists to unlock the secrets of the current coronavirus and combat the COVID-19 pandemic. 
A group of researchers, including Andy Ellington, Chris Sullivan and Adrian Keatinge-Clay, has teamed up with undergraduate researchers to hunt for ways to contend with the virus, from naturally occurring compounds, like those found in foods and plants, that could be used to treat or prevent infections to clues about why some patients' immune systems turn against them, leading to higher mortality rates.
While the pandemic is keeping many students out of the lab, they are scouring existing research studies and papers, looking for any clue or weapon to fight the virus. They've found some promising candidates. 
"This is definitely opening a whole new door of interest for me as I proceed with my degree," Nicole Garza, a biology major, told UT News.
Meanwhile, Lauren Ancel Meyers and her team of researchers in the Meyers Lab have been working on epidemiological models and forecasting tools to track the spread of COVID-19 as part of the UT Austin COVID-19 Modeling Consortium. More than 150 undergraduate students answered the call to fill positions within the consortium. They will tackle everything from building tools for communities to estimate spread of the virus to creating simulations for vaccine distribution. 
Both projects were recently featured in UT News.
Meanwhile, about a dozen faculty and students presented at the UT COVID-19 Conference earlier this month, sharing research findings in poster presentations, panel discussions and keynote events. Work led by four members of the Department of Molecular Biosciences faculty--Jason McLellan, Ilya Finkelstein, Greg Ippolito and Jon Huibregtse--was featured in a special report from KXAN about potential therapeutics and vaccines that stem from research insights and innovations out of UT Austin.
Read More
On the Defense Against COVID-19 | UT News
UT Students Rise to the Challenge of Pandemic Research | UT News
How UT researchers are working to thwart COVID-19's resistance to treatments | KXAN
Share
https://cns.utexas.edu/news/features/longhorn-students-researchers-pandemic-fight
---