Textiles and Apparel Students Win Prestigious National Awards
January 13, 2016 • by Steven E. Franklin
Avani Patel and Seihak Long have both won major awards for their innovative ideas.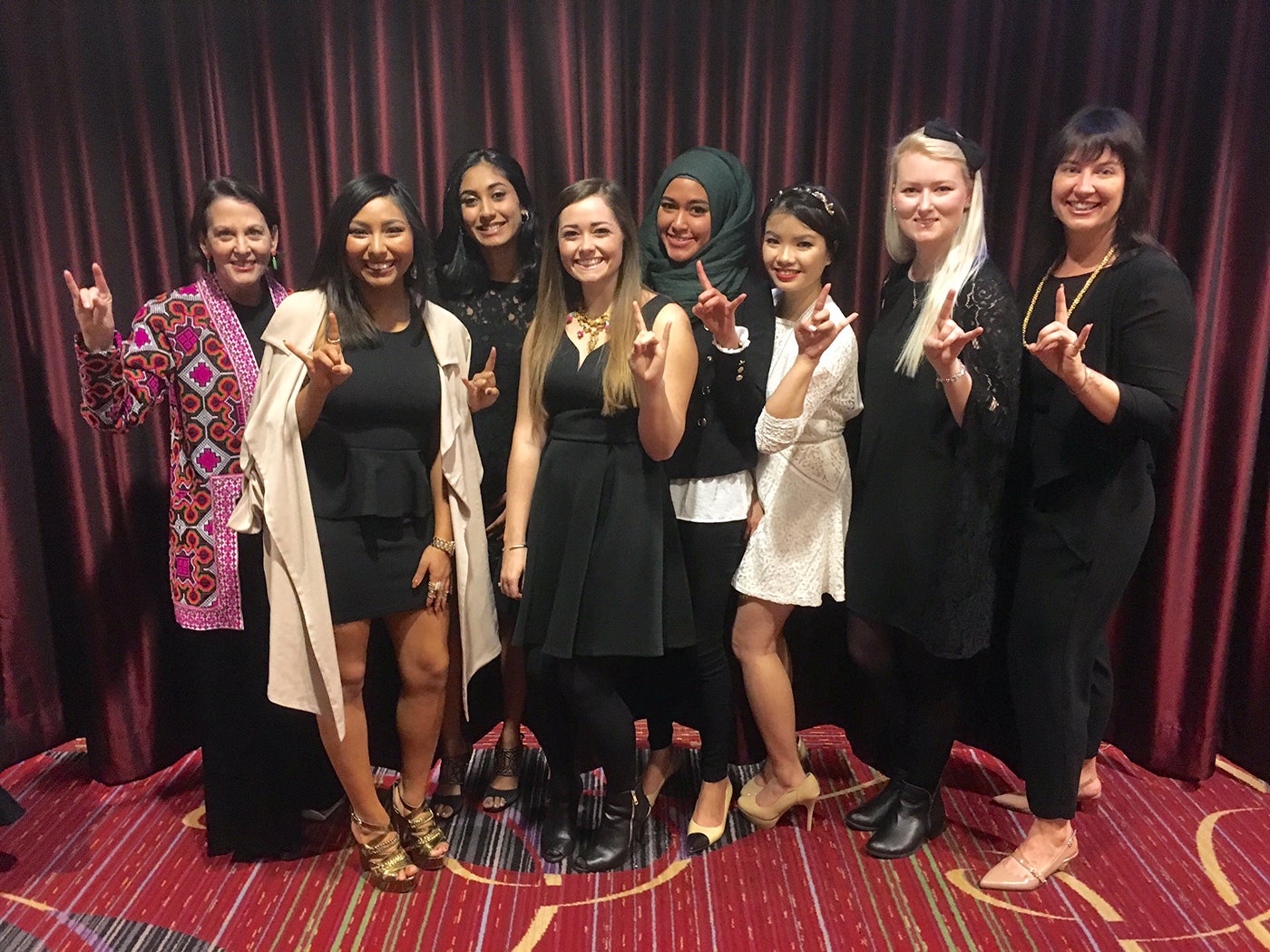 UT textiles and apparel faculty members Nancy Prideaux and Sara Stevens accompanied the scholarship winners to the YMA awards dinner in New York. Left to right: Nancy Prideaux, Debby Garcia, Avani Patel, Clare Moore, Tami Gumilar, Daeci Dinh, Sara Northcutt, and Sara Stevens.
---
A student majoring in textiles and apparel at The University of Texas at Austin last night was announced to have won a prestigious national scholarship from a leading international fashion industry group. Avani Patel's innovative design idea, which combines 3D printing and 3D modeling to make custom-fit leather shoes, is one of a handful of concepts from UT Austin textiles and apparel students to have won national awards in recent weeks.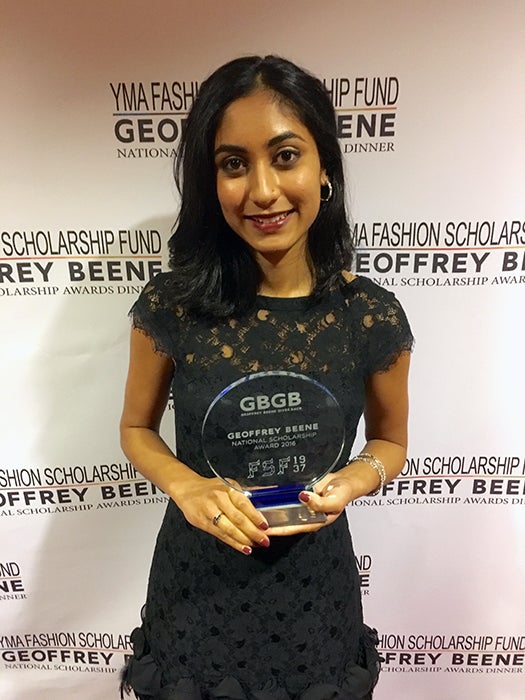 Patel was one of eight finalists nationwide in the Geoffrey Beene YMA Fashion Scholarship Fund competition who were challenged to come up with a product that combined 3D printing and sustainability. The finalists presented their case studies to a panel made up of executives from top businesses in the fashion industry, competing for $30,000 scholarships.​
"Just the opportunity to be able to hopefully impress these people and get to know them is really invaluable," said Patel.
In constructing her winning concept, Patel was inspired by recent research where scientists grew leather in the lab from existing animal cells. She envisioned fusing this technology with 3D printing to create leather that would be more sustainable and humane.
Patel next brought in the idea of using orthopedic foot scanners to create 3D models of an individual's feet. These models could then be utilized to custom-print leather shoes that would fit perfectly.
Patel and the other three finalists who were selected as Geoffrey Beene Scholars were announced on January 12, 2016, at an awards dinner hosted by YMA in New York.
Prior to winning this award, Patel won $5,000 scholarships from YMA both last year and this year. In just its second year as a member school of YMA's affiliated network of nearly 50 universities and design institutes, five additional textiles and apparel students at UT Austin received scholarships of $5,000 from YMA: Daeci Dinh, Debby Garcia, Tami Gumilar, Clare Moore, and Sara Northcutt.
All scholarship recipients were invited to participate in an internship fair held the day after the awards banquet. Each year, YMA is able to secure internships for each scholarship recipient with companies that include Macy's, Ralph Lauren, and Levi Strauss & Co.
Originally from Sugarland, Texas, Patel has spent the past few summers interning in New York for Tory Burch, Bibhu Mohapatra and Oscar de la Renta. After graduating in May, Patel, who is also a finance and business honors major, plans to switch gears and do management strategy consulting with the Boston Consulting Group in Dallas.
Eventually Patel hopes to bring her case study concept to life. "The idea of 3D printing leather is probably going to take a while to become legitimate," she notes, "but I would be more than happy to develop it in the future."
According to its website, "Founded in 1937, The YMA Fashion Scholarship fund is an international non-profit organization composed of influential members of the fashion industry. The Fashion Scholarship Fund's goal is to advance the fashion industry by encouraging gifted and enterprising young people to pursue careers in design, merchandising, retailing and business so the industry will continue to attract dedicated, capable and creative individuals."
---
In November, another University of Texas at Austin student majoring in textiles and apparel won first place in a national design competition run by Cotton Incorporated. Seihak Long's designs earned him the top prize of $2,500 and will be showcased at Cotton Incorporated's World Headquarters.
The LifeStyles in Cotton Design Contest challenged entrants to design an "athleisure" look that used at least two different fabrics from Cotton Incorporated's FABRICAST™ line. Athleisure is a term for clothes that are appropriate for either athletic and/or leisure activities.
The competition's first round required contestants to choose their fabrics and submit sketches of their designs. Ten finalists were picked from the entries to continue on to round two, where they had to physically construct the garments from their own designs.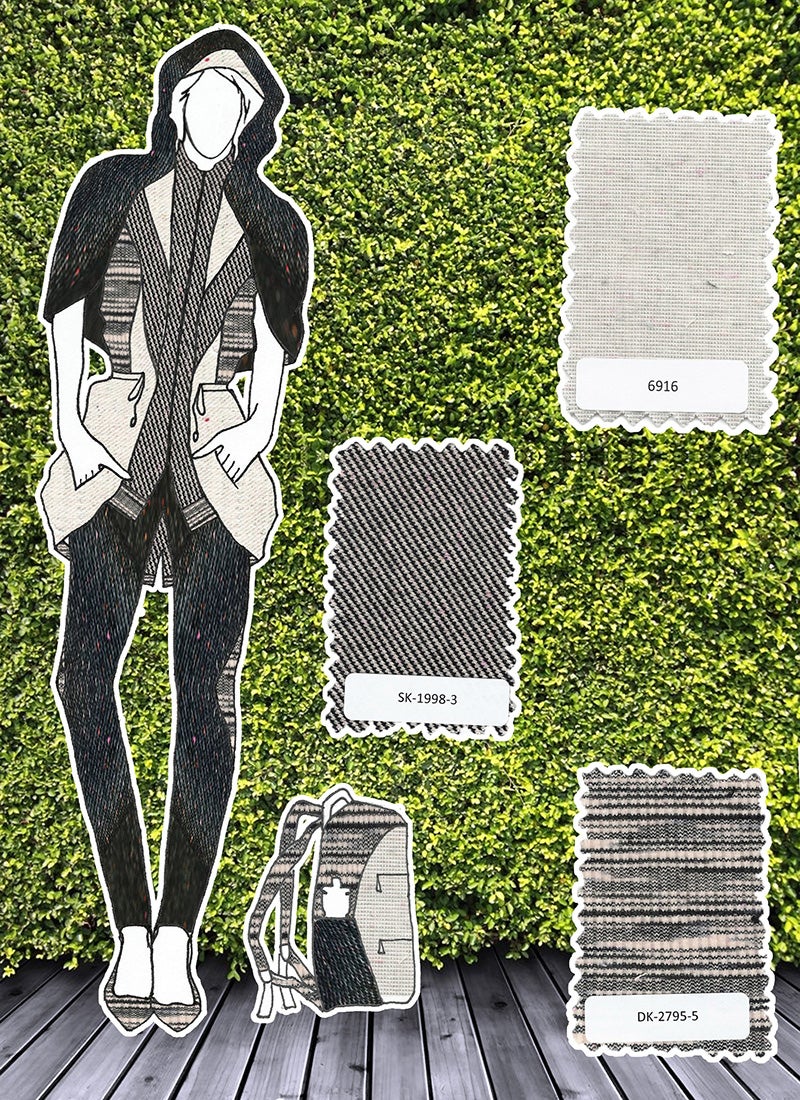 Long designed five pieces for the contest: a backpack, a tennis cap, a cape, jogging pants and a top. He used moisture-wicking fabric for some pieces and a water-repellant cotton for the cape, so that it could be used to protect the wearer from the elements.
Unfortunately, Long ran into some setbacks along the way. His supplies arrived in Austin just as he was about to leave for his internship in New York with jeweler Alexis Bittar. Since he didn't have the resources to complete the garments while in New York, Long had to finish the pieces in Austin.
A combination of 14-hour days and express shipping allowed Long to complete and submit the garments by the deadline. His efforts were rewarded when he received notice on his birthday that he had won first place.
One area that inspires Long's ideas is architecture.
"I get a lot of inspiration from buildings and the structure, the arch or the window," said Long. He considers clothing design like "learning how to sculpt a structure on a body rather than on a physical building."
People also help to inspire Long.
"The people at Gearing Hall are so friendly and they really want you to succeed and they keep pushing me forward and that's how I am so determined and enjoy what I'm doing," said Long. "Two of my favorite professors are Ockhee Bego and Eve Nicols. They are the ones who actually have been supporting me through all my journey from freshman to senior. They are the ones who put in the hardest amount of effort and just want to see me thrive. They're just absolutely amazing people."
After graduating in May, Long plans to take some much needed rest before pursuing his career.
"I would like to take a break for three months just to backpack around southeast Asia," said Long. "After that I would love to see myself in a larger corporate company like Target or JCPenney. My dream job is to be an international buyer."
Share
https://cns.utexas.edu/news/accolades/textiles-and-apparel-students-win-prestigious-national-awards
---