Scientists on the Trail of Central Texas' Elusive Satan Fish
October 27, 2017 • by Marc Airhart
The fish are part of a project to monitor the overall ecological health of Central Texas aquifers and better understand how water flows through them.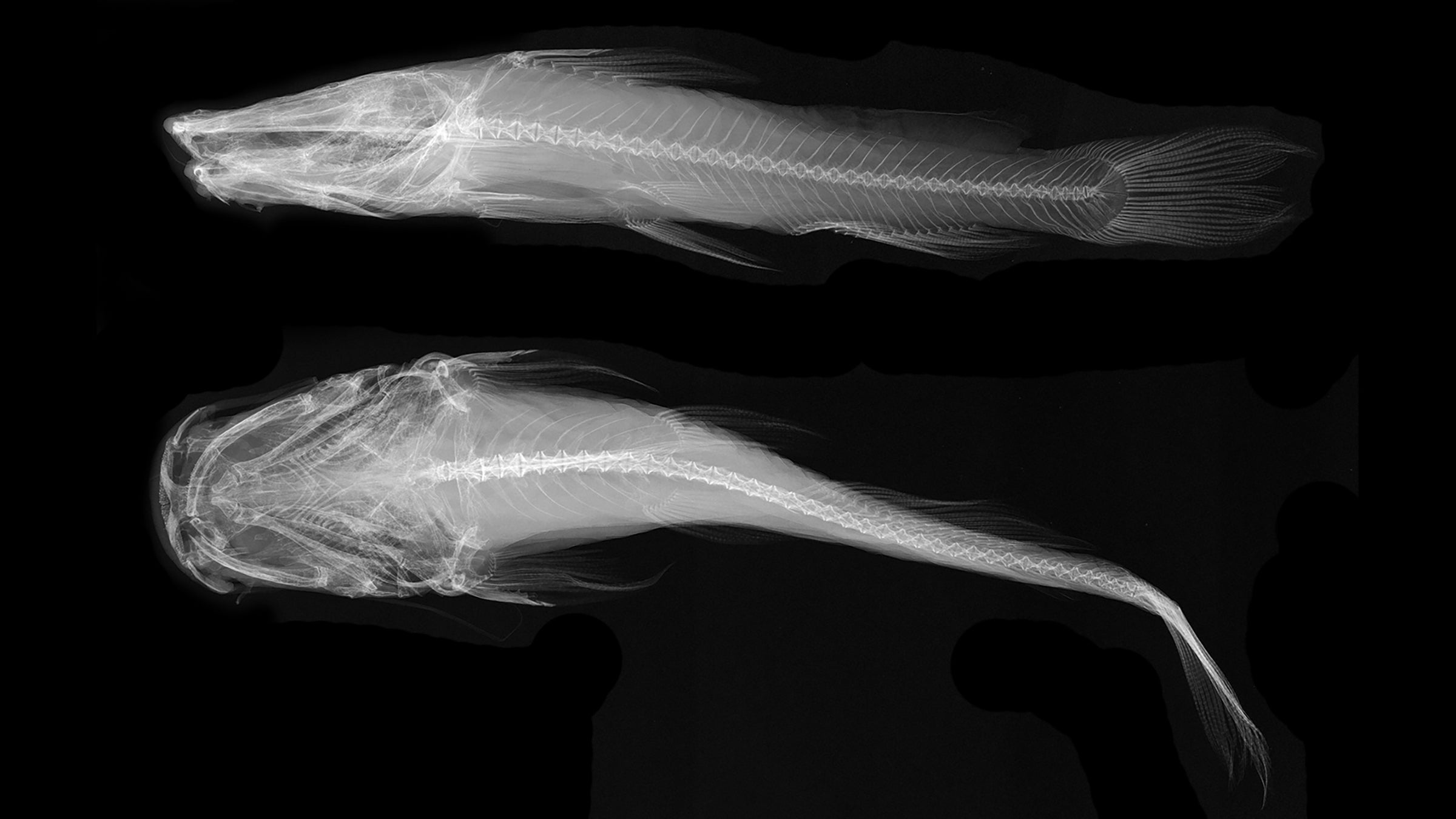 X-ray images of a preserved Widemouth Blindcat, a.k.a. Satan fish (Satan eurystomus). Credit: Smithsonian Institution.
---
As Halloween approaches, scientists are pondering a mysterious creature that may be lurking in underwater caves deep beneath a major U.S. city. It's eyeless, has see-through skin and spends its life in the total darkness of the Edwards Aquifer, thousands of feet below the bustle of San Antonio. Meet the Widemouth Blindcat, a.k.a. Satan fish. The fish were collected from deep-water wells for decades, but biologists have not seen one alive since 1984.
Now scientists from a range of disciplines are seeking to make the fish part of a project that combines their expertise to monitor the overall ecological health of Central Texas aquifers and better understand how water flows through them. As part of that effort, they are seeking funding and permission to search for the elusive Satan fish. Surveys in 2006 and 2010 failed to turn up even one. As the top predator in the aquifer, the health and population size of the Satan fish could tell scientists about the health of the whole ecosystem.
Very little is known about the fish. All scientists have are preserved specimens. They recently scanned specimens in a CT scanner, yielding 3D images of the Satan fish skeleton. But that study raised as many questions as it answered, as a paper to be published on Oct. 31 in the Proceedings of the Academy of Natural Sciences of Philadelphia will demonstrate.
"Satan fish are really cool critters," said Dean Hendrickson, curator of ichthyology at the University of Texas at Austin and one of the authors on the paper. "Most San Antonio residents have no clue that these things live below them. I want to raise awareness and get a study going to see if there's something going on down there."
The team studying Texas and Mexican blind catfishes consists of UT Austin Biodiversity Center experts on aquifer fish, salamanders and invertebrates (such as shrimp and snails); conservation biologists at the San Antonio Zoo; cave biologists from Zara Environmental (who did the 2006 and 2010 surveys) and hydrogeologists from UT Austin and the National Autonomous University of Mexico.
The tiny, pink Satan fish (Satan eurystomus) is one of three blind catfish living in underwater caves in Texas. If funding and permission can be secured, Hendrickson will team up with Andy Gluesenkamp and Dante Fenolio—director of conservation and vice president of conservation and research, respectively, at the San Antonio Zoo—and others for fieldwork to hunt for living Satan fish and try to determine what ecological factors led to their decline and possible extinction.
One of the questions that the researchers sought to answer with the CT scan of specimens was how the Satan fish relates to other catfish. Hendrickson said that to precisely pin down their location in the catfish family tree, genetic analyses would be needed.
"We still don't really know who Satan is and where it came from," said Hendrickson. "It would be cool to sequence Satan's DNA. No one's done it before."
Satan fish are extremely difficult to collect in the wild. Because they live thousands of feet below the surface, the only practical way to collect them is through deep-water wells, either with cages or traps placed at depth or by pumping water to the surface and running it through nets. That can be costly and require permission from local water authorities.
Other UT Austin biologists will help in the broader effort to study the Edwards Aquifer ecosystem, including David Hillis, an expert on endangered salamanders, and Alex Wild, the University's curator of entomology, who oversees a vast collection of invertebrates from the underwater caves of Central Texas. Antonio Hernández Espriú, a hydrogeologist from Mexico and visiting scholar at UT Austin, hopes to start using information about these denizens of the aquifer, including their DNA, as new tools for learning about how water flows through the aquifer.
Read the paper: http://www.bioone.org/doi/full/10.1635/053.165.0108
Related story: Rare, Blind Catfish Never Before Found in U.S. Discovered in Texas
Share
https://cns.utexas.edu/news/research/scientists-trail-central-texas-elusive-satan-fish
---