Innovative Program Gives Students with Disabilities University Experience
July 6, 2023 • by Emily Engelbart
An idea that started with a neuroscientist's personal experience morphed into a lifelong continuing education program for individuals with intellectual or developmental disabilities.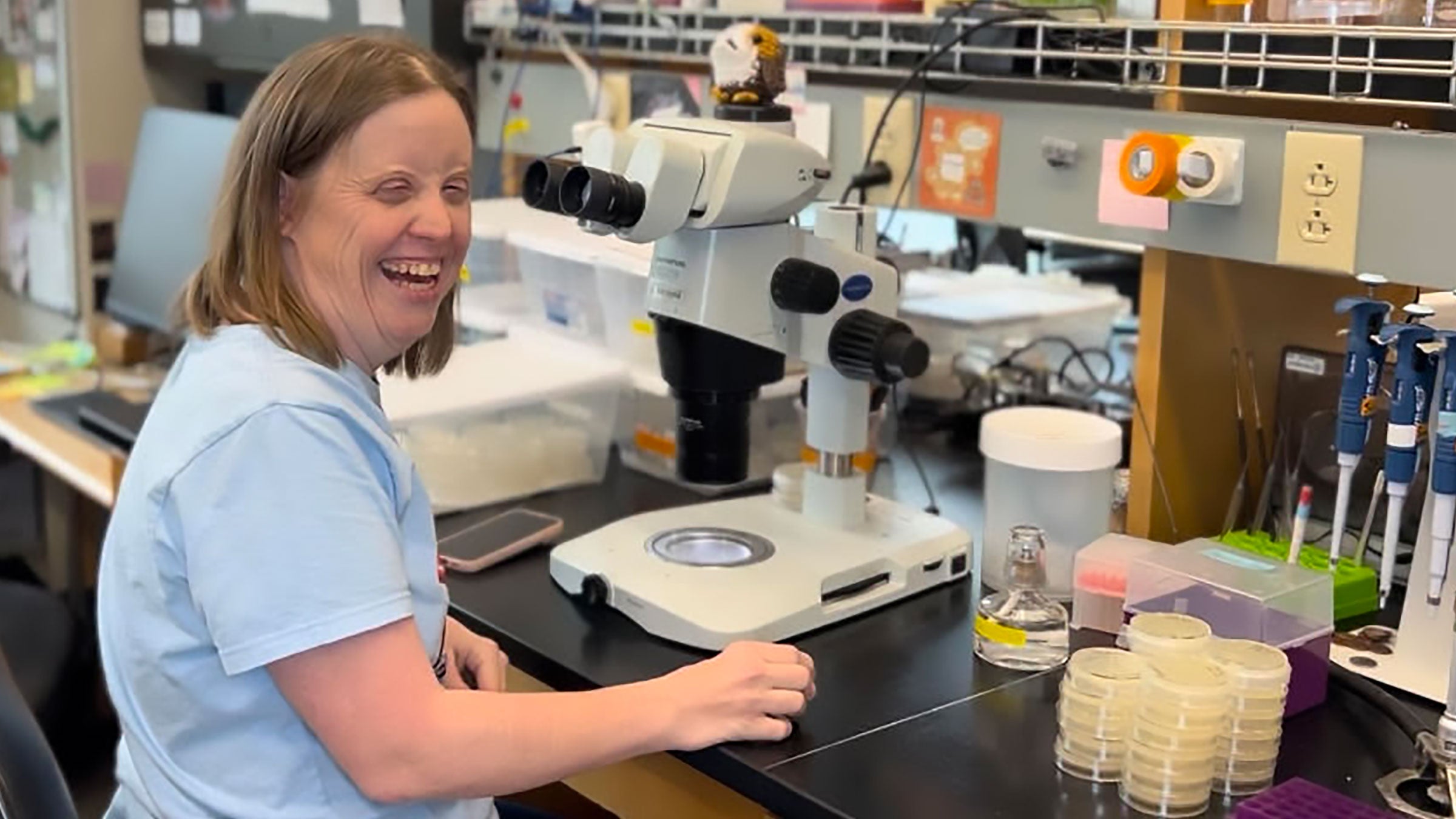 A participant in the Lifelong Learning with Friends program helps out in a campus lab. Credit: Kaelin Rubenzer
---
When Jon Pierce's son was born with Down syndrome in 2001, there were especially few opportunities for young adults with intellectual or developmental disabilities (IDDs) to learn in a post-secondary setting. His son's birth compelled him to positively influence the lives of people with Down syndrome. As a scientist and academic himself, Pierce began to foresee his son's future upon high school graduation, and the absence of academic opportunities that his son could utilize.
"I made my life in helping young adults learn things, and it is kind of sad that that opportunity wasn't around much, especially when he was born," said Pierce, an associate professor in the department of neuroscience at UT Austin.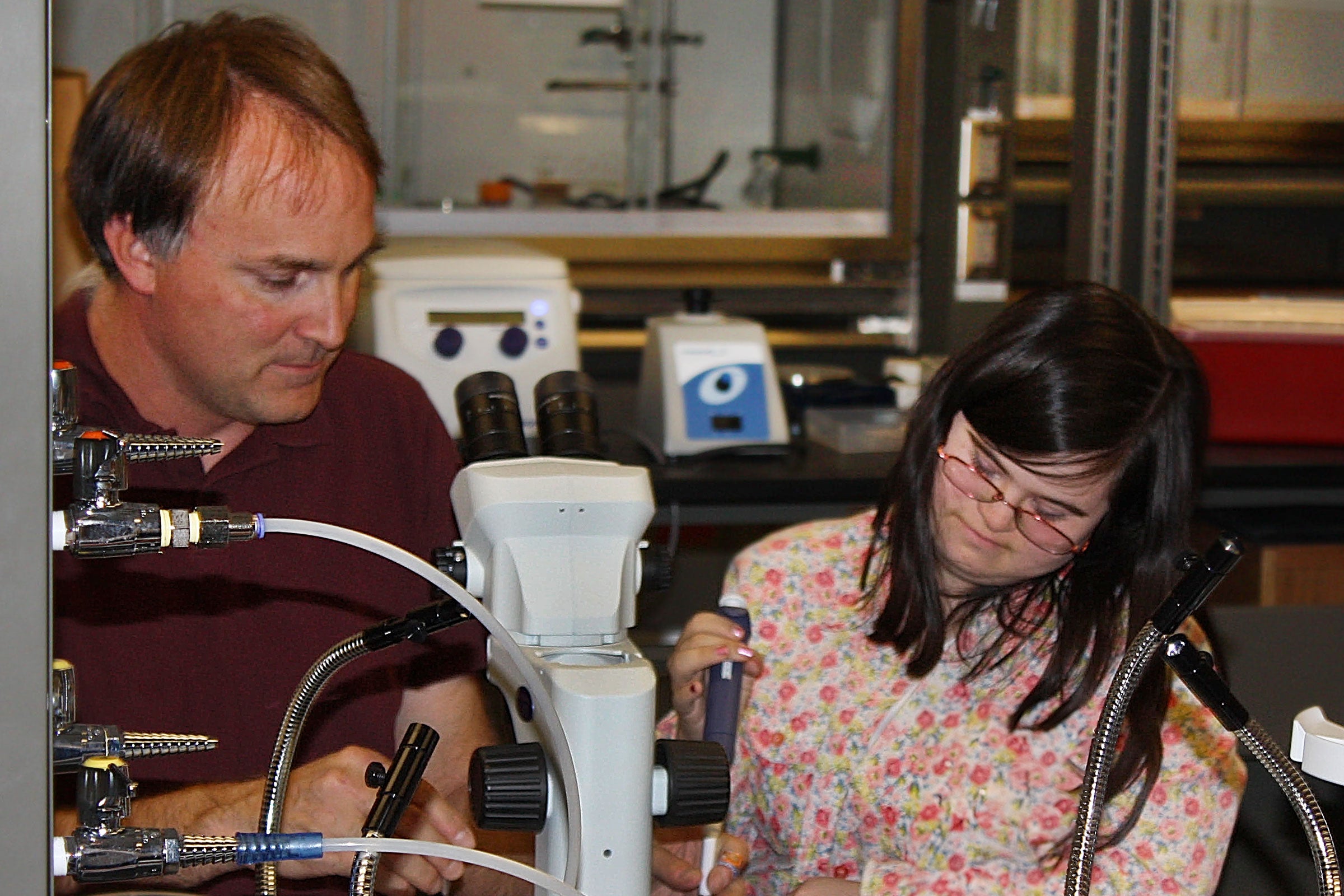 After his family benefitted from involvement in the Down Syndrome Association of Central Texas which provides recreational and educational opportunities for children with Down syndrome, Pierce sought to offer a similar program for adults. In 2010, he founded Lifelong Learning with Friends (LLWF) at UT Austin. Since then, about 1,500 students and 500 adults with IDDs have participated in the program.
"They had a thirst for everything, so it was easy to attract students with Down syndrome," Pierce said. "And then, we included students with autism or other intellectual or developmental disabilities."
A student who has participated in LLWF since the program's inception, Cory Gentry recommends the program for others to learn and to make friends, and because the classes are fun. Some of her favorite classes include a Japanese culture class (she loves anime) and a board game class where she enjoyed the strategies involved. For over a decade, Gentry has also worked in Pierce's lab as a research assistant.
"I've learned that science is everywhere, even in people," said Gentry, who has Down syndrome. "I get to learn how to be a scientist."
Pierce and program director Kaelin Rubenzer published a research article to showcase how LLWF facilitates positive growth for neurotypical students and students with IDDs. More than half of the students with IDDs said LLWF fostered high expectations of themselves (58%), and nearly everyone said they enjoyed the program (91%), according to polls. The article, "Learning science alongside peers with intellectual and developmental disabilities," was published in June in PLOS Biology.
"With that paper, we are just trying to show that a lot of people don't know individuals with disabilities and there's such power and knowledge in meeting them," Rubenzer said. "It naturally inspires advocacy in your future profession if you know people and you hear their experiences and the struggles they have firsthand."
"We did it for the UT students just as much for the people with IDDs," Pierce added.
A Flavor of University Life
While many programs for adults with IDDs exist, Pierce said they mainly aim to train individuals for a more specific, narrow job. Pierce recognizes the value in that, but he wanted to establish a program that mirrors the experience of a neurotypical university student. According to surveys, Pierce said, students with IDDs share common topical interests with neurotypical students. 
"UT has a lot of esoteric, weird courses, but those are usually not accessible to adults with IDDs, so we're trying to bring some flavor,'' said program director Rubenzer, also a recent UT Austin graduate of neuroscience.
There are around six classes offered in the summer, and 8-10 classes offered in the spring and fall semesters. For the summer 2023 session, a course called "Catch Them All! Real-Life Pokémon" lets students learn about Pokémon through the lens of a biologist. Each week, the students are taught a different species of fictional "Pocket Monsters" and what real-life animal the creators gained inspiration from. 
"I grew up playing Pokémon on my Nintendo, so I thought I knew a lot about it going in. But, the students [with IDDs] knew so much more than me. I'm learning so much more from them than I thought I would," said Alisa Ishikawa, one of the program's volunteers and a rising fourth-year speech pathology student. "I thought I would be the one guiding conversations, but really, I'm just in there asking questions."
Ishikawa has volunteered for several courses since 2021, including one covering solar systems. In the course, students showcased their creativity by constructing a solar system model of their own. One student, Ishikawa said, designed a solar system that was pink (her favorite color), and named each planet after a pink flower. 
Each class generally follows a consistent format with a two-hour class every week. During the first hour of the class, Rubenzer said the class partakes in "free-swim" conversations, which she said is critical for fostering social skills, like reciprocal conversation and personal space boundaries. In the latter half of class, the students engage in and listen to lectures, usually involving hands-on activities like presentations or videos.
"These higher expectations that we impose on them in class, we see the students themselves have a higher expectation for themselves," Pierce said. "They might start buying books [and] their families might have higher expectations."
Two-Way Street
The program provides unique opportunities for adults with IDDs, Pierce said, and also benefits neurotypical student volunteers. As a neuroscience professor, he recognizes the value in teaching his students about neurological conditions, and befriending individuals with IDDs can be a part of this. 
In addition to neuroscience and speech pathology majors, education and social work majors also tend to volunteer for the program. According to the research paper, 40% of the volunteers had no prior first-hand interaction with individuals with IDDs, so the program presents an opportunity for the volunteers to experience a paradigm shift in their perspective, prompting a newfound understanding to help them better work with their future patients or clients. 
Before this experience, Emily Ricketson had never worked in a learning setting with individuals with intellectual and developmental disabilities. A neuroscience undergraduate student, she initially found the program appealing because she could learn about a variety of niche topics through the classes taught. But, when she became a volunteer, she dually learned about the experiences of individuals with IDDs, and became friends with them. 
"In addition to the school stuff, the volunteers are also just being a friend and learning about someone else's life that isn't their own," said Ricketson, one of the program's volunteers who plans to attend medical school and focus on neural developmental disabilities in a medical setting. "Some of the topics have been very intense. I took a class on Down syndrome, and one of the students explained how hard it is when people make fun of them for having a disability, or for not being able to do something."
The publication of the PLOS Biology paper will ideally inspire other universities to implement similar programs, the authors said.
"Public visibility of our students with IDDs on university grounds can demonstrate to volunteers and others that people with IDDs belong in higher education settings," the authors wrote, and that LLWF is  "...helping to break down barriers and increase awareness of IDDs in higher education."
While there has been an increase in learning opportunities for people with IDDs since 2001 when Pierce's son was born, they are still not prevalent or readily available, he said.
"I want to get word out that other universities could develop these programs smaller or larger, inspired by our program," Pierce said. "There are a lot of people [who] could benefit, including adults with IDDs, the college students [volunteering] and society."
Share
https://cns.utexas.edu/news/features/innovative-program-gives-students-disabilities-university-experience
---