5 Ways UT Science is Fighting Back on Microplastics
September 19, 2019 • by Esther Robards-Forbes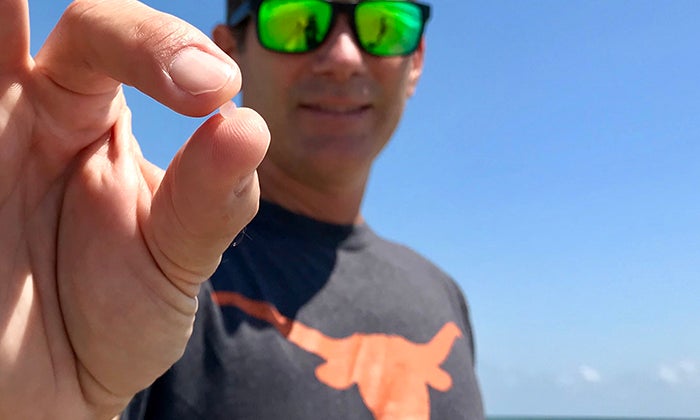 Jace Tunnell holds a nurdle found on a Texas beach. Photo courtesy of Jace Tunnell.
---
On a clear day on the beach in Port Aransas, Jace Tunnell noticed clear and multi-colored pellets collecting on the sand at the high tide line. On closer inspection, he discovered the pellets were tiny, round bits of plastic. And there looked to be millions of them.
"I knew exactly what they were when I saw them," said Tunnell, the director of the Mission-Aransas National Estuarine Research Reserve at the University of Texas Marine Science Institute in Port Aransas.
These bits of plastic, called nurdles, are the base material that most plastic items are manufactured from. Plastics makers ship nurdles all over the world, where they are melted down and molded into everything from toys to packaging. The nurdles that turn up on beaches like the ones in Port Aransas may have spilled during transport.
University of Texas scientists say there are at least five reasons you should care about these tiny plastics.
1. Microplastics, including nurdles, are a big problem that scientists aim to understand.
Nurdles are not just an eyesore on beaches. They are microplastics, meaning plastics less than 5 mm in size. Often, wildlife like sea turtles, fish and birds mistake nurdles and other microplastics for food and ingest them. Nurdles are also known to absorb toxins like DDT, an insecticide, that has been linked to problems in animals and humans alike.
Zhanfei Liu, an associate professor at MSI, studies the chemistry of oil spills, but he's turned his attention to nurdles to find out what other toxins they may be absorbing.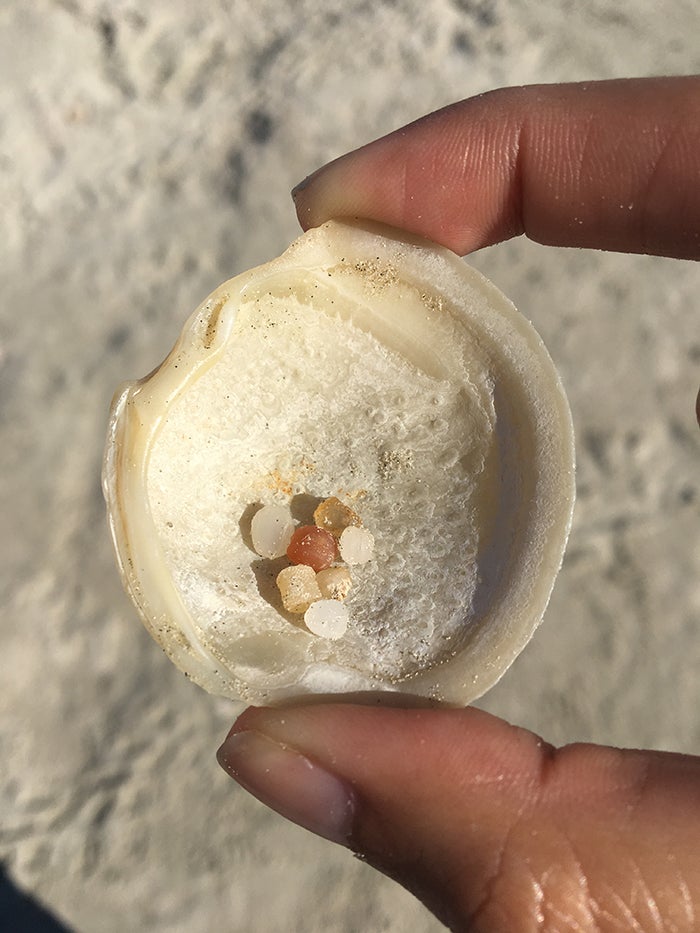 2. Microplastics may have a role in spreading toxins, and researchers are looking at what that is.
PBCs (polychlorinated biphenyls) and PAHs (polyaromatic hydrocarbons) are among the toxins harmful to people that Liu has detected in nurdles. The scientific case remains open as to whether toxins in nurdles get transferred to other living things that eat them. Still, the scientists are monitoring the problem.
"Plastic lasts a very long time in the environment," Liu said. "Our preliminary data shows higher concentrations of PCBs and PAHs in nurdles. It's concerning."
3. Citizen volunteers are helping scientists track the problem.
In response to the influx of nurdles, Tunnell started a citizen science project and Facebook group called Nurdle Patrol. Volunteers have helped to conduct nurdle surveys on beaches around the Gulf of Mexico. The page has 1,500 members and over 500 volunteers have posted pictures and submitted nurdle counts. The collected data is reported to state environmental agencies, like the Texas Commission on Environmental Quality, on a monthly basis.
"This is a tool for the regulatory agencies to do further investigations to see where nurdles are coming from," Tunnell said.
Nurdle Patrol is about to get an upgrade when NurdlePatrol.org launches this fall. Anyone in the world will be able to post nurdle data and see where nurdles are being found.
4. Researchers are on the hunt for plastic-eating microbes.
Back on the main UT Austin campus, in a lab where a machine swishes beakers filled with liquid and bits of plastic, assistant professor of practice Moriah Sandy and her team of undergraduate researchers are hunting for bacteria and fungi that eat plastic. As part of the Bioprospecting stream of the Freshman Research Initiative, the team was used to looking for fungal endophytes, which are microbes that live in plant tissue, searching for medicinal properties. More recently, the students went to sites contaminated with microplastics and collected samples.
Sandy and her team wanted to find microbes that would eat polystyrene and polypropylene, two of the most common types of pollutant plastic. (Nurdles can be made of these or of polyethylene or polyvinyl chloride.) The team was able to get polypropylene plastic from campus recycling bins, along with sheets of polystyrene, and shred them. They added their microbe samples and watched to see if any of the plastic degraded.
"We've found bacteria and fungi growing on polystyrene, polypropylene and polyethylene," Sandy said. "That's very promising. We have the bacteria characterized and sequenced. Right now, we are focused on understanding the microbial chemistry behind plastic degradation. We know something is happening to the plastic, but we want some insight into the enzymatic mechanisms that the microbes are using."
5. Existing microbes could get a plastic-fighting boost.
Hannah Cole, a graduate student in microbiology and in the lab of faculty member Andy Ellington, is also working to understand enzymes that break down plastic. She studies a bacterium that grows on PET (polyethylene terephthalate) plastic, which is a clear, flexible plastic commonly used in consumer packaging.
"We're trying to mutate the enzyme to see if we can increase degradation of the plastic and increase stability," Cole said. "It's efficient at room temperature, but for industrial applications, it needs to work at higher temperatures.
When polymers are heated the degradation, process can proceed more efficiently."
Sandy and Cole are hoping to discover a process that will break plastics down into chemical components that are either harmless to the environment, or potentially useful in other chemical processes.
"Plastic is a huge problem," Sandy said. "But I think there are real solutions here."
Share
https://cns.utexas.edu/news/features/5-ways-ut-science-fighting-back-microplastics
---