Three CNS Faculty Awarded President's Associates Teaching Awards
February 27, 2023 • by Emily Engelbart
Three CNS recipients are being recognized for their engagement with curriculum reform and educational innovation.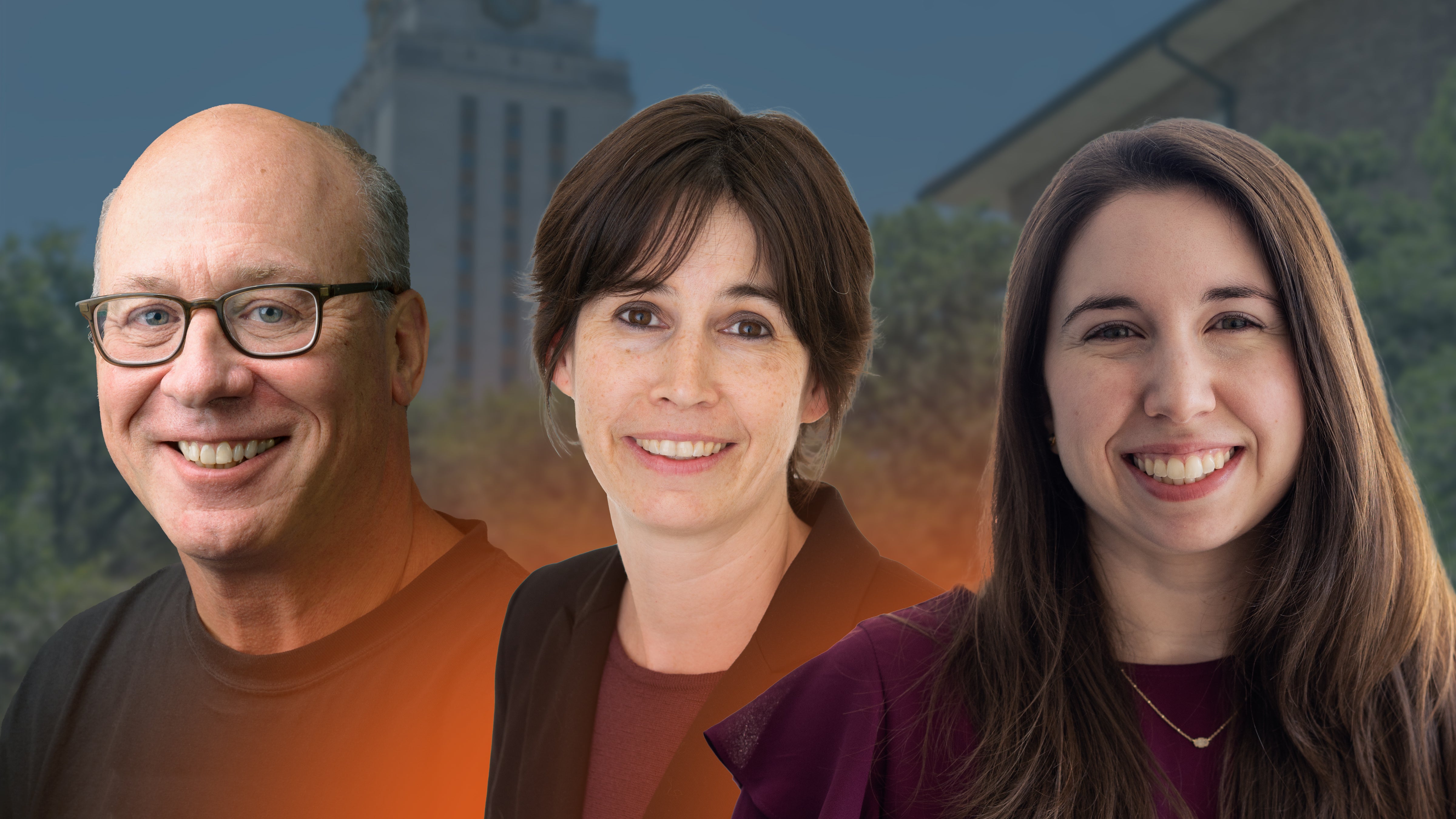 ---
Katherine Bruner, Christina Markert and Michael Mauk from UT Austin's College of Natural Sciences have been named recipients of the annual President's Associates Teaching Excellence Award for the 2022-2023 academic year.
These recipients—and seven additional UT faculty members from different departments—are being recognized for their engagement with curriculum reform and educational innovation.
Bruner is an assistant professor of instruction in the Biology Instructional Office (BIO), who previously won a College of Natural Science Teaching Excellence Award in 2020 and a BIO Teaching Excellence Award in 2021. In 2018, she became the course director and instructor for BIO 325L: Laboratory Experience in Genetics. Students in this course learn several molecular biology techniques and develop a semester-long research paper on a genetics topic. 
A professor of physics, Markert has taught in UT's physics department since 2006, and she previously won a CNS Teaching Excellence Award in 2019. Her research centers on the properties of nuclear matter at high densities and temperatures, and she is involved with building a new detector component for the STAR experiment, which allows for the measurement of masses and identifying particles produced in a heavy ion collision.
Mauk is a professor of neuroscience, who also won a CNS Teaching Excellence Award in 2019 as well as the Professor of the Semester Award from the university's Senate of College Councils (SCC) that same year. His research focuses on mechanisms of learning and plasticity, information processing in a part of the brain that plays an important role in motor function, called the cerebellum, and computer simulation of the cerebellum.
"Students around the world choose UT Austin in large part because they recognize that our incredible faculty members are at the top of their fields," said President Jay Hartzell. "Our faculty inspire and prepare students to tackle society's biggest challenges, to make a positive impact, and to lead. We are grateful to this year's award winners for their dedication to teaching, and to the President's Associates for their continued commitment to excellence. Congratulations to all 10 recipients."
President's associates make the award possible through their monetary contributions that seek to advance education and research at UT. Each recipient receives $5,000.
Share
https://cns.utexas.edu/news/accolades/three-cns-faculty-awarded-presidents-associates-teaching-awards
---