Starbird, Martines and Dillig Selected for Texas 10 Recognition
July 18, 2023 • by Steven E. Franklin
Three faculty members in the College of Natural Sciences were chosen for an honor given by The Alcalde.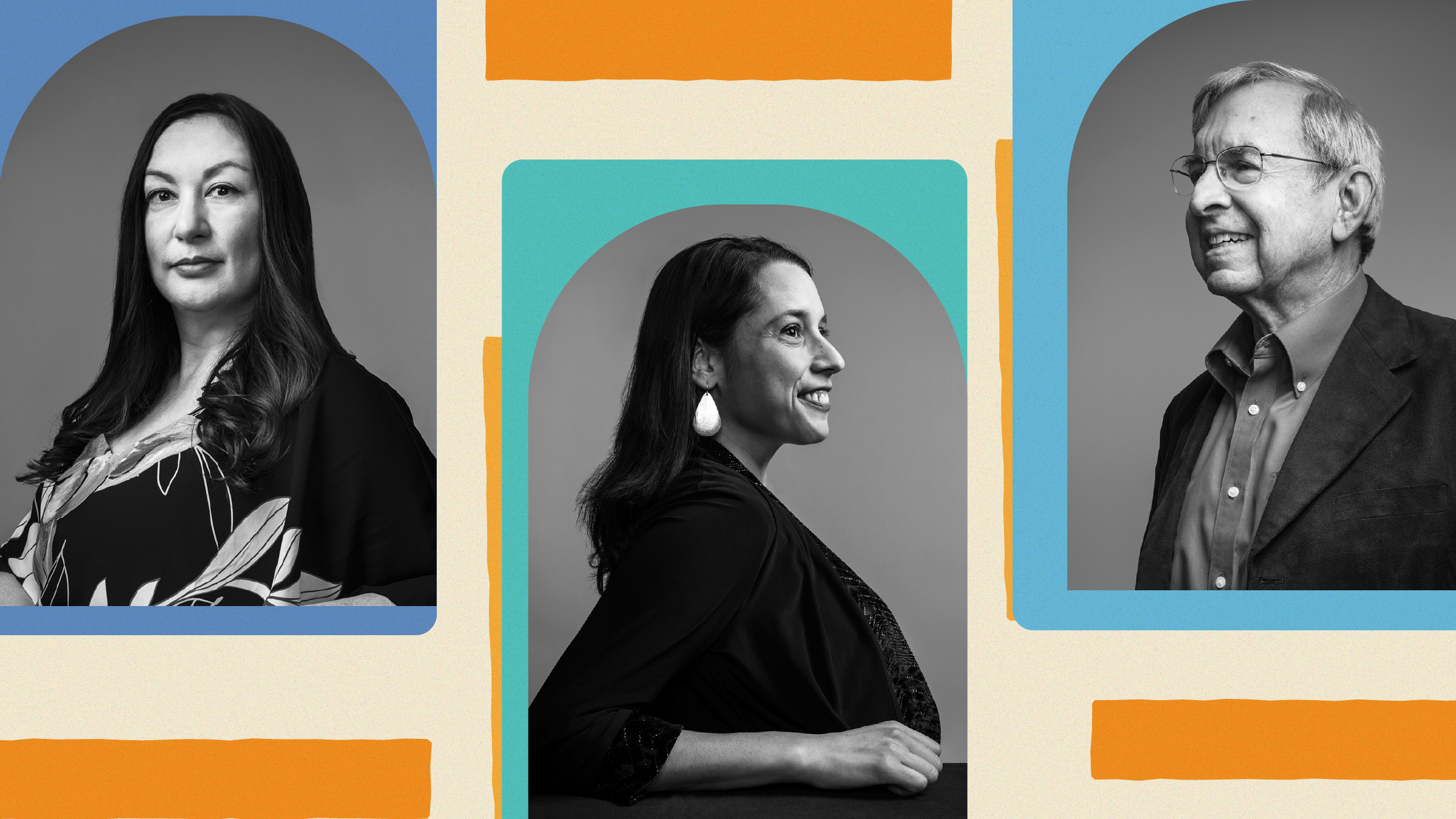 Theresa Martines, Işıl Dillig and Michael Starbird. Photographs by Jeff Wilson.
---
Nominated by alumni, the Texas 10 are all UT Austin faculty and dedicated educators who have had a profound impact on the lives of their students. The Texas Exes' publication, The Alcalde, gives the recognition annually.
Two of the 10 for 2023 are from the Department of Mathematics and share a goal of making mathematics more enjoyable and accessible for their students.
University Distinguished Teaching Professor Michael Starbird has been educating students at UT for 49 years. He firmly believes that anyone can understand math and apply it to their lives. "Doing mathematics is the same as any other kind of thinking," he told The Alcalde. Starbird's instructional efforts have earned him multiple teaching awards over the years at the University, including the Regents Outstanding Teaching Award, President's Associates Teaching Award, Jean Holloway Award for Excellence in Teaching and a Dads' Association Centennial Teaching Fellowship.
Theresa Martines, assistant professor of instruction in mathematics, joined The University of Texas at Austin four years ago and has made a noticeable impact since. While she loves math, Martines realizes not everyone does. She told The Alcalde, "Every kid has one class in college where they didn't even have to attend. They barely tried. It was so darn easy. And they're not the same for everybody, but it's almost never math." She hopes to change the perspectives of math-adverse students as often as she can.
The third professor from the college in the Texas 10 is Işıl Dillig, a professor in the Department of Computer Science. You can read more about her in the department's web article about her Texas 10 award. In it, she says:
"Basically, my job is raising a new generation of researchers and getting them to think through what makes for an interesting research problem… Computer science isn't all about programming; it's about thinking. I hope my students walk away with the ability to think independently and develop problem-solving skills. It's not just memorizing stuff, but really the ability to think through things and approach problems in new and innovative ways. I think that's really important."
Learn more about these exceptional educators, and meet the rest of the Texas 10 here.
Share
https://cns.utexas.edu/news/accolades/starbird-martines-and-dillig-selected-texas-10-recognition
---