Undergraduate Research Aims to Harness the Power of Mealworms to Degrade Plastic
February 11, 2021 • by Amanda Figueroa-Nieves
Undergraduates at the UT Austin Inventors Program are exploring how mealworms, and the microbes in their guts, can naturally degrade household plastics.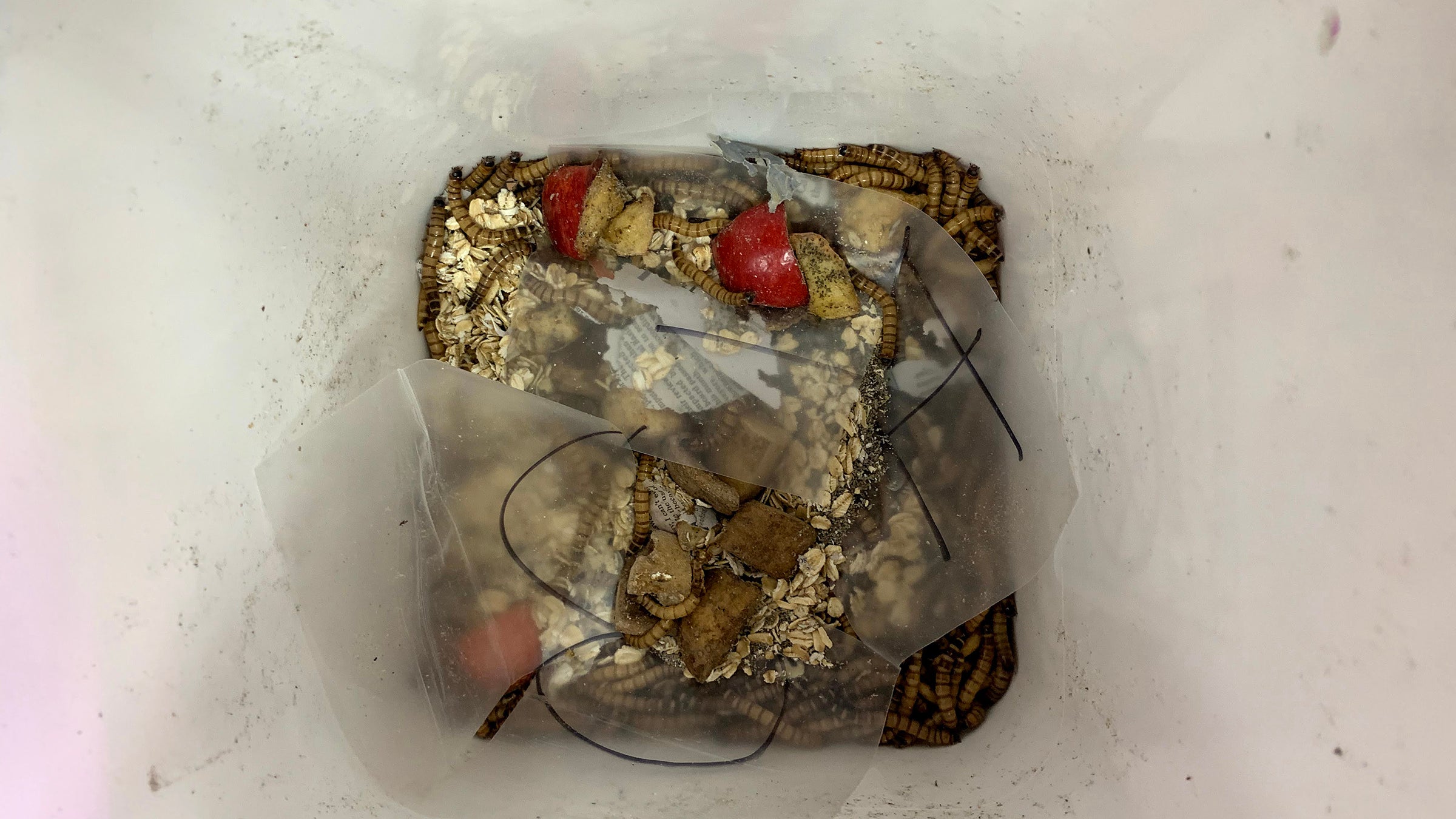 Interior of a bin with polyethylene and mealworms. Photo courtesy of Emily Samson.
---
​In search of a way to reduce the amount of plastic pollution an individual creates, a team of undergraduates in the UT Austin Inventors Program are exploring how mealworms, and the microbes in their guts, can naturally degrade household plastics.
​With billions of tons of plastic floating in the ocean and filling our landfills, plastic pollution is a critical environmental problem. The United States wasted more than 130 kilograms of plastic per person—or a total of about 42 million metric tons—in 2016, according to a research article in Science Advances.
The UT Austin Inventors Program focuses on uniting the business and research sides of science, with an ultimate goal of creating a solution or product that individuals can use, make or buy. This team aims to create a protocol to be posted online that can be used by others to create their own household mealworm farms to degrade their plastic products, like styrofoam takeout boxes. The project was supported with a generous gift from H-E-B to support the scientists and their plastic-degradation work.
"People are already interested in lowering their use of plastic," said team member Jazzalyn Zou, a junior majoring in biology. "Putting (plastic) in a place where we know where it's going and it's not hurting the worms… it's a very natural, safe, effective, cost-efficient way of doing something for the environment."
The team used the mealworms to degrade two types of plastic — polyethylene, which is often found in grocery bags, and polystyrene, which is often found in packaging materials like packing peanuts.
To test the ability of the mealworms to degrade the plastics, the mealworms are first placed in bins with plastic as their only food source. Over four weeks a 97% degradation of polystyrene has been observed, along with a more modest but visible degradation of polyethylene. This semester, the team is focusing on determining where the plastic has gone after being ingested by the mealworms to avoid the creation of microplastics and greenhouse gas pollution.
"We have saved all of the bedding and all of the waste created by the mealworms last semester, and this semester we want to make sure that they're not degrading this plastic into smaller pieces of plastic that we can't see," said team member Emily Samson, a junior majoring in biochemistry.
Samson said previous research has led them to believe that the plastic is converted into ethylene glycol, found in antifreeze, and carbon dioxide. Ethylene glycol degrades rapidly in the environment, according to the Agency for Toxic Substances and Disease Registry. Team member Sanjna Bhatia, a junior majoring in human development and family sciences, said it's important to determine waste products to make sure that people do not introduce toxic materials into their household.
The team will also analyze the bacteria found in the mealworms' guts to find which are responsible for plastic degradation and work to boost their prevalence. They have kept the mealworms in ultracold laboratory freezers in order to dissect and analyze their gut microbiomes, Bhatia said.
"We're hoping to make mealworms that have a lot of this bacteria in their gut, so that way the whole degradation process becomes faster and more efficient," Samson said.
Biochemistry junior Satya Chintapalli, another team member, said it was impressive to see the worms' progress on degrading the plastic every week. Zou said it's been exciting to see the development of the team's idea through to the end of this first phase.
Before becoming involved with UT's Investors Program, the team worked on evaluating microbes' ability to degrade plastic in the Freshman Research Initiative's Bioprospecting stream, with principal investigators Andy Ellington, a professor of molecular biosciences, and Jennifer Brodbelt, chair in the Department of Chemistry. When the stream shut down for a semester, the group moved their research to the Inventors Program.
Over the course of their experiment, the team has been working with University Housing and Dining. UHD provided the student researchers with office space to use for the experiment, food scraps to include in some of the bins and access to UHD Sustainability Coordinator Neil Kaufman, who provided information about composting.
"He used to do regular composting with red worms, so he had a lot of background information on that," Zou said. "He was the person that we went to when we first wanted to start the project."
Bhatia said working with her fellow team members has been her favorite part of the project.
"We work so well together," she said. "Communicating and working with them has made me a much better communicator and a much better scientist."
Share
https://cns.utexas.edu/news/research/undergraduate-research-aims-harness-power-mealworms-degrade-plastic
---