3D Printing with Visible Light Gets a Speed Boost
September 23, 2020 • by Cason Hunwick
A team of University of Texas at Austin researchers led by chemistry assistant professor Zachariah Page demonstrated a fast and precise way to 3D print using visible light.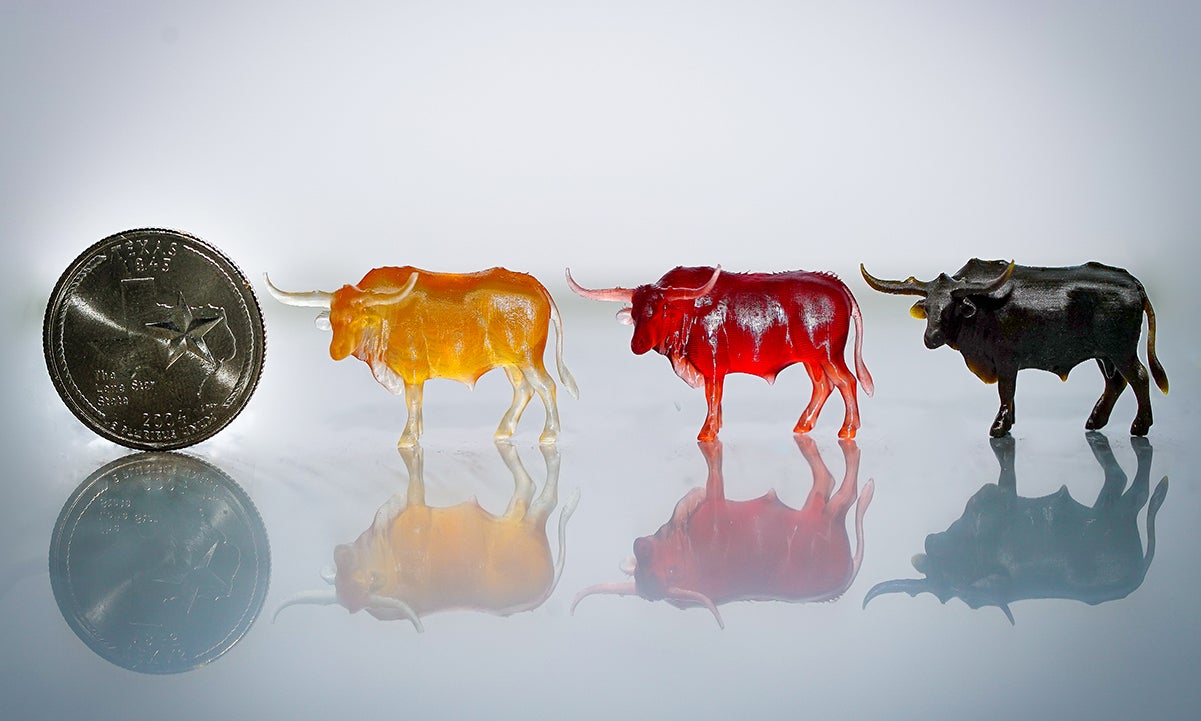 3D printed objects made (from left) with blue, green and red light. Photo courtesy Lynn Stevens.
---
A team of University of Texas at Austin researchers led by chemistry assistant professor Zachariah Page demonstrated a fast and precise way to 3D print using visible light.
Their method, published in ACS Central Science, quickly prints out solid objects from a liquid resin with resolution as fine as the width of a human hair (about 100 micrometers). A wider array of materials, including those containing biological cells, could be printed with these techniques since visible light is harmless to living things, in contrast to current 3D printing methods that rely on UV light.
The technique is also energy efficient and has a small footprint, since all that is required is a visible LED light source –– the same display technology on a mobile phone. These traits could allow researchers to one day carry the technology in their pocket.
"Now that we can rival with visible light LEDs what has only been produced using UV, there are a lot of exciting directions that we can go," Page said. "I like to think of futuristic objectives. Imagine you have your phone and you can stick on a little mechanical stage, press a button, and create a custom object in real time, on the fly."
Printing fast with visible light meant first overcoming a barrier that has kept this technology on the sideline: speed. Since it is lower energy, visible light takes longer than UV to print objects. Page and his team, including Dowon Ahn, Lynn Stevens and Kevin Zhou, solved this problem with new catalysts.
"We were able to identify really efficient catalysts, which pass off energy very quickly," Page said, "and start to match those speeds."
Objects print out at a little less than 2 inches per hour, about half the rate of the fastest UV printer. Still an important improvement, the speed-boosting catalysts reside in the resin that contains the building blocks for the objects. When light shines into the resin, the catalyst captures the energy and links the blocks together layer by layer into a continuous solid.
The result is a Terminator-like object rising out of a puddle of liquid, a comparison made by other outlets and companies discussing the technology including the The Guardian and Carbon CEO Joseph DeSimone.
Page and his team build on a history of 3D printing advancements made at The University of Texas at Austin. In the 1980s, Carl Deckard and Joe Beaman laid the foundation for selective laser sintering (SLS), a 3D-printing technology now used across industries.
In this new work, each catalyst responds to a specific color of light, either blue, green or red. This specificity, and ability to tune the light to create different responses in the resin, is vital and could open up the possibility of fusing different materials into the same object.
"The thought is that we could kick off different chemistry," Page said. "And in doing that, you basically take one resin and generate different material properties in the same object."
These multi-material capabilities could find uses in prosthetics, which marry stiff and flexible components into devices that mimic natural movements. Page said there are a number of challenges before printing multi-material objects can be accomplished, including more research into how selective the catalysts are, and what exact properties can be achieved.
"Soft robotics and prosthetics would be a great direction to go from a multi-material perspective, but we're still working on the fundamentals of, how do we select for different chemistry? What properties can we get?" Page said.
Support for the research was provided by the U.S. Department of Defense and the Robert A. Welch Foundation.
Share
https://cns.utexas.edu/news/research/3d-printing-visible-light-gets-speed-boost
---