Need a Place to Study this Academic Year? We've Got You Covered.
September 6, 2022 • by Staff Writer
Tired of studying at the same places on campus?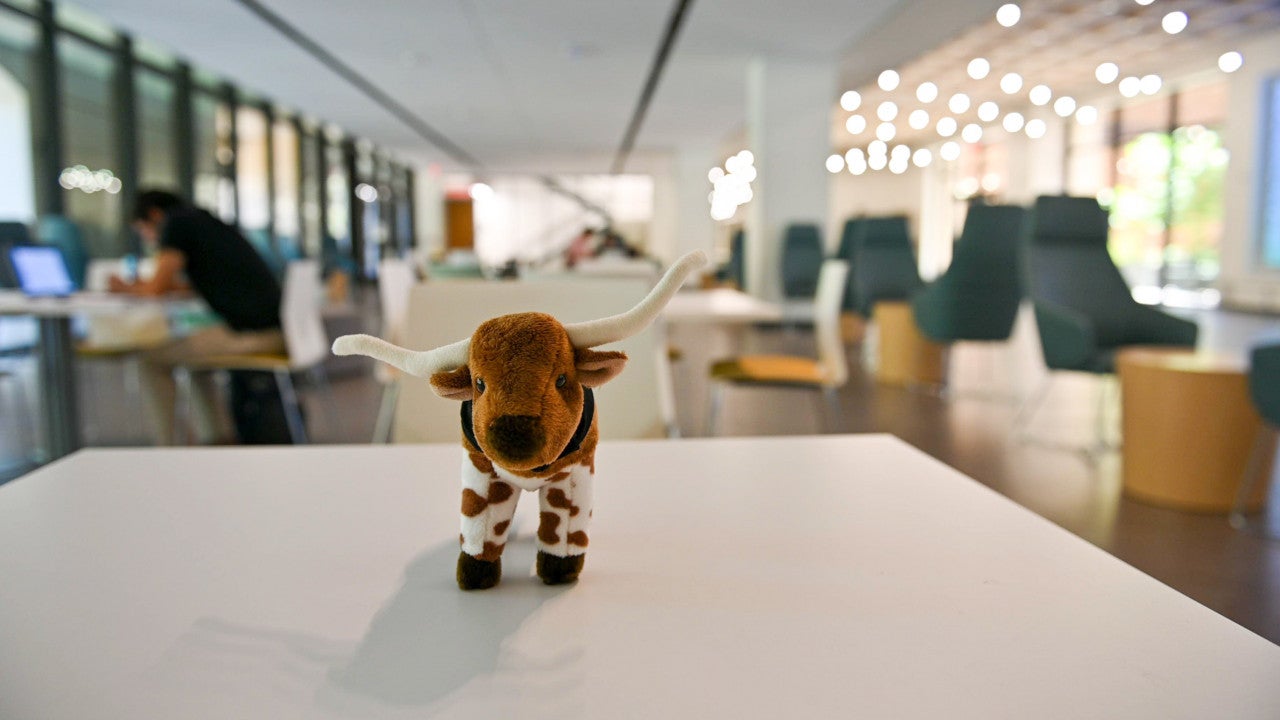 ---
Tired of studying at the same places on campus? Or are you a new student trying to figure out your way around the College of Natural Sciences? We've compiled a list of favorite spots around the college to study or find a quiet spot to yourself. See if you can spot mini-Bevo in some of these photos as we tour the best study spots in Natural Sciences.
WELCH HALL - 105 E 24TH ST.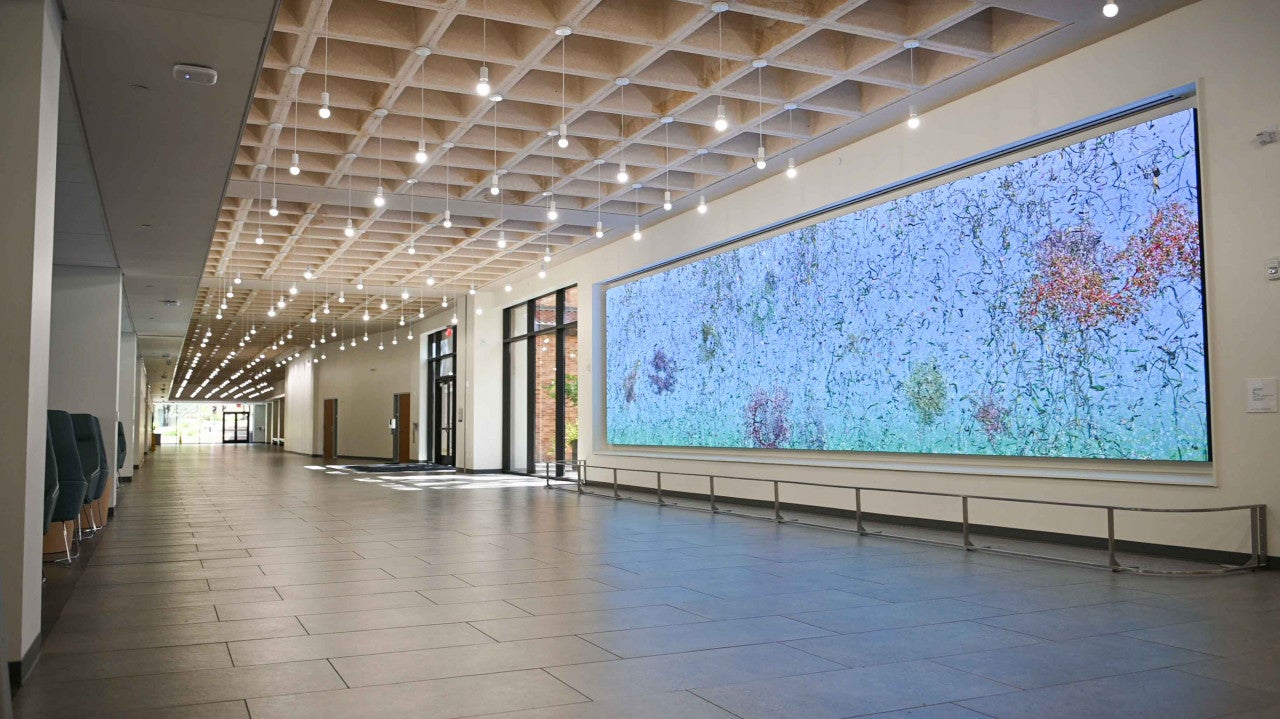 Welch (WEL) is home to The University of Texas at Austin's highly ranked Department of Chemistry. Since its recent renovations, the building has been one of the go-to spots to study for Texas Science students. You know you are in Welch when you see Jennifer Steinkamp's Eon, digital art that reveals biomorphic shapes in an array of colors, moving around an aquatic-type background.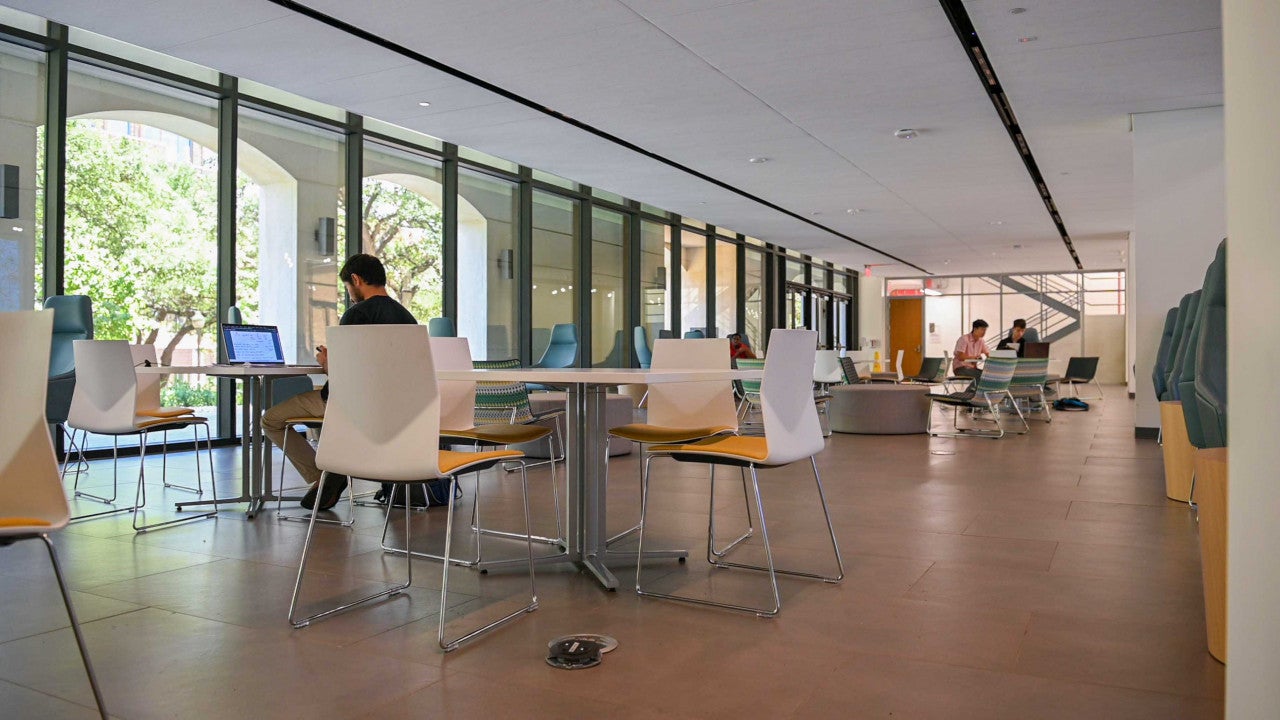 Ground floor
The main (second) floor (opposite Eon) offers good spots for studying, with tables, comfortable seating, outlets and windows that stretch out along a stretch of Speedway. This academic year the ground floor will also welcome one of UT's newest spots to grab a coffee or snack. The Up and Atom Cafe will be located on the building's south side. Although it can get loud as students transition between classes, it's still the prime spot in Welch to study.
Third and fourth floors
If you're in need of a quieter area, explore the third floor, where you can find sets of tables lining the hall with many outlets. Some students even use the classrooms or group rooms on the third floor if they're not occupied, as the perfect place to do some group studying.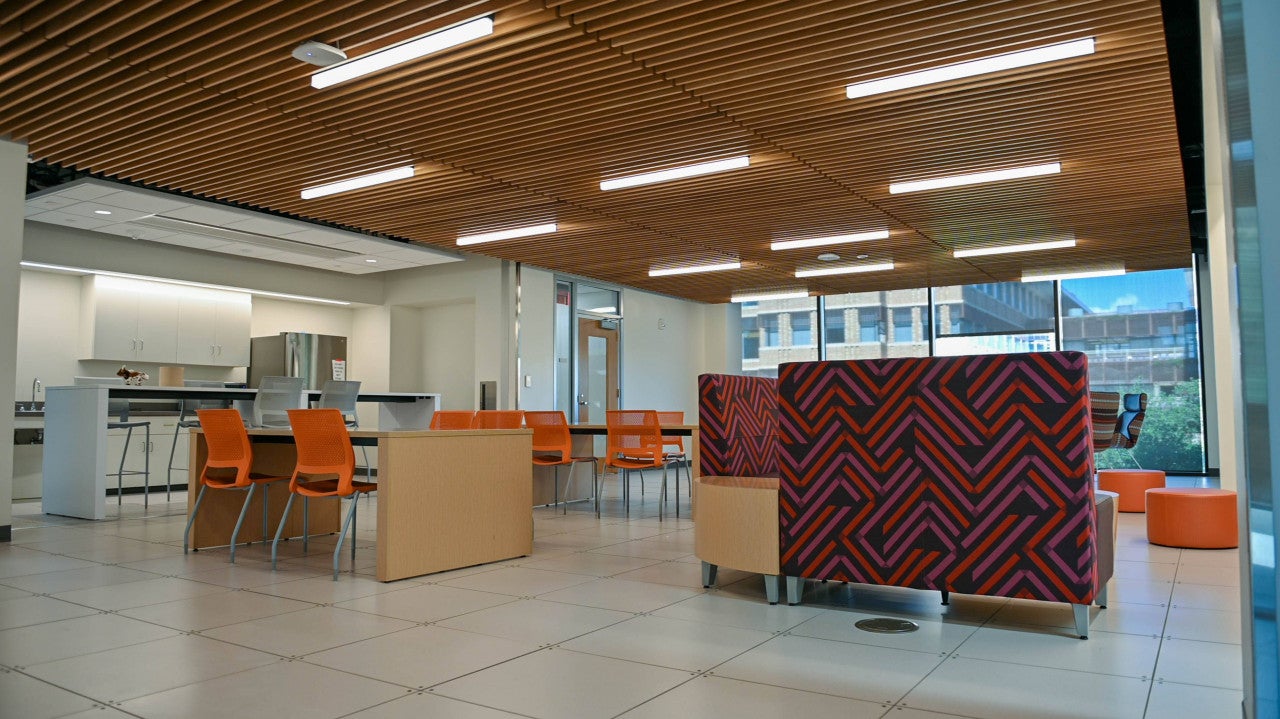 At the end of the halls on the fourth floor, you will find study areas with comfortable couches and tables. I found this spot to be the quietest as there aren't that many classrooms (and bonus: there is a microwave if you need one).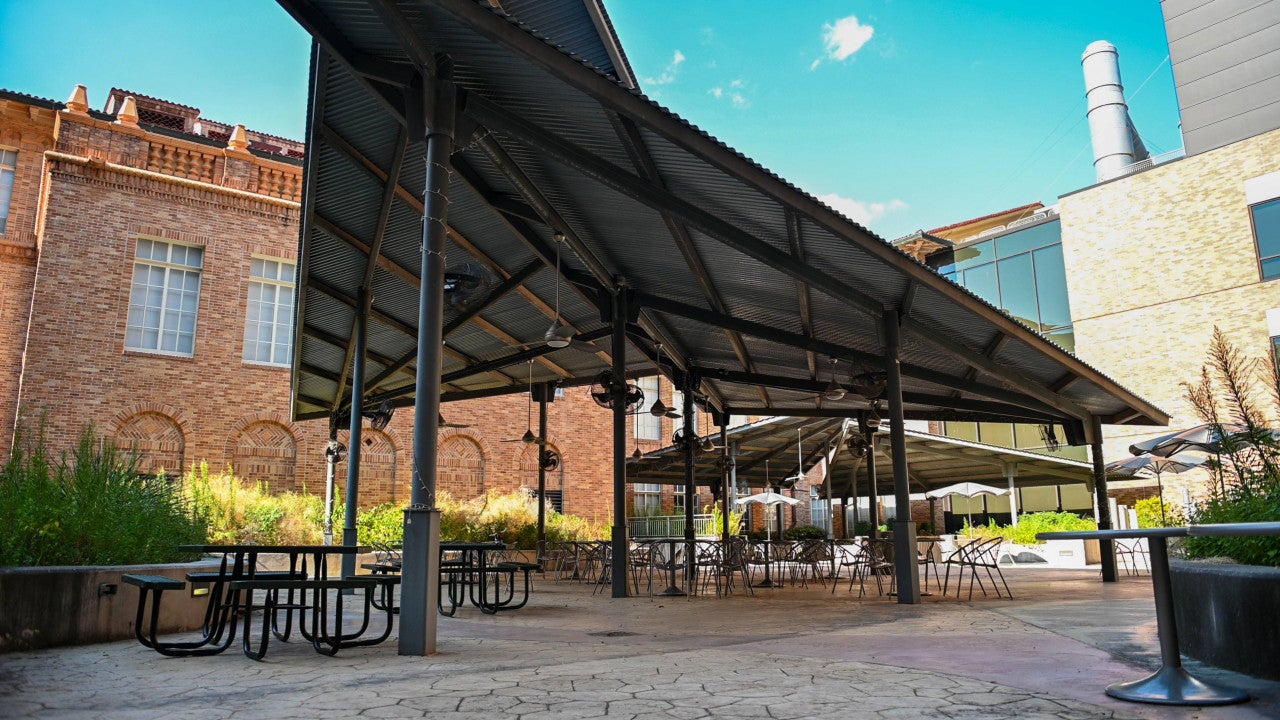 Need fresh air? In Welch Hall's courtyard, an underrated spot, you can sit at a table on the covered patio, with fans running to cool you down on a hot day. On a cooler day, it's the perfect outside seating area to study, eat or just talk with a friend. Find the courtyard from inside Welch by exiting the second floor and heading up the outdoor stairs or by exiting the third floor and heading north.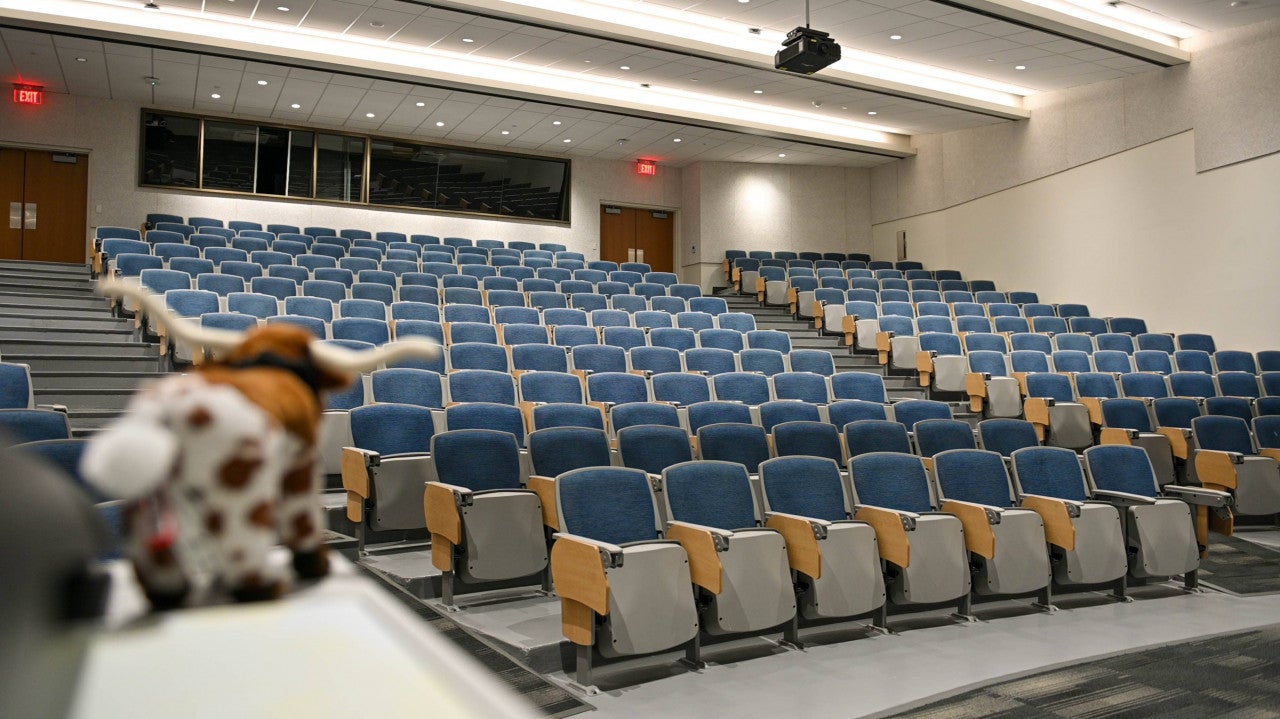 Auditoriums and classrooms
On the first floor, you will find the auditoriums you may go to for class. While not the best place to study alone, some students use it as a place to practice a presentation or study with a group. Just make sure to clean up after yourself!
THE BILL & MELINDA GATES COMPUTER SCIENCE COMPLEX - 2317 SPEEDWAY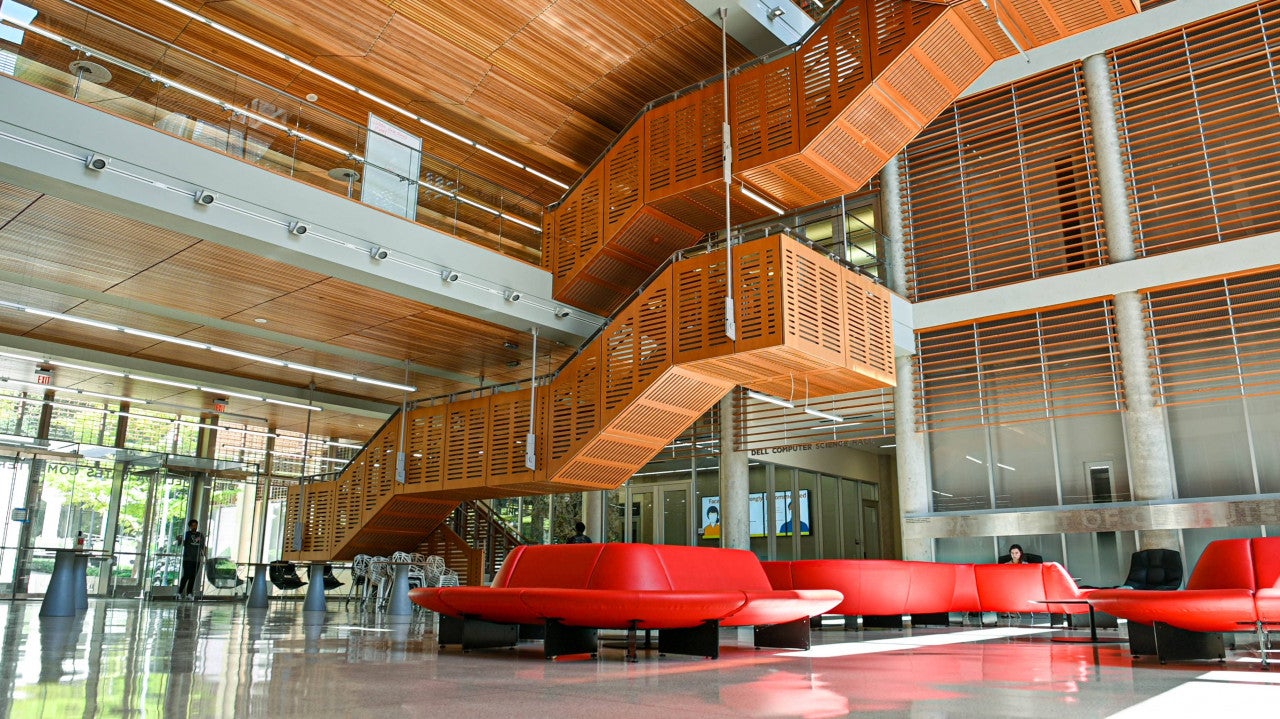 The Bill & Melinda Gates Computer Science Complex/Dell Computer Science Hall (GDC) is where the top minds in the Department of Computer Science and the Department of Statistics and Data Sciences come together and make their way toward changing the world.
MAIN FLOOR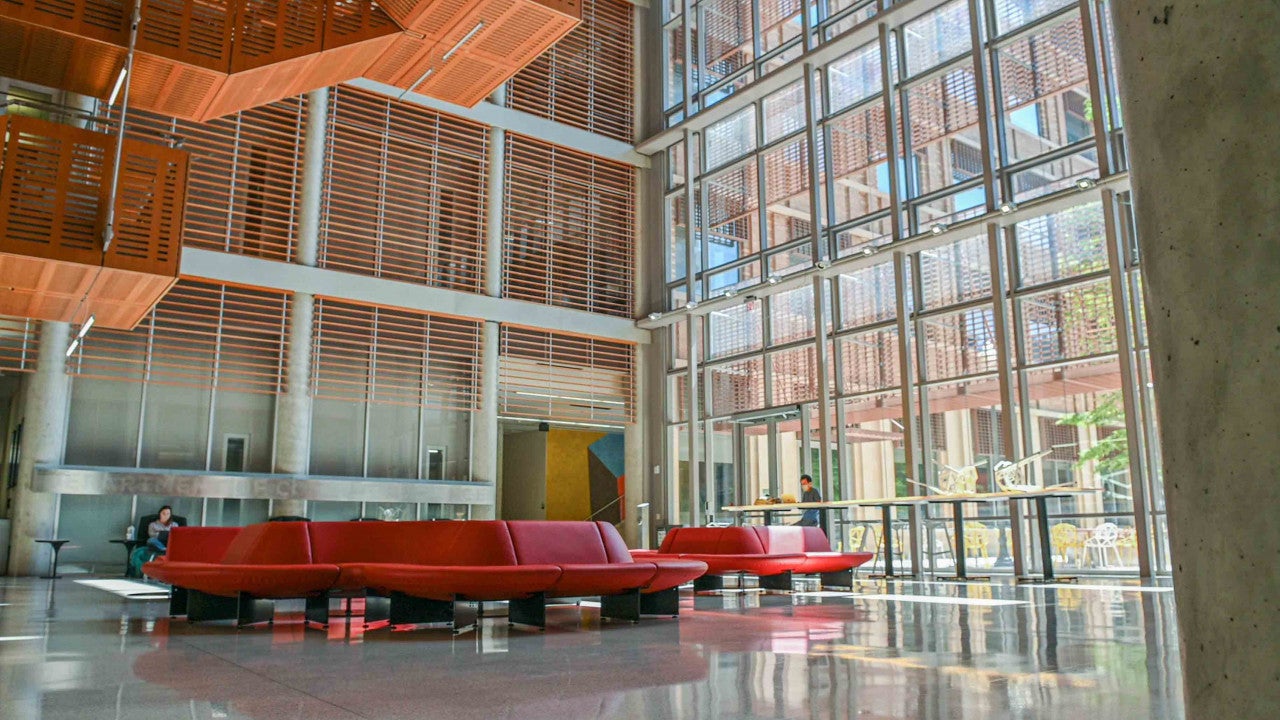 The main floor of GDC offers some of the most comfortable lounging couches and additional seating and tables closer to O's Cafe. Although noise picks up when students are transitioning from their classes, you can always come to GDC as a reliable place to study with great lighting.
UPPER FLOORS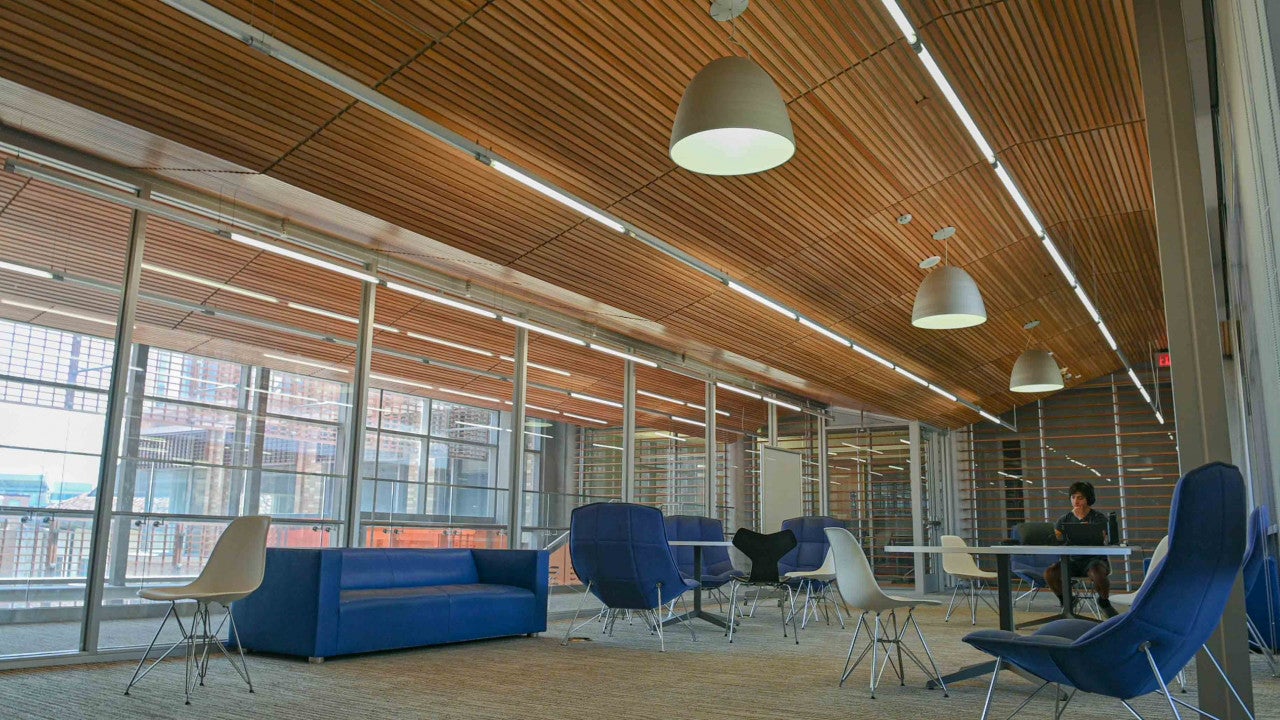 On the upper levels of GDC are study rooms on each floor, with a mix of comfortable, cushioned seating and plastic chairs. Although there is limited space, it can be an ideal place to study.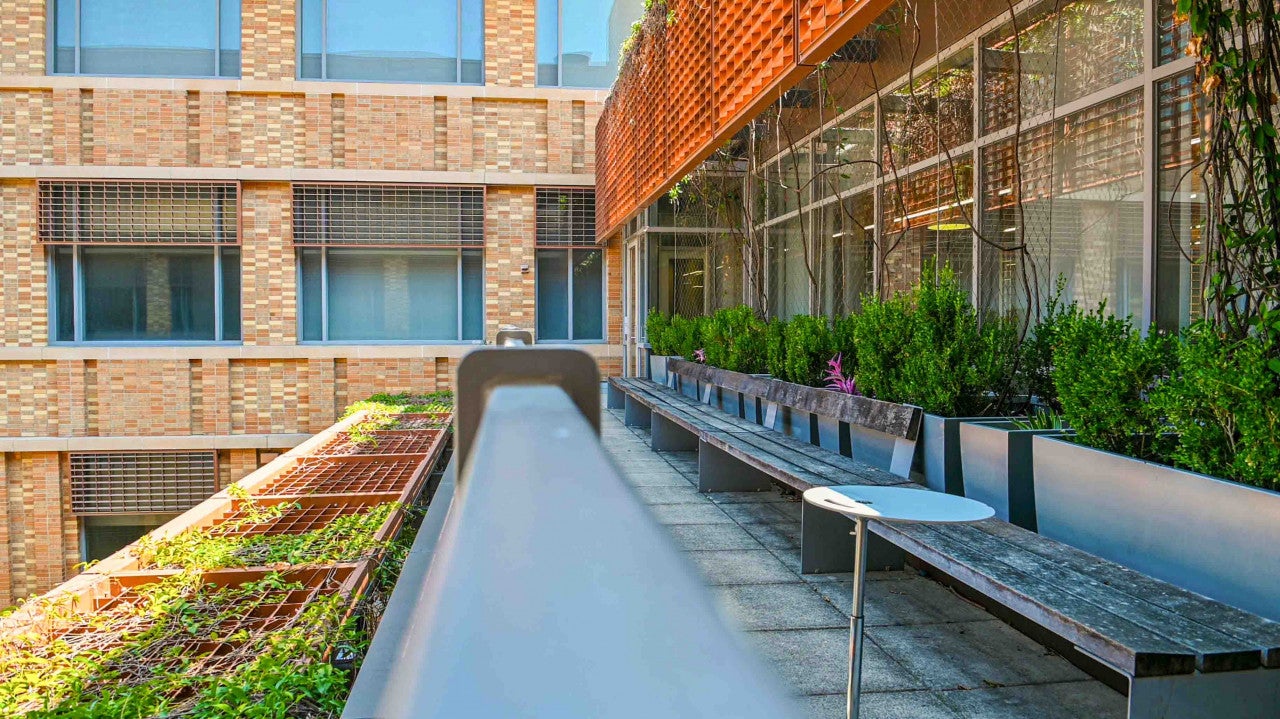 And each floor offers a beautiful patio right outside the study rooms, where you can get some fresh air with a nice view of the front of GDC. Wooden benches and the leafy surroundings on the patio provide you a natural space to study or take a break.
On the third floor are the public computer labs open to computer science (CS) students. You must have a UTCS account to access the machines in these labs, but non-CS majors who are enrolled in a qualifying class are eligible to have an account through a request here. [Only CS majors have access to the building after hours on weekdays (after 10 p.m. and before 7 a.m.) and on weekends.].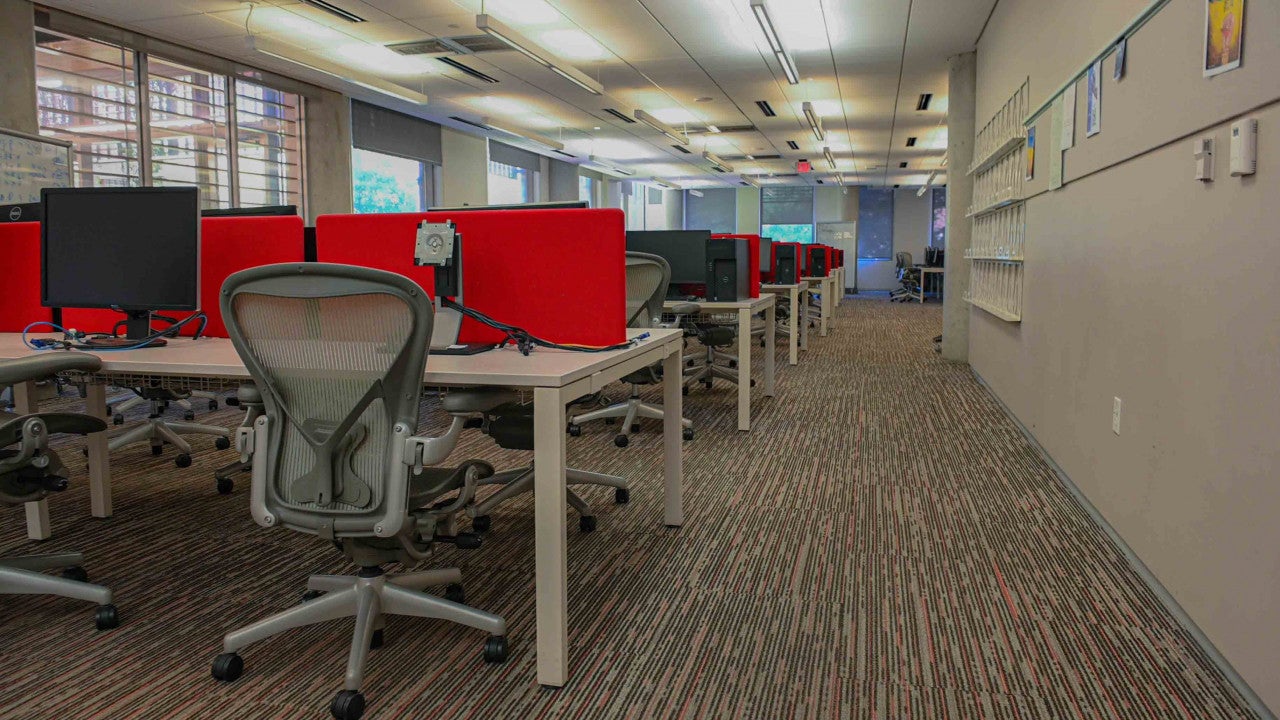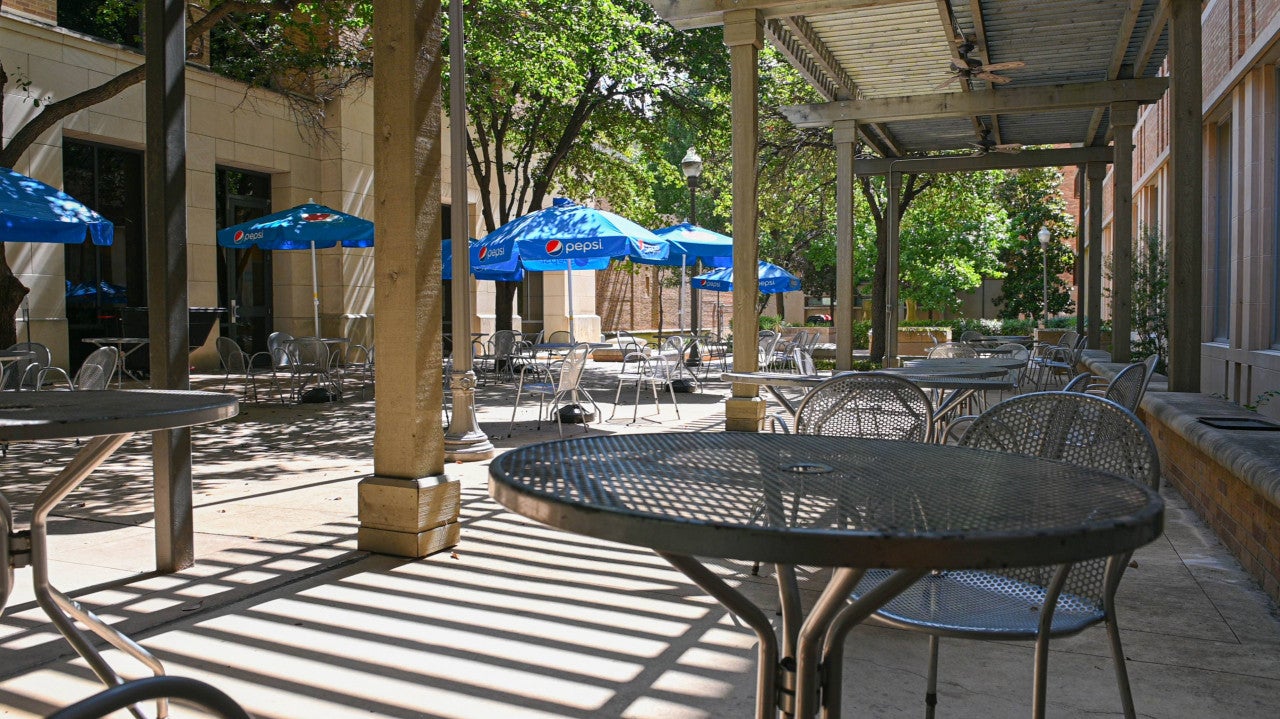 Outside the main floor of GDC and its adjacent Peter O'Donnell Building is outdoor seating, where you will find people studying or grabbing a bite from O's Campus Cafe. Although there is limited shade, the atmosphere makes it a great place to study, as long as it's not too hot.
LIFE SCIENCE LIBRARY - UT TOWER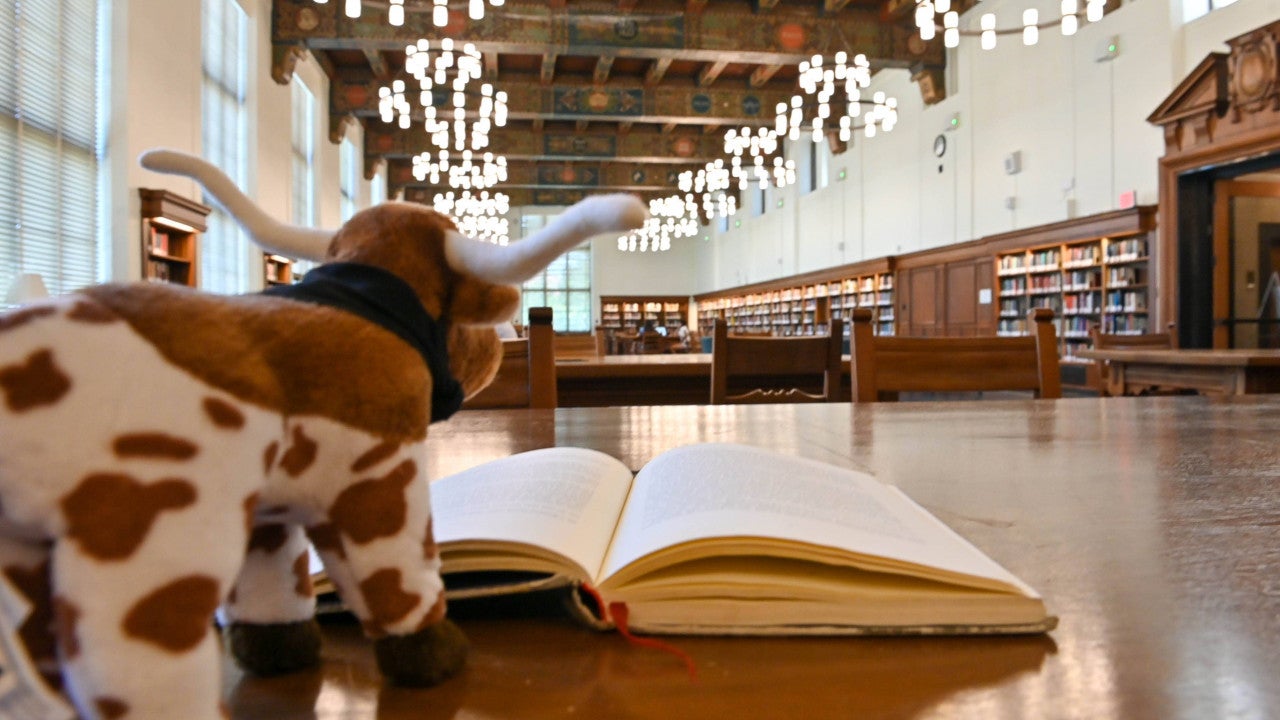 Shhh. Keep quiet. We're at the Life Science Library located on the second floor of the Main Building, also known as the UT Tower (MAI). You can find an extensive collection of material here, with a focus on biology, medicine, nutrition and pharmacy. The library is open from 8 a.m. to 5 p.m. Monday through Friday.
The Life Sciences Library has a beautiful wooden interior with wall-to-wall books and chandeliers. The windows bring in glorious natural light, and since it's a library, the space offers a super quiet place with almost zero distractions.
Turtle Pond – North of the UT Tower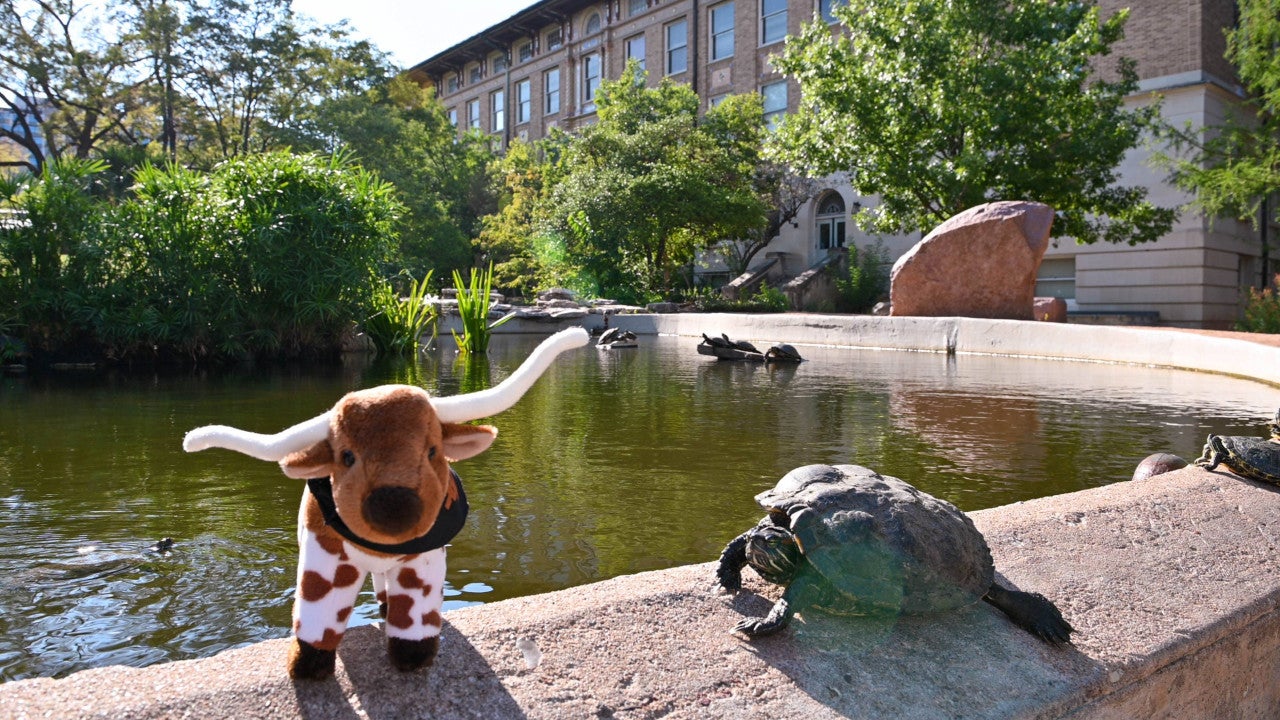 You can meet dozens of turtles like this one at the turtle pond, located north of the UT Tower and outside of the BIO building. This time of year, you can even spot baby turtles!
When the weather is nice, come here, lay out a blanket on the grass, relax and watch the turtles, between any time spent reading and doing some studying (of course)! 
MARY A. GEARING HALL - 200 W 24TH ST.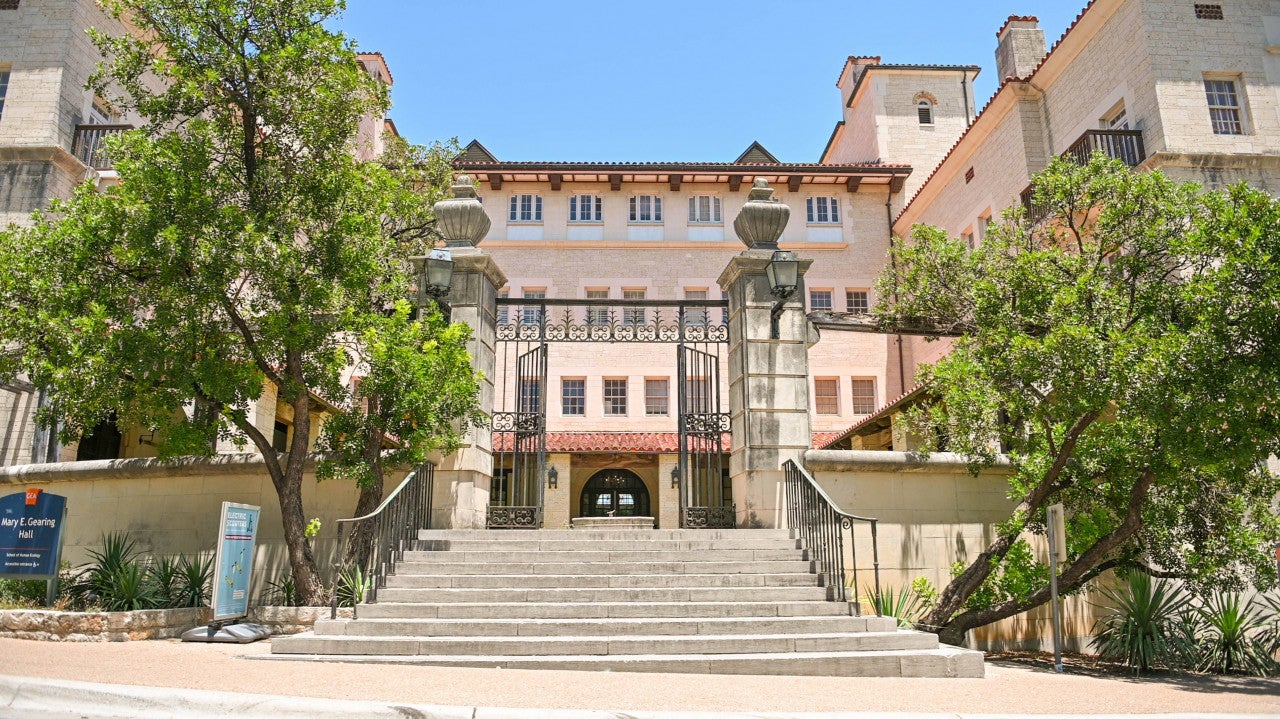 You've probably have seen this Spanish-style courtyard before. It's none other than Gearing Hall (GEA), a historic building that houses some of the greatest minds in child development, nutritional science, public and community health and textiles and apparel.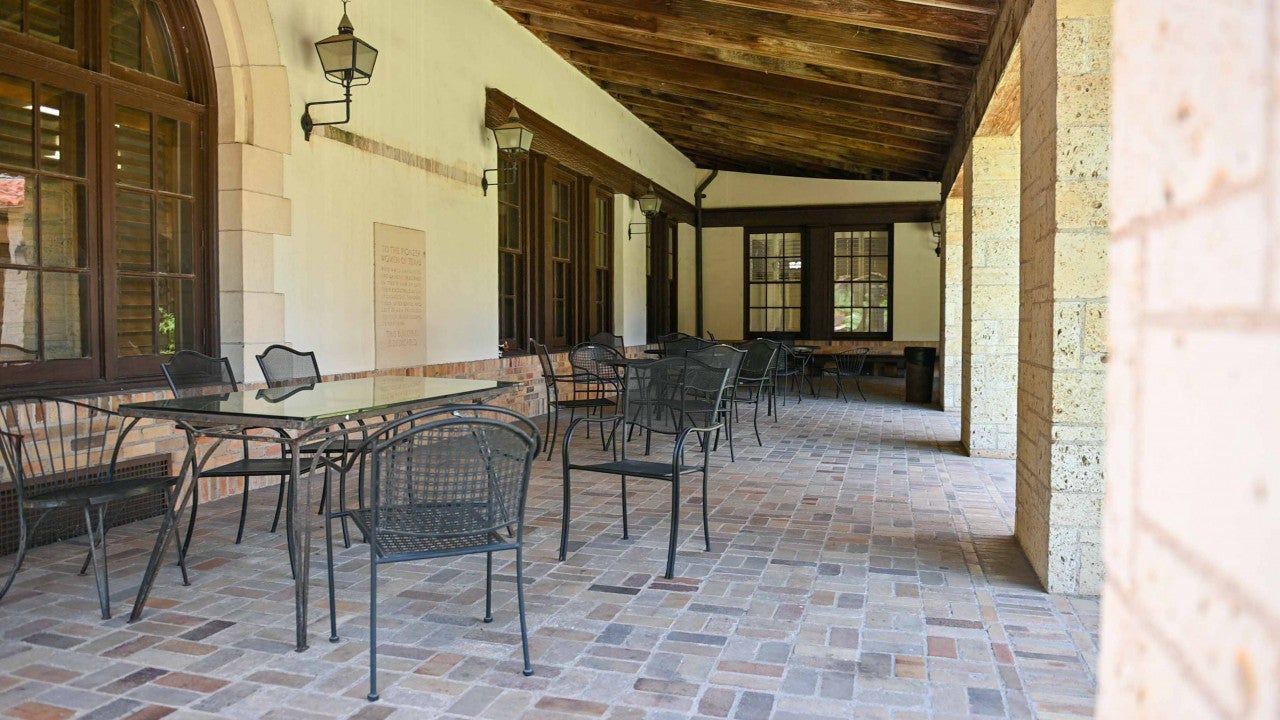 Here you can find student government leaders, career counselors, honor scholars, world travelers, undergraduate researchers and future health professionals. Painter Hall (PAI) is also home to a campus telescope, where the Astronomy Department hosts free viewings every Friday and Saturday night while classes are in session.
If the weather is nice, take your reading material to tables and chairs found in the courtyard (but be advised that there aren't any outlets).
T.S. PAINTER HALL - 103 W. 24TH ST.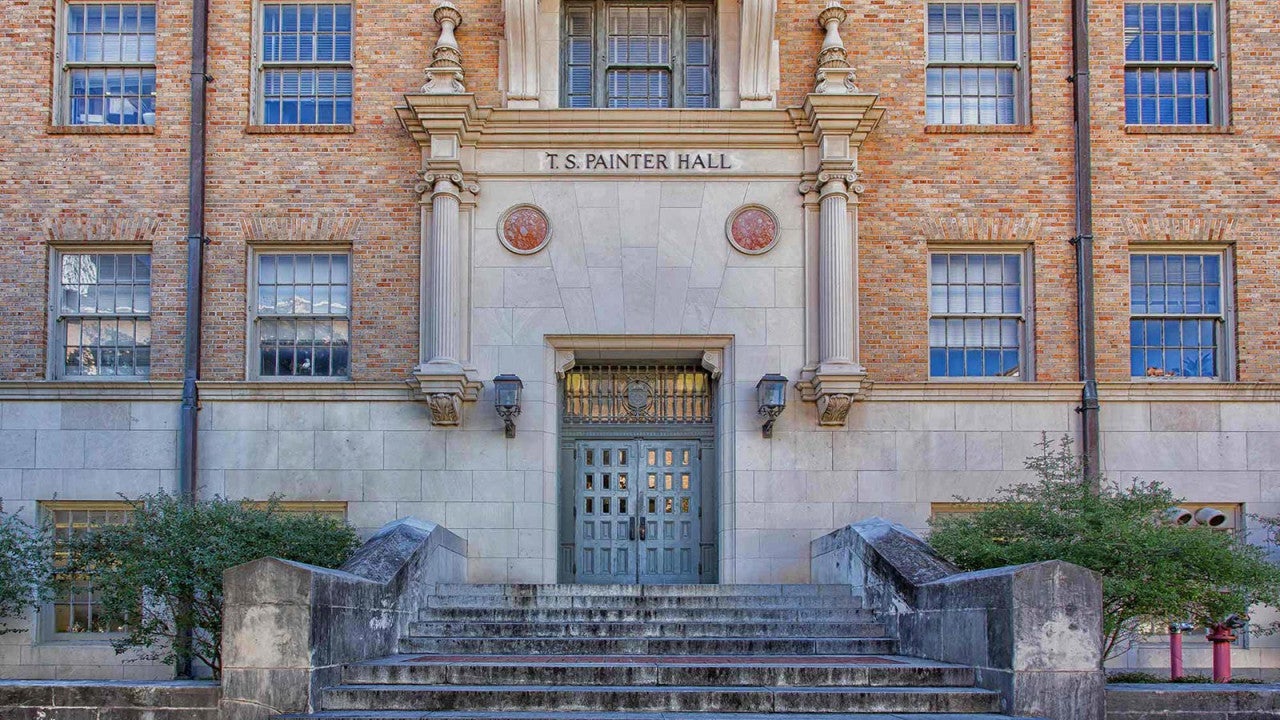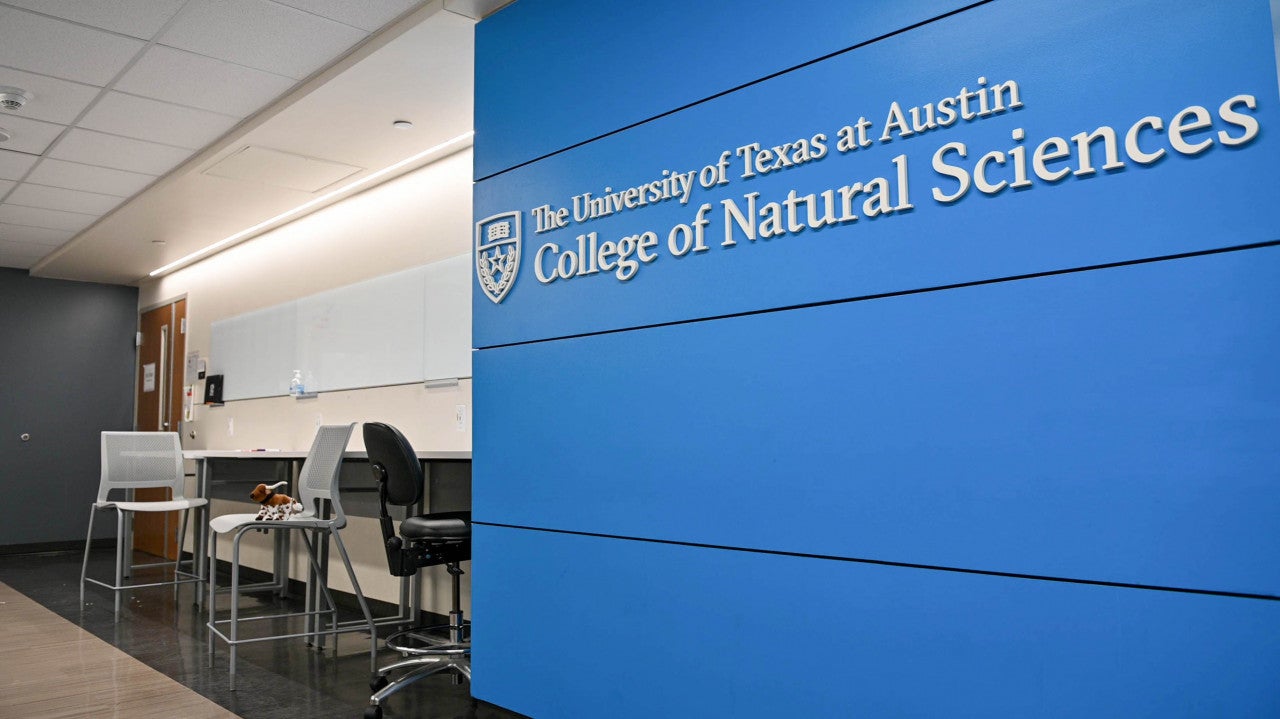 A low-key study spot is located on the second floor, by rooms 2.01 and 2.03. Whiteboards are available for study groups or Freshman Research Initiative teams needing to work out some problem-solving in this space.
NORMAN HACKERMAN BUILDING - 100 E 24TH ST.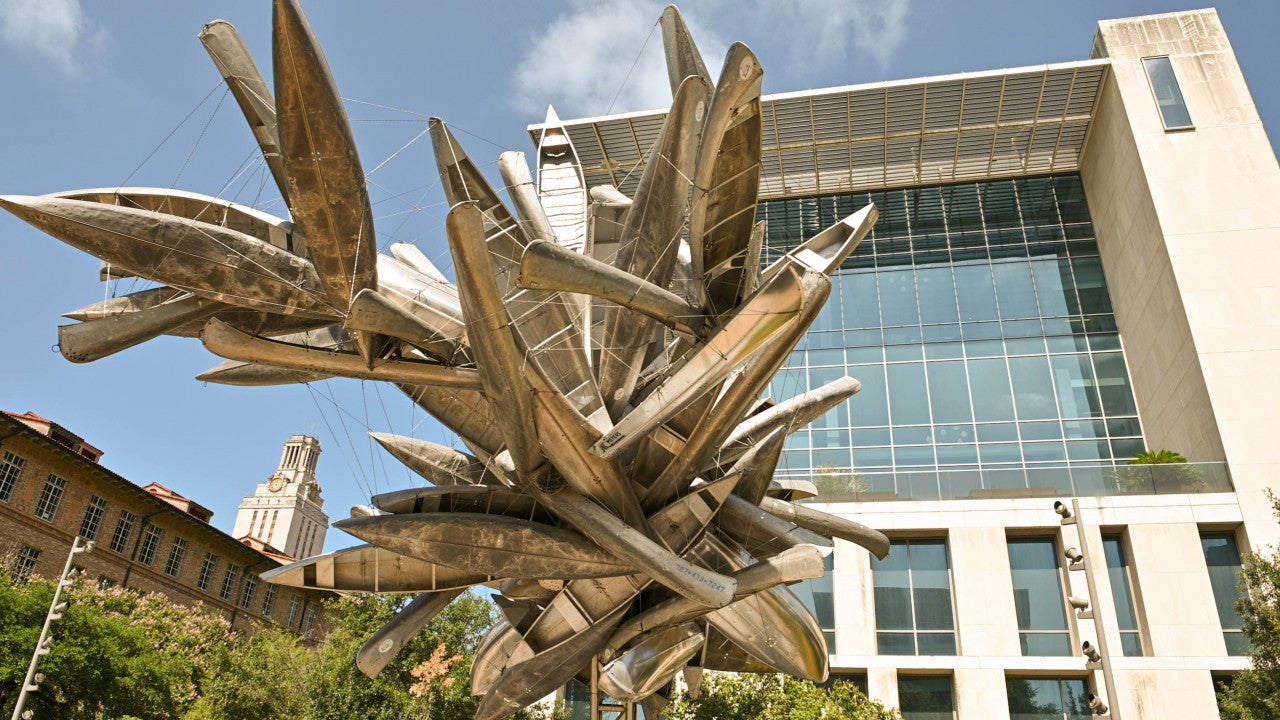 The Norman Hackerman Building (NHB) is the home of our renowned neuroscientists, chemists, biomedical researchers and students. You will know you're at NHB when you see Monochrome for Austin by Nancy Rubins, consisting of 70 recycled aluminum canoes and small boats.
Outside patio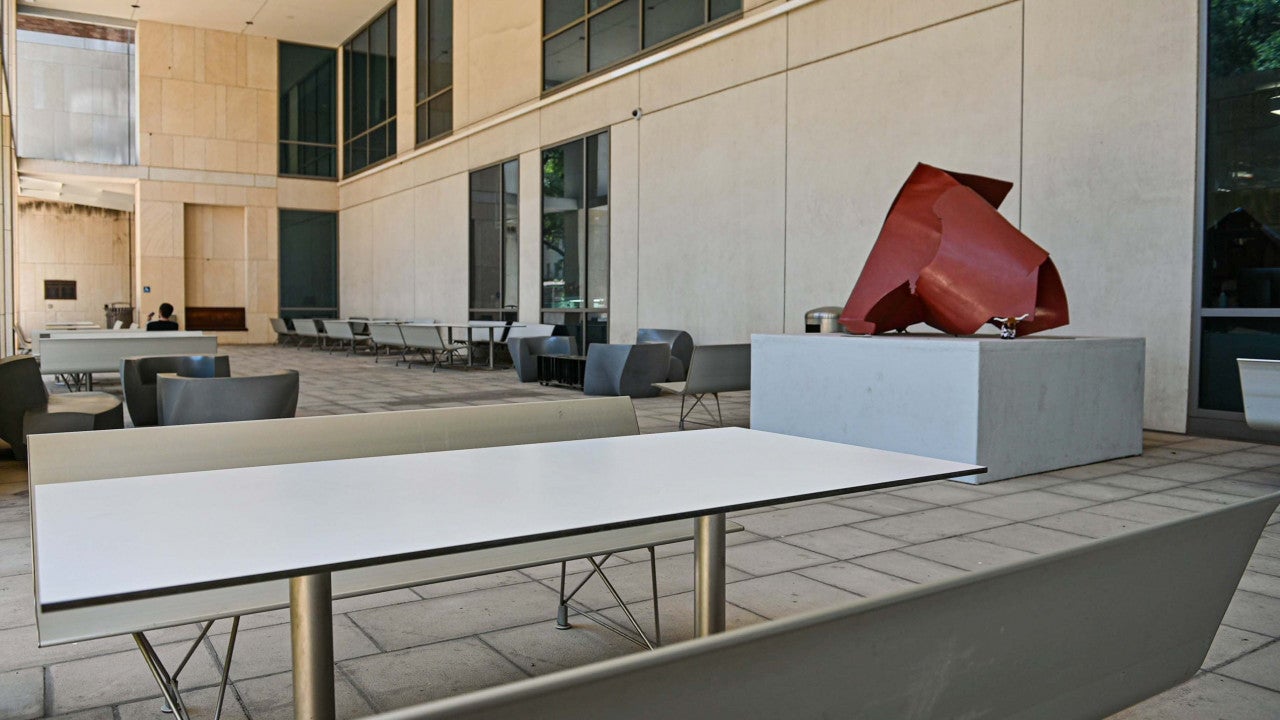 This is one of the better outside studying areas, as the whole area is covered, providing shade while giving you fresh air. While outlets are limited, it's a great spot to study after attending class or doing research.
Upper floors – East side
At the end of each floor in NHB, you will find two sets of study areas. When you turn left exiting the elevators, you will find laid-back lounge areas, with couch seating. The giant windows around the area provide natural lighting and give you an amazing view of Austin.
On the fourth floor, you will also find the Baldwin R piano, used in a musical concert series for the Texas Science and STEM communities.
Upper floors – West side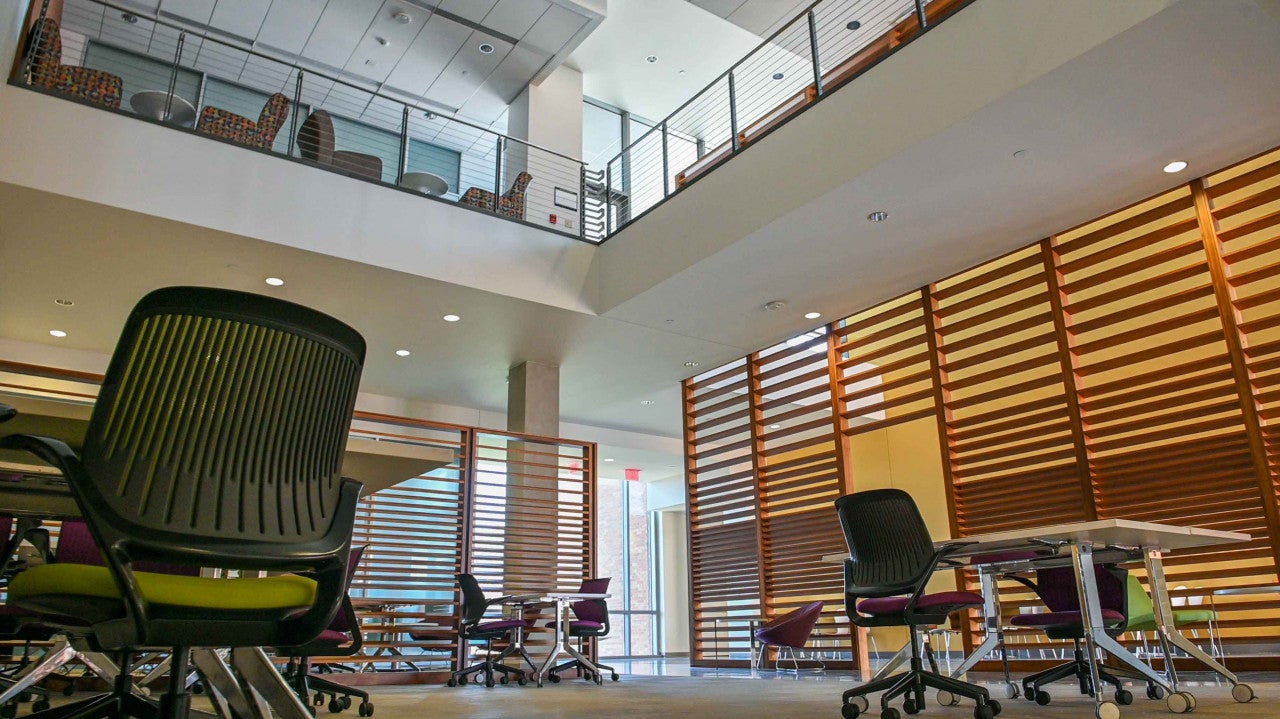 To the right of the elevators on each floor, you will find another study environment, with whiteboards for those who need to write out their chemistry equations.
Patio on the third floor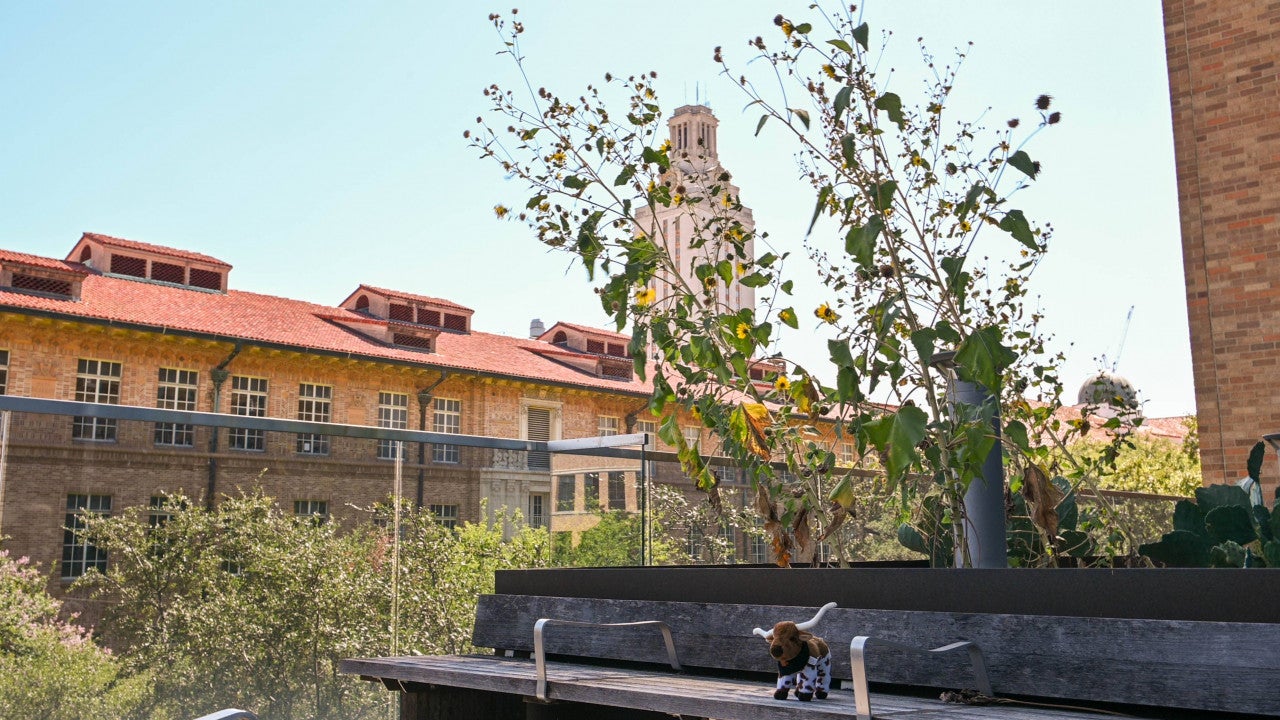 One of the best areas in all of CNS, the patio found on the third floor facing Speedway is the perfect place to get fresh air and just relax a little. It shows an amazing view of the UT Tower, offers greenery and flowers and allows for people-watching, right at the hub of 24th and Speedway.
PHYSICS, MATH, AND ASTRONOMY BUILDING (2515 SPEEDWAY)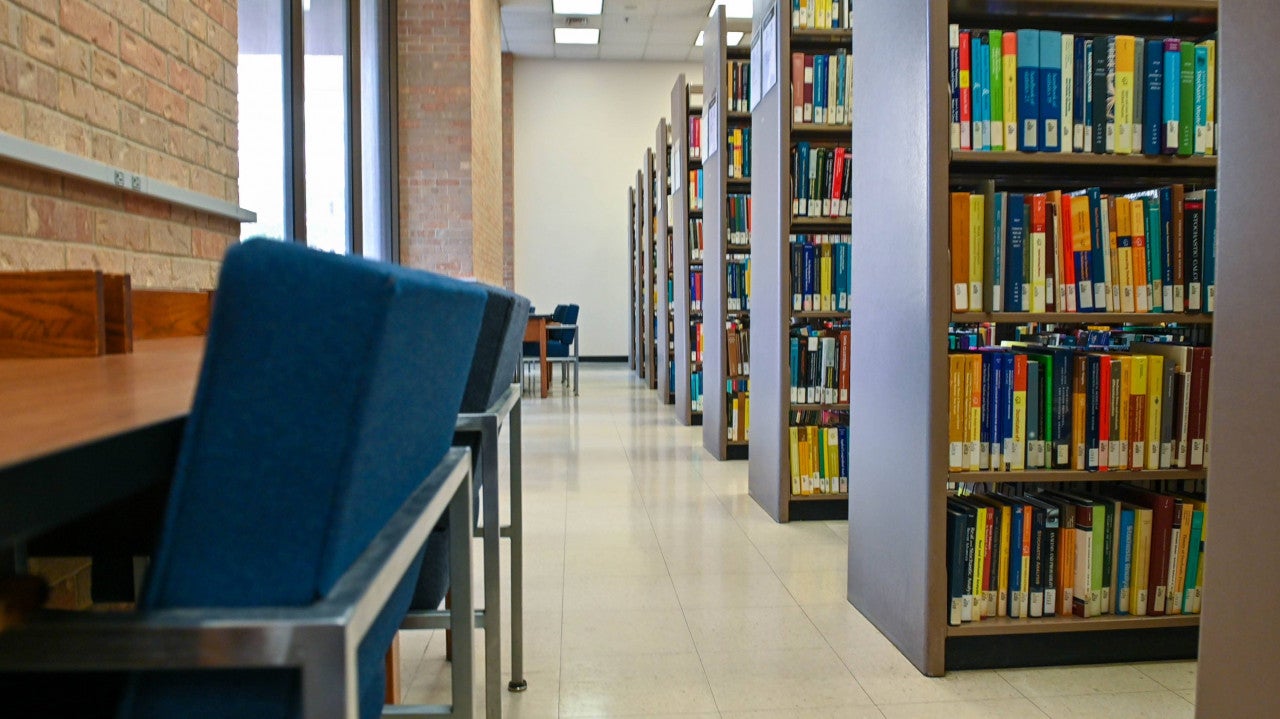 One of the tallest CNS buildings, the Physics, Math and Astronomy Building (PMA) is home to, of course, the physics, mathematics and astronomy departments. Inside you will find astronomists exploring data revealing never-before-detected faraway galaxies, mathematicians working on complex equations and physicists working with tools including powerful lasers (one of the world's largest is in the basement).
The PMA library offers a quiet place to study with reliable outlets. Additionally, tables, chairs and chalkboards are found on several floors, including the fifth floor.The elevators in PMA can take a long time, but you can take the stairs or the escalator to the fifth floor (just one floor up from the ground floor you enter on).
ANNA HISS GYMNASIUM COURTYARD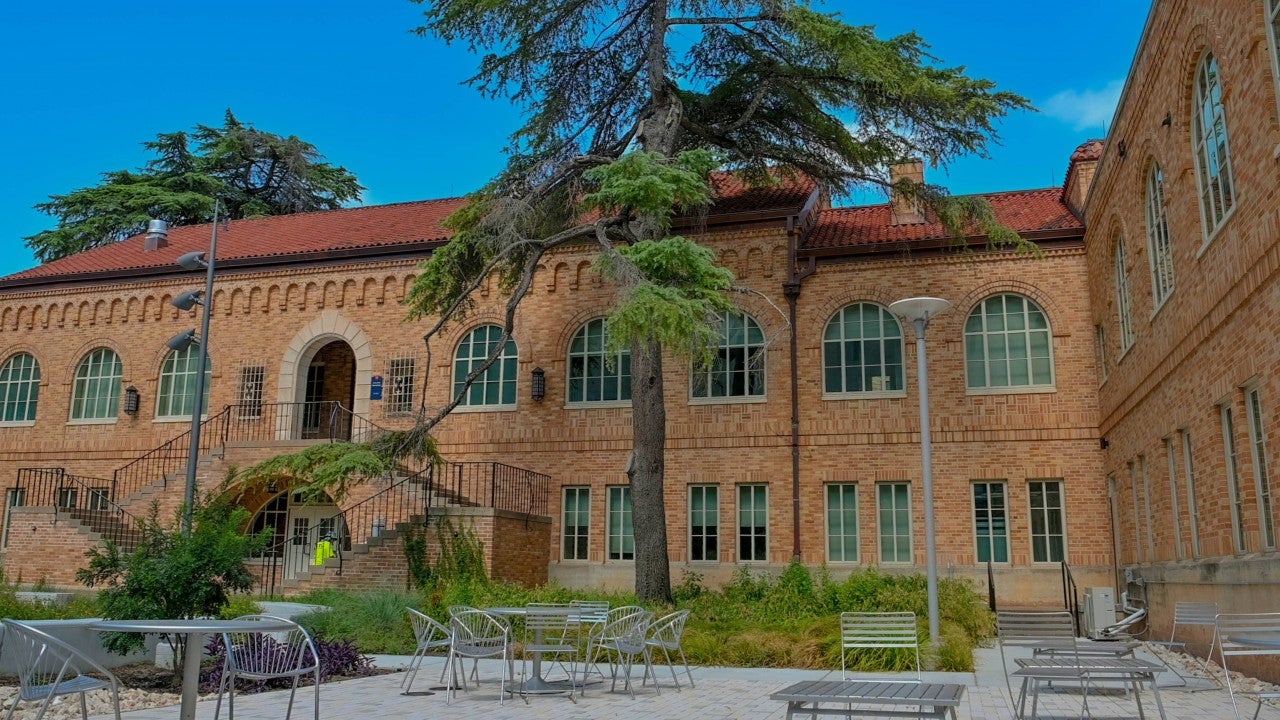 Between the Molecular Biology Building (MBB) and the Anna Hiss Gymnasium (AHG) is this courtyard, where you can find Simone Leigh's Sentinel IV, another Landmarks art installation portraying a slender bronze guardian with elongated proportions.
The courtyard is a perfect oasis for studying when the weather is just right, with the environment offering both this contemporary sculpture and the surrounding historic architecture. Enjoy discovering this and all the other new study spaces this year.
Share
https://cns.utexas.edu/news/features/need-place-study-academic-year-weve-got-you-covered
---