Graduating Researcher and Student Leader Grateful for Mentorship and Support
April 29, 2021 • by Amanda Figueroa-Nieves
During Brett Dolotina's time at UT Austin, they advocated for LGBTQ+ students as a member of the President's Student Advisory Committee (PSAC) and were involved in the Sexual Orientation and Gender Identities (SOGI) Lab.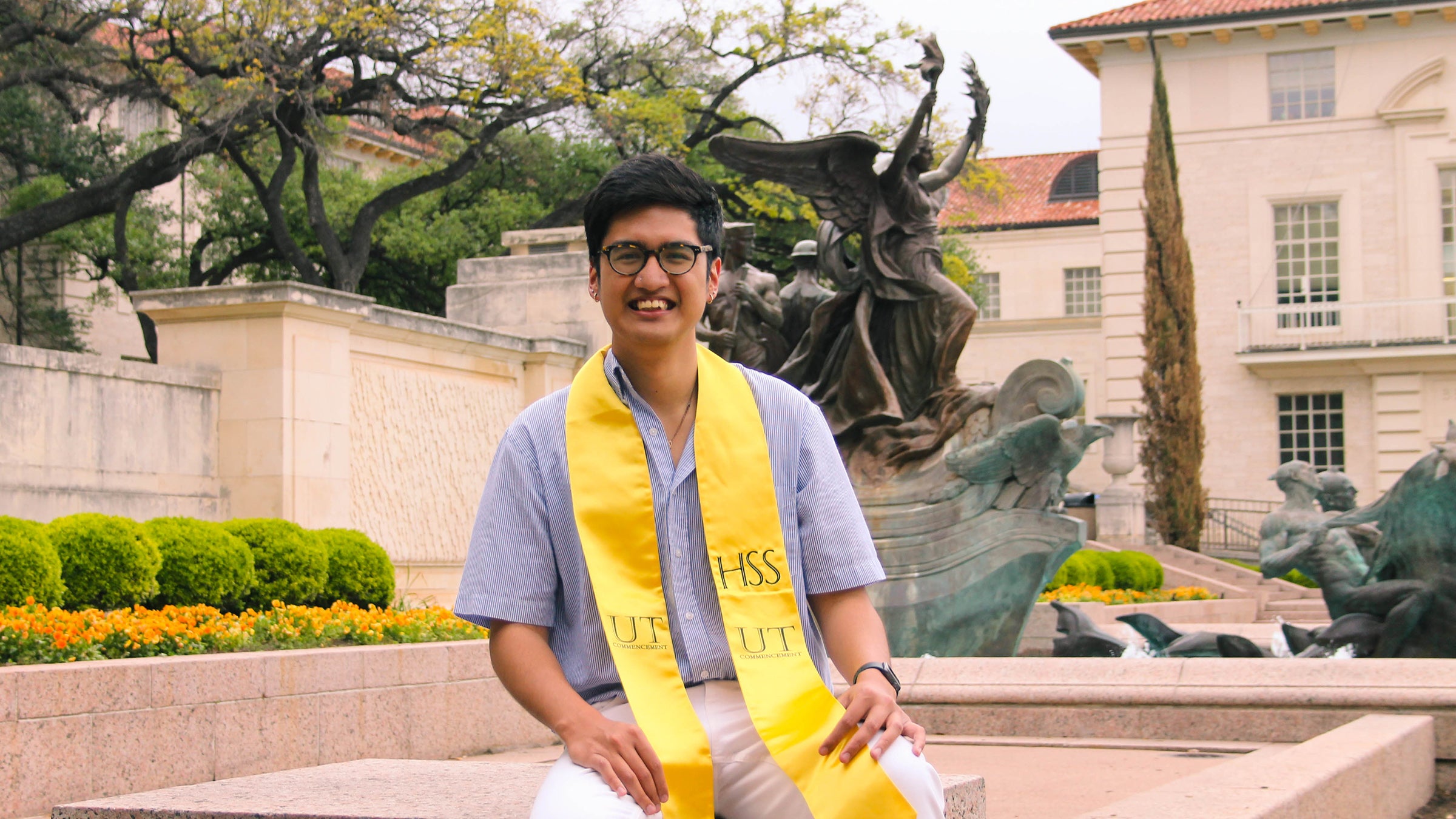 ---
In high school, Brett Dolotina looked forward to a diverse, lively campus culture at UT Austin. Austin seemed like a place where people could live freely. Dolotina, who uses they/them pronouns, looked forward to developing their own identity. Dolotina graduates this month as a Public Health and Biochemistry double major and a passionate student leader, with hopes of building a career in research.
To cap it all off, Dolotina has just received a Texas Parents Outstanding Student Award, along with two other graduating CNS students: Zoe de Beurs and Shruti Patil.
Early on, during their sophomore year, Dolotina joined the Sexual Orientation and Gender Identities (SOGI) Lab, led by human development and family sciences professor Stephen Russell and used their time in the lab to develop their interests and explore their own identity through an academic perspective.
"I'm grateful to be in a community with scientists who are like-minded with me and to share space with LGBTQ+ scientists," Dolotina said. "It can be hard to find queer and trans people in the broader STEM environments, so that has been a great experience for me, in terms of community and mentorship."
Experience in the SOGI lab inspired Dolotina's senior thesis, which delves into the mental health benefits of gender-related family support for trans youth.
"There is limited research about the lives and experiences of trans youth as they relate to public health, so that is something that I really wanted to expand upon with my senior thesis," Dolotina said. "I think these youth and their experiences often get lumped in with the broader LGBTQ+ umbrella, but they really face distinct vulnerabilities that other cisgender queer youth don't necessarily face."
Dolotina said the senior thesis process helped them realize they wanted to pursue research as a career. After graduation, Dolotina will work as a clinical research coordinator at Harvard Medical School and plans to apply to graduate school.
Giving Back
Throughout college, Dolotina has actively served fellow students and the university.
This year, for example, Dolotina advocated for LGBTQ+ students as a member of the President's Student Advisory Committee (PSAC), which meets monthly with President Jay Hartzell to discuss campus topics related to student life.
"PSAC is and has been an avenue through which I have been able to place LGBTQ experiences at the forefront of campus policy discussions, which I feel is very rare," Dolotina said.
Dolotina also was heavily involved with the UT Queer and Trans Campus Climate Report, which asked questions about how every dimension of campus life affects LGBTQ+ students. The survey had around 2,300 responses, and the team conducted focus groups to collect qualitative data about student experiences at UT.
"I feel like, for so long, I have been wanting to provide visibility for LGBTQ people in general and, more specifically, my fellow students and our experiences at the University," Dolotina said.
Dolotina also served as a peer supporter for interpersonal violence survivors, which became one of their most formative experiences.
"As a freshman, I still had so much room to grow in terms of emotional learning, empathy, the intersectionality of identities as it relates to these experiences and how best to support people from all different backgrounds," Dolotina said. "Everything that I learned through that program I will continue to use for the rest of my life, no matter what career I end up pursuing."
One of the contributions to the community that Dolotina is most proud of is being a mentor and role model for younger UT students.
During their sophomore year, as a counselor in Camp Texas — a three-day retreat that introduces incoming students to life on the Forty Acres — Dolotina gave a "flame bearer" speech about coming to UT Austin from a less welcoming environment and being able to blossom on campus, connecting that experience with the university's core value of "freedom."
"Two years later, now in my senior year, I got a message from someone who was at that session and listened to my speech," Dolotina said. "Right after I gave my speech, he came out to his parents and friends because he was so inspired and ready to be 100% himself."
Share
https://cns.utexas.edu/news/features/graduating-researcher-and-student-leader-grateful-mentorship-and-support
---