The College and its Departments, research units, faculty and students offer quality podcasts and audio programs about science and education. Some are also broadcast on radio stations in Texas and around the country.
Point of Discovery
The Point of Discovery podcast takes you on a behind-the-scenes journey to the front lines of science. You'll meet the brilliant, quirky scientists behind the aha moments. Produced by UT Austin's College of Natural Sciences.
Subscribe via iTunes | RSS | Stitcher | Google Play Music
Science and the Sea
Science and the Sea is a weekly radio program produced by the University of Texas Marine Science Institute. It provides entertaining stories and activities that teach about the marine world and even convey how scientists approach, and ultimately solve, some of the oceans' mysteries.
Subscribe via iTunes | RSS
StarDate
StarDate is the public education and outreach arm of UT Austin's McDonald Observatory. The StarDate radio program airs daily on more than 300 stations and the StarDate bimonthly magazine is the perfect skywatching companion for amateur astronomers or anyone interested in celestial events and space exploration.
Subscribe via iTunes | RSS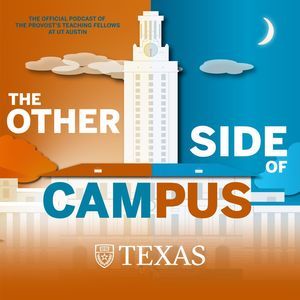 The Other Side of Campus
Jen Moon, an assistant dean in the College of Natural Sciences and faculty member in the Biology Instruction Office, co-hosts the official podcast of the Provost's Teaching Fellows, where the focus in each conversation is about strategies for effective teaching and inclusive classrooms that support every student.